Eden Grinshpan is a big name in the food entertainment industry.
Her shows Eden Eats, Log On and Eat with Eden Grinshpan enthralled the audience. People loved her goofy-girl-next-door vibes combined with model-like looks. The professional foodie was also a judge on Sugar Showdown, Donut Showdown, and Chopped Canada.
Insight Into Life With Husband
Eden married the love of her life, Ido Niv-Ron, in a beautiful wedding ceremony on 18th July 2013. She and her man share a daughter named Ayv (born 8th April 2017).
The Top Chef Canada host met her husband, vice-president at Wibbitz, in a strange way.
While on a trip to Israel she met two girls at a bar. The stranger duo insisted Eden on meeting their New York-based friend. A little tipsy, she agreed and accepted the friend request of the "friend" Ido on Facebook. Little did she know, she was adding her future husband on social media.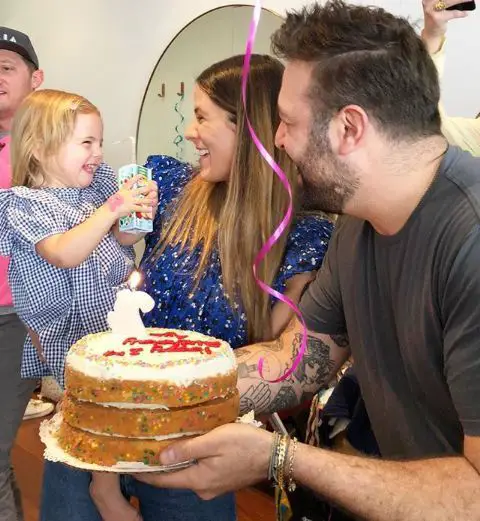 Eden Grinshpan and her husband, Ido Niv-Ron celebrate their daughter, Ayv's birthday on 8th April 2019 (Photo: Eden Grinshpan's Instagram)
Naturally, the pair started chatting and agreed to meet up. On the first meeting, sparks flew between them. Just a few weeks after the meeting, the couple got engaged to be married. Probably, it was their mutual love for food and the same Israel ethnicity that brought them together.
Food Blogger Married to Full House Star:- Kelly Rizzo Wiki, Age, Husband, Net Worth
While Eden's father is Israel born, her husband holds Israeli nationality via his birthright. On top of that, Chopped Canada's judge's older and younger sisters; Arielle and Renny live in Tel Aviv.
The food host and her husband keep sharing the insight into their adorable life on social media.
Eden Grinshpan Bio
The television personality, birth name Eden Zvia Grinshpan, was born on 18th August 1986. Her native country is the United States.
A foodie since childhood, she went to professional culinary school instead of college after high school education. Alum from Le Cordon Bleu in London, her parents; mother Riva and father Menashe Grinshpan, were fully supportive of her diploma on pastry and cuisine.
After graduating at the age of 20, young Eden's went to India for volunteer work which fetched her the first ever show, Eden Eats. Since then, her profile in the food entertainment increased in height with heaps and bounds.
Another American Food Entrepreneur:- Mark Wiens Wiki, Age, Net Worth, Wife
Besides juggling on various shows, she freelances through her production company, EthNicitY Productions. Also, she is co-founder and executive chef of DEZ- online food ordering service. No wonder the busy entrepreneur makes a salary of $55,294 per year.
Secret Behind Fitness
On first glance, it is hard to believe that Eden eats for a living. But it is true; food is her life.
However, she follows strict rules for her health. She tries to eat as healthy as possible and eat in moderation. It also helps that Eden is a long time practitioner of yoga and dancing that developed her fast metabolism to maintain an ideal weight.