From earning $1 from his food blog to making a living out of it, Mark Wiens has come a long way. After finishing university education, he didn't know what to do; thus he kept traveling in search of his purpose in life.
One beautiful day Mark booked a one-way ticket to Bangkok and found the love of his life in food. Since then his romance with food continued via the blog Migrationology.com and YouTube channels!
Mark's Wiki
The food blogger, age 33, was born in Arizona.
When Mark was a mere five-year-old, his family moved to a small village in France named Albertville. After attending a year of school in the European country, the Wiens family moved again but, this time to Africa. The traveling bunch started living in the Democratic Republic of Congo and homeschooled their son for three years. 
The nomadic lifestyle of Mark's family didn't end there as they again migrated to Nairobi. In the Kenyan city, the American family lived for quite a while as Mark went to Rosslyn Academy and graduated from high school.
Another Food Blogger's Bio:- Kelly Rizzo Wiki, Age, Husband, Net Worth
After graduation, the young lad of - half European and half Asian race - went to the US and started studying Global studies at Arizona State University.
Living a somewhat unconventional life since the beginning, Mark didn't want to get stuck in a conventional office job. So he took off to South America with the money he saved during college years. After the adventure, he returned to the US to attend his sister's wedding. 
During the visit, he started the blog Migrationology.com. Meanwhile, the internet was not such a rage; thus he kept traveling before settling in Thailand. He used to teach English on the side and work on his blog. 
Finally, his effort paid off, as he started making a decent money eating, traveling and reviewing food. 
Today, he has a massive following on social media; he is one of the top food bloggers. By making a yearly salary of $111K- $1million per year, he has accumulated decent net worth. Adding to his bio, Mark has a second channel Mark Abroad which focuses on his traveling aspect. The venture also adds to his net worth.
Know YouTuber's Net Worth:- Patrick Starrr Wiki, Age, Gender, Net Worth 
The foodie credits his dad for inspiring his way of life; teaching him how to live frugally and focus on what is essential in life. Well, the old man's advice is undoubtedly paying off.
Who Is Mark's Wife?
Mark is married to Ying since July 2013. The foodie, who holds American nationality, met his chef-teacher wife in Thailand. After enjoying a relaxed married life for a while, the pair welcomed their son Micah Wiens On 12th November 2016.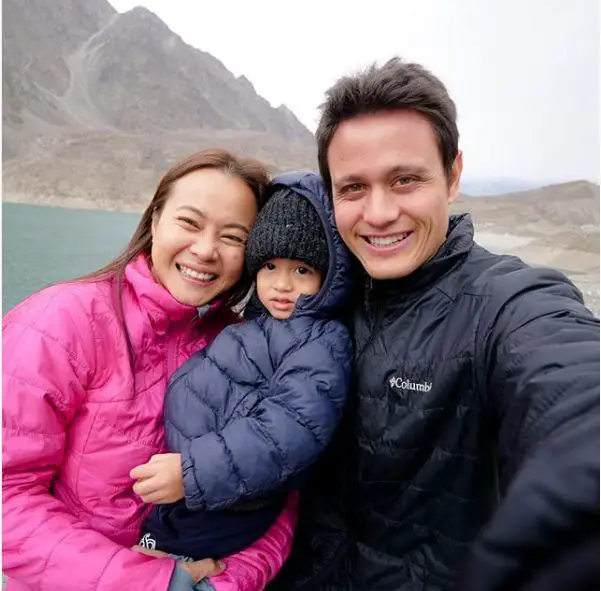 Mark Wiens takes a selfie with wife Ying and son Micah on 25th December 2018 ( Photo: Mark Wiens's Instagram)
Even After creating a family of his own the influence of nomadic way of living is still present in Mark. He takes the tour of the world with his wife and son in tow.