Entertainment
"Hot Fuzz" Star Edgar Wright Dating Status After Actress Girlfriend; Another Hottie?
English director Edgar Wright got his big film break with the famous movie, Shaun of the Dead and still, many good movies are coming through his great mind.
While showcasing his charisma on the screen may come easy for Edgar, it appears he is struggling with his love life for he faced two failures of his dating. However, one of Edgar's ex-girlfriend motivated him for his 2004's movie, Shaun of the Dead.
Now, the Poole, United Kingdom native has announced that he is getting married and enjoying his family time.
So, don't you want to over-look Edgar's guarded personal life? Keep digging on for more! 
Girlfriend Hates Being Photographed Together; Ex-Girlfriend Motivates For A Movie
The film director Edgar Wright was dating the Pitch Perfect actress Anna Kendrick since 2009. They met on the set of the 2010's movie, Scott Pilgrim vs. the World, which was Edgar's first U.S release.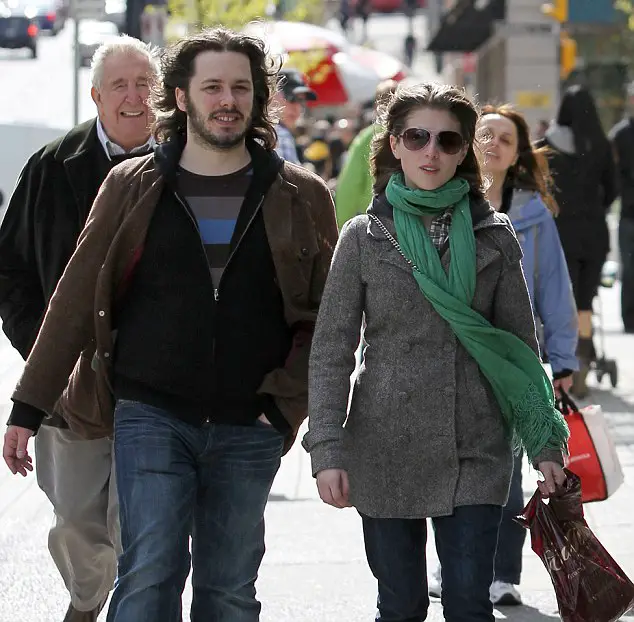 Edgar Wright strolling with Anna Kendrick in Vancouver Canada in April 2010 ( Photo: dailymail.co.uk)
The Oscar-nominated actress was asked about her relationship with the Edgar in October 2013 but she declined to reveal anything about their romance. She exclaimed:
"He's good, but I don't really talk about him."
Similarly, the actress previously mentioned in her interview with The Guardian in May 2013 that she disliked paparazzi photographing her with Edgar. Well, the couple also found difficult times to continue their dating life as Anna then-lived in LA while Edgar was London-based.
See Also:- Chris D'Elia Ended His Married Life With Wife; Has A New Girlfriend Or Busy With Happening Tours?
And, in 2013 came the full-stop to their relationship, the Shaun of the Dead director ended his dating life with Anna after four years of joyful intimacy. A friend of the couple told to Dailymail:
"Anna and Edgar really love each other, but the relationship ended amicably. They're both great, funny people."
Well, though the reason behind their separation remained very unclear, it seems distance disrupted their relationship.  
On the same year Edgar split with Anna, he revealed that the motivation behind the 2004's movie, Shaun of the Dead was personal. In an interview with "The Sunday Times" newspaper, he reveals that Shaun was a long apology to his ex-girlfriend. He stated:
"I'm sorry I was useless."
Well, the director was not even, in contact with the actress Anna in 2004. 
So, who was the inspiration behind the movie?
As it turns out, it's not only the actress, Edgar has dated; he sparked dating life with the band Ash's former guitarist Charlotte Hatherley in 2002. And it seems his breakup with the Charlotte came as an inspirational factor for him to write such an astonishing movie.
"Getting Married"; Family Time On Social Media
After separating from his two relationships, the director seems not to be indulging in any romantic relationship but announced to the world that he was getting married.
Don't Miss:- Carlos Correa Engaged To Girlfriend Is Dream Come True! Wife-To-Be Biggest Fan
The Hot Fuzz director surprised everyone with his tweet, writing "We are getting married" with the picture of holding someone's hand in 2014. So, has he really got a wife?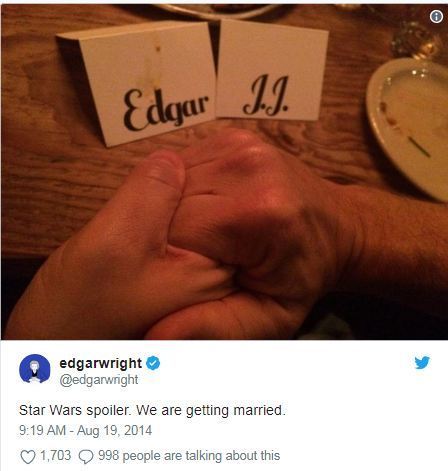 Edgar Wright Tweet on Getting Married in August 2014 (Photo: Edgar Wright's Twitter)
Well, in actual, the tweet was just a humorous prank for the promotional stunt of the movie, Star Trek: Into Darkness. And, to those who are still wondering whether Edgar is married, he seems not to be getting married soon.
The actor has seemingly taken a break from dating life and enjoying his family life, which his social media reflects.
On his tweet back in April 2017, he wrote that he liked the family policy of sending the exact same e-mail over and over again. He also recently took his mother's birthday celebration to his Instagram on 11 March 2018.
Career; New Movie With Simon 
Started a career with the direction of the film Three Flavours Cornetto, the horror comedy Shaun of the Dead. With his dozens of a film under his belt, he is mostly seen working with Simon Pegg and Nick Frost.
He is best known for his comedic Three Flavours Cornetto film trilogy consisting of Shaun of the Dead (2004), Hot Fuzz (2007), and The World's End (2013), made with recurrent collaborators Simon Pegg, Nira Park and Nick Frost.
You May Also Like:- Seth MacFarlane Closing In Married Tag? Hot Girlfriend, Multiple Affair Reflect
And the popular duo, Edgar, and Simon had not teamed up since 2013's The World's End. With giving the blockbuster movies together, they were not seen together since 2013 as Simon joined Star Trek and Mission: Impossible franchise and Wright helmed the surprise blockbuster Baby Driver.
Well, the wait is finally over for the audience as Simon and Edgar are coming with their new film. Meanwhile, Edgar is working on a documentary about the band Sparks. He is to direct a feature-length documentary on cult pop duo Sparks. For the documentary, she had already shot the band's concert at the  O2 Forum Kentish Town in London on May 2018.
Other than that, Edgar is busy on the short video, Beck: Colors (2018)  and the animation movie, Shadows (2019). He is on the run to add more projects under his resume, which certainly adds up to his net worth of $10 million.