Entertainment
Edie Falco Feels Getting Married And Having A Husband Is Not Important! Does That Make Her Gay?
Most of the people are bound to know Nurse Jackie aka Carmella from "The Sopranos." The role was played by Edie Falco and by god did she not do justice to the demand of the script.
She has been a successful gem in the industry but what she does in her personal life is a bit unconventional. Edie has been adamant on not marrying and having a husband in her life, and that is why her fans and people often wonder if she is a lesbian/gay.
So let us find out what prompts this act from her.
Not Married Because Of Her Gay Sexuality?
Edie is a mother, and everyone knows it. She has a son and a daughter who she adopted. She took her son Anderson Falco in 2005 and back in 2008, she adopted her daughter Macy Falco.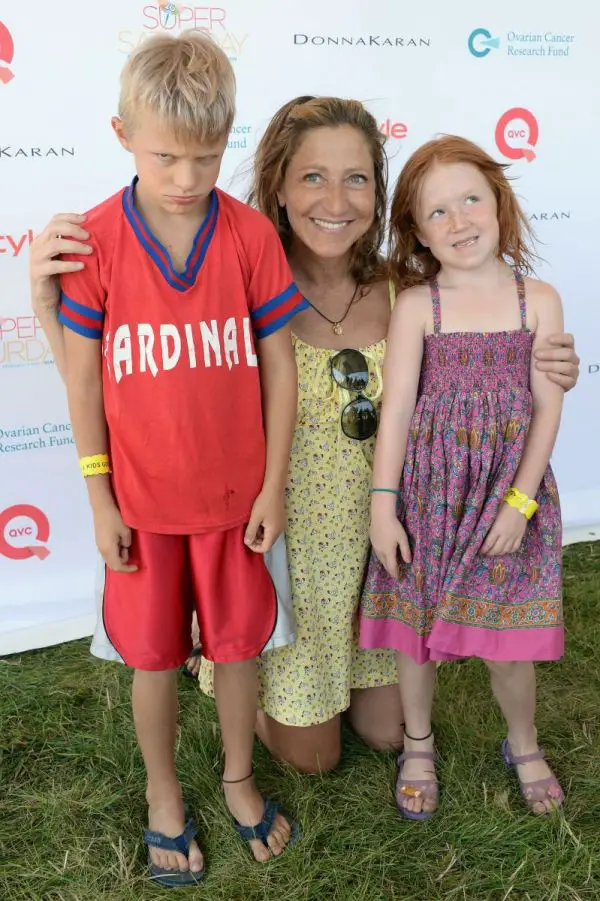 Caption: Edie Falco and her kids, Anderson and Macy posing for a perfect picture.
Photo Credit: christmas44.com
Back in 2012, she explained why she wanted to adopt children.
"At that time I was single and the idea to adopt came to me,"

"I just knew at a certain point it was time to raise kids."
She also added,
"I don't know if they know that not every one of their friends is adopted. My son says, 'So then the lady has the baby in her belly, and then I [say], 'And when the baby comes out, she gives the baby to the mommy.'"

I'm thinking I'm going to wait [to tell them] the fact that some ladies keep their babies for their own...We will get to that."
She then concluded,
"I don't [worry] because I am really clear in my head what it's all about,"

"The second you are handed a newborn, it is yours. It doesn't matter what body it came out of. I've never felt more strongly about anything in my life."
But if you want to have and raise children, why not get married? The actress had an answer to this too.
During an interview in 2010, when she was asked if not marrying made her sad, she said,
No. No. I'm not sad about any of my life. It's so unconventional. It doesn't look anything like I thought it would. I really am just making it up as I go along. And it took me a long time to realize that's OK. But if the main centerpiece of all of this is supposed to be love then I am living in a deluge of it—the friendships that I have that are, on the average, 30 years old, my family, my children. In my household there is an insane amount of laughter and celebration.
She added,
My kids have never seen me scream at anybody. They've never seen an argument. There's never been even a cold silence. And those are things that I grew up with because my parents did end up divorcing.
It is all right from her perspective, but the people often call her a lesbian/gay for that. Is she though?
In the same interview, when Edie was asked about her sexuality in a different and indirect manner, that if she ever buttered the other side of the toast, she said,
I beg your pardon! I am so not going there. Wow. I've never heard it put that way either. But no. I'm afraid I like boys.
There you go folks, she likes boys, and that makes it clear that she is not a gay woman.
She had dated men and had boyfriends in her life but did not marry them. Maybe, she did not find them compatible enough to tie the knot with.
So let us hope she finds a perfect man soon who she ends up tying the knot with!
A Short Wiki-Like Bio of Edie Falco:
Born, in Brooklyn, the United States on July 5, 1963, Edie Falco is an American TV and film actress, who is best known for her role on the HBO series The Sopranos where she played Carmela Soprano.
She is equally famous for her role in the HBO series Oz where she played Diane Whittlesey. She is someone who is successful in her career, and her awards and accolades speak themselves as to how great this actress is.
She even won the award for "Best Performance by an Actress in a Television Series - Drama" for The Sopranos in 2003 and also won the same award back in 2000 for the same project.
That shows how successful she is and her success has helped her earn a healthy amount of money too which is why she enjoys a net worth of $40 million.
But along with success, she has had her share of struggles in her life. She was diagnosed with breast cancer back some years ago.
In 2011, she elaborated her struggles and fought with cancer in a memoir.
Caption: Edie Falco talks about being diagnosed with cancer during "The Sopranos" (Published on May 23, 2017).
It indeed was a brave thing that she defeated cancer and is now free from it and enjoying her life with her adorable kids.
Stay with us for the emerging updates on Edie Falco!