Entertainment
Is Edward Holcroft A Gay Man In Real? Or The Rumors Exist Because Of A Hidden Dating Affair?
It's not new when a person justifying a gay character is perceived to be a gay in real life as well. How easy has it been for people today to form an opinion regarding someone's sexuality! Actors like Finn Jones, Cameron Monaghan, and Cameron Scoggins have already been there and experienced it.
Edward Holcroft, who portrayed the gay character of Alistair "Alex" Turner in the British American Television serial London Spy, has also been talked about being a gay.
But does he belong on the gay side for real? Or does he have a dating relationship with a woman, which could shut down the gay rumor?
Well, keep reading and decide for yourself!
Edward Holcroft's Gay Role, Raises Question Of His Sexuality; Is Dating A Girlfriend To Prove It Wrong?
Talking to Spy Games in an Interview back in February 2016, Edward opened up about his gay character, Alex. Describing his character that people felt was enigmatic, he expressed,
"I think he's lonely. For me, that was the biggest part of his character. What is it like for somebody to be really alone in the world? To have no friends, to have never had a relationship, never really talked to anyone outside your work? And [to have] this want to find something, but not have the social ability to because he's never practiced it? He's never been in social situations and he doesn't know how to socialize. It was more about being lonely, rather than enigmatic. I just think he doesn't know how to show emotions or how to convey it."
From being alone to finding love by Danny (portrayed by Ben Wishaw) and then being a part of a steamy gay sex scene as a doomed lovers, they did justice to their role.
Caption: Clips from London Spy, featuring Edward Holcroft and Ben Wishaw. (Published on Dec 18, 2015)
Both Ben and Edward justified their roles to the best, as a result of which, Edwards sexuality got questioned beyond the camera as well. However, as Edward hasn't come forth as a gay himself, any opinions formed on him being a gay remain baseless.
But does he have a girlfriend, which would debunk the gay rumors for good?
Well, the actor doesn't seem to have any dating affairs as of now, but back in time, he romantically got linked with somebody as per reports suggest. It was in July 2015 when Edward was spotted with Cressida Bonas, all smitten at a Wimbledon match.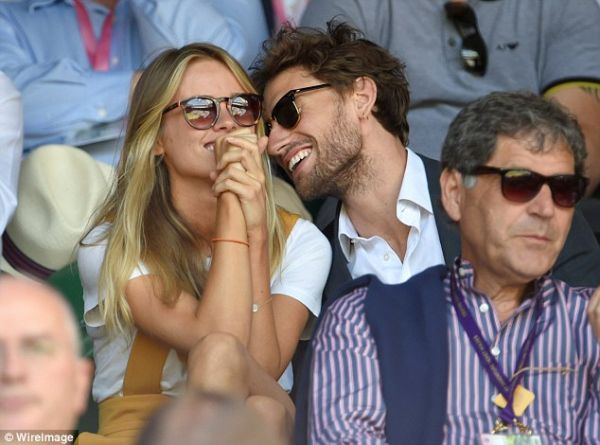 Caption: Edward Holcroft, spotted with Cressida Bonas at Wimbledon 2015.
Photo Credit: Dailymail
Moreover, three days prior to their PDA in the game, Cressida and Holcroft were pictured together leaving in a taxi from a London restaurant. After the duo was spotted together a notable number of times, the reports affirmed their relationship.
However, two months into the news of Edward and Bonas being together, the news of their split came forth, as on September 2015 Cressida was spotted together with her ex-boyfriend Prince Harry at a private party held in London.
But despite all the speculations, neither Edward nor Cressida confirmed their relationship as well as their separation.
Well, this keeps Edward's current relationship status a mystery, which, hopefully, will be addressed by the actor soon!
Stay with us to be the first to know when that happens!