Entertainment
Who is Eivin Kilcher Mother? Including Bio With Age, Education, Net Worth
The star of the reality show Alaska: The Last Frontier Eivin Kilcher is the third generation of the Kilcher family, who relocated to Alaska during World War II .
Eivin was born from a previous marriage of his father, Otto Kilcher. An Alaskan native Eivin is a married man with a small and happy family.
Want to know more about Eivins's real mother and his blissful family? Scroll down for all the answers along with Eivin's bio.
Who is Eivin Kilcher's Mother?
Eivin's father Otto Kilcher is married to Charlotte Kilcher. However, Eivin was not born from the union of Otto and Charlotte; but from a previous marriage of Otto.
Eivin's mother is Sharon McKemie the second wife of his father, Otto Kilcher. Despite no news about Otto and Sharon's married date, the couple parented two children Eivin and Levi. Sharon separated from Otto in 1987 when Eivin, born on 4 March 1984, was just four years of age.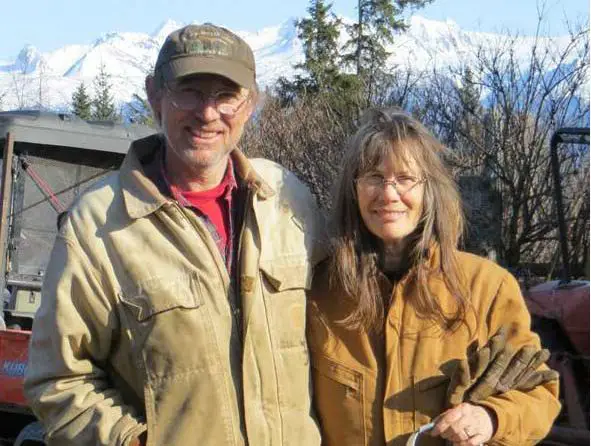 Eivin Kilcher's father Otto Kilcher and stepmother Charlotte Kilcher
Despite her separation from Otto, Sharon continued to live near the homestead of the Kilcher family, providing her sons with motherly care. Apart from being a mother, her role expanded to being a grandmother for Eivin's children son Findley and daughter Sparrow Rose.
An amazing mother and grandmother, Sharon has continuously provided support to her son and daughter in law, in raising up their children.
Happy Life Away From The Sophisticated World With Wife, Children
The 34-year-old huntsman is married to Alaskan native Eve Kilcher, his childhood sweetheart. The cherished couple resides about a mile away from his father's homestead and parent two kids.
The pair in an e-mail interview with PEOPLE talked about how the arrival of their son Findley changed their lives for good.
Eivin explained that the perks of being a father only dawned on him after Findleys birth in November 2013. And the challenges Eivin and Eve faced raising their son were near about insurmountable, no electricity to keep the cabin warm, the couple had to rely on firewood. Similarly, surviving the long Alaskan winter on limited supplies of food was a challenge.
However, the couple defeated the insurmountable, in successfully raising the son. And whats more, Eivin became a father for the second time when the Kilcher household welcomed daughter Sparrow on 28 September 2015.
The loved-up couple now shares a young and lovely family and share their happiness together. Eivin and Eve also shared about the delicacies that get cooked in their home after releasing a Cookbook, Homestead Kitchen in 2016.
Not just that, the couple also share pictures of the family celebrating every festivities together on their Instagram and Facebook profiles.
On 19 November 2017, Eve posted a picture of her son blowing candles on his home-made birthday cake as a part of his birthday celebration. Similarly, Eve and Eivin posed for a photo on Valentine's day 2018 with Eve claiming herself as the luckiest girl in the whole world to have found the best possible partner.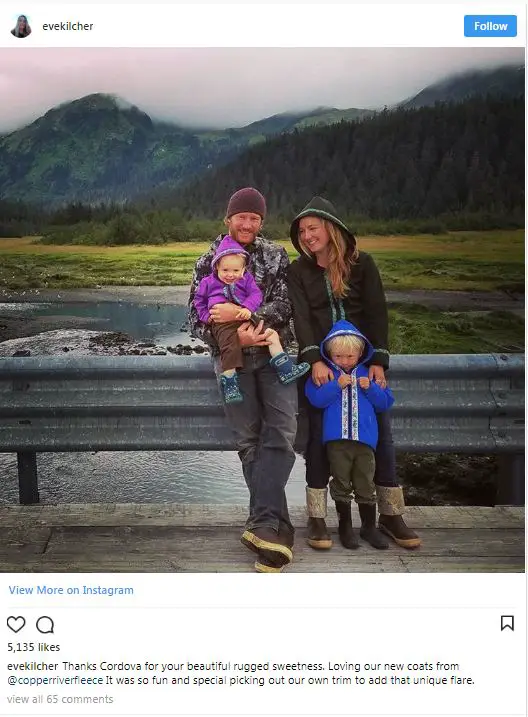 Eivin Kilcher with wife Eve Kilcher and children (Photo: Eve Kilcher's Instagram)
Eivin and Eve, more like Adam and Eve continue to lap up the happiness their family has given them despite the harsh and brazen nature of Alaska.
Education, Job, And The Net worth
Born to one of the extreme parts of the world, Eivin chose to pursue a career in hunting and farming rather than gaining a formal education.
He learned numerous trades from his father, from hunting to mechanical works like repairing a car, building cabins. Despite, his father being a farmer first, Eivin showed an inclination towards hunting and fishing.
And the 'jack of all trades' Eivin as of 2018 lives a hybrid life juggling between various jobs of a farmer, hunter, gatherer and a reality show star.
Eivin and his family's lives changed after being the part of the reality show. Not only did the show acquainted the viewers with a primitive lifestyle the people in Alaska still live, but it also provided name, fame and wealth to the Kilcher family.
The Kilcher family enjoys a total net worth of about $16 million, and his wife's net worth is $2 million which she shares with her husband.