Entertainment
Who is Eivin Kilcher Of 'Alaska:The Last Frontier'? His Bio, Wife, Net Worth
American Reality star Eivin Kilcher is best known for his role in Discovery Channel's Alaska: The Last Frontier- a show which documents the lifestyle of Swiss immigrant descendants, Kilcher family.
Elvin and his extended Kilcher family, live in the Alaskan wilderness without the ease of modern technology, subsisting themselves by farming, hunting and preparing for the long winters.
Read on to find out more about Alaska: The Last Frontier's star and a true Alaskan Eivin Kilcher.
Eivin Kilcher's Wiki-like Bio/ Age
Eivin was born on 6th March 1984 in Alaska, USA. His parents are father, Otto Kilcher, and mother, Sharon McKemie.
More On Eivin's father:- Otto Kilcher, 66, Perfectly Balancing Work & Family With Wife; Assist By Children!
Eivin is the third generation of the Kilcher family, who relocated to Alaska during World War II.
His grandparents Yule and Ruth, escaped Hitler's stronghold on Eastern Europe and ran to the wilderness of the northern U.S. for shelter and security.
His Marital Status
Eivin Kilcher is married to fellow Alaskan, Eve Kilcher. As a married pair, Eivin and his wife live about half a mile away from Eivin's father's home.
Eivin Kilcher's Wife
Just like Eivin, his wife Eve is also an Alaskan, who was raised, not far from the Kilcher Homestead.
While her husband goes away for hunting and building, Eve spends most of her time gardening. She is known as the most significant green thumb in the Kilcher family for her ability to grow massive amounts of vegetables in the abridged growing season.
Another Member of Kilcher Family:- Setting Straight Atz Lee Kilcher Divorce Rumors! Wife Explains Why Couple Avoid Putting Kids on TV
During the four months' time, Eve grows enough vegetables for eight months of consumption.
Their Children
Eivin and Eve are parents to two kids together.
Their first child, son- Findlay Kilcher was born on 19th November 2013.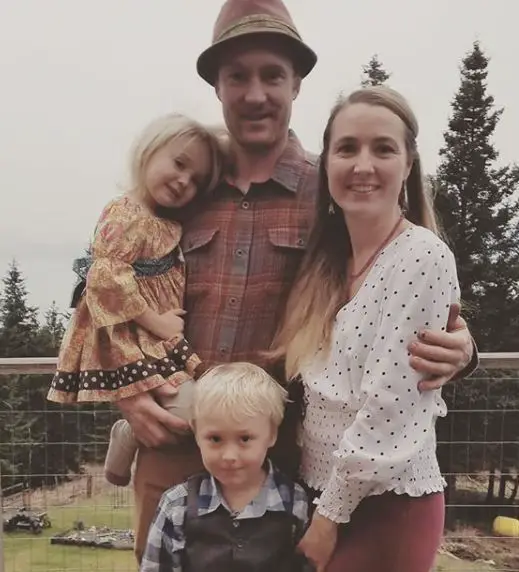 Eivin Kilcher with his wife Eve and kids in November 2019 (Photo: Elvin and Eve's Instagram)
Further, the duo became parents for the second time in September 2015, after the birth of their second child, daughter- Sparrow Rose Kilcher. 
Net Worth 
According to Celebrity Net Worth, Alaska: The Last Frontier star, Eivin Kilcher has a net worth of $3 million.
Some Other Facts
Eivin Kilcher has authored books like Homestead Kitchen: Stories and Recipes from Our Hearth to Yours, with his wife Eve.
He is the cousin of Grammy-winning singer and songstress Jewel. 
According to Celebrity Net worth, Eivin's wife Eve has a net worth of $2 million.
Eivin and Eve grew up in the same Alaskan wilderness. 
Eivin and Eve Kilcher share a joint Instagram account, on which their bio describes them as- Homesteaders, parents, clean, pure living advocates promoting sustainable, regenerative living.