Entertainment
Otto Kilcher, 66, Perfectly Balancing Work & Family With Wife; Assist By Children!
If you want to learn about survival in the wilderness; take inspiration from a man who has spent his whole life exploring and taming the nature.
Otto Kilcher has lived his life surviving the harsh condition of Alaska without the necessities like plumbing and heat. An expert at handling tools, Otto showcases his survival skills in his reality show Alaska: The Last Frontier.
Enjoying a successful tv franchise, Otto also maintains a happy personal life with his wife and family.
Two Wives: Lives In Harmony
Otto was previously married to Sharon McKemie, but they got divorced in 1987. He has two sons, Levi and Eivin from his marriage with his first wife. Although divorced, Sharon still resides near the homestead and is a beautiful mother and grandmother to her sons and grandchildren. 
Currently, is married to Charlotte Kilcher. Charlotte, who moved to Alaska in 1978 to pursue her career as a wildlife biologist; has been married to the 66-year-old for more than 20 years now. The couple has one child from the matrimony, a son named August.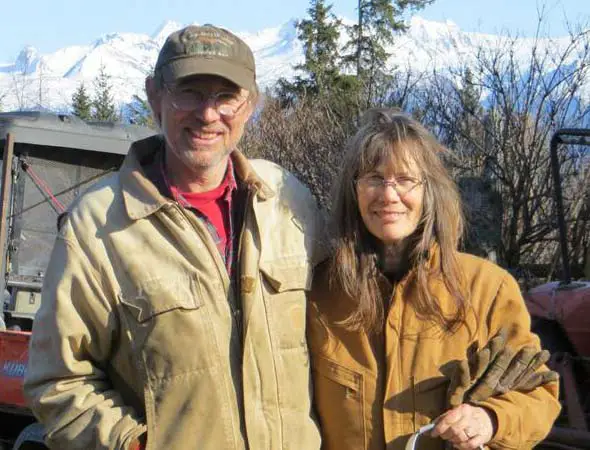 Otto Kilcher with wife Charlotte in their homestead (Photo: Wikicelebinfo.com)
Like Otto, she was also previously wedded and has one son from the former marriage, Torrey.  
Otto has been leading a prosperous household with his wife. Further, his professional life is also comfortable as Otto gets all the support he needs from his family.
Loving Family
Otto along with his nephew, Atz Lee Kilcher, runs the show Alaska: The Last Frontier. In the show, he is assisted by his family including his three sons and stepson, Torrey. 
Otto Kilcher with family cast of Alaska: The Last Frontier (Photo: Starcasm.net)
The show is an example of the beautiful bond shared by the Kilcher family members. Further, the cast of the tv program also includes Otto's wife Charlotte, brother Atz Kilcher, Atz's daughter Jewel, Atz Lee's wife Jane, and more.
One of the cast members of the show Eivin, who lives half a mile away from his father Otto, also enjoys a successful married life. Eivin is married to Evin Kilcher, who is a farmer and hunter like her husband. The couple is parents to two children, a son Findlay and a daughter Sparrow Rose.
War Refugee To A Millionaire Family
In 1936, Otto's father Yule Kilcher moved to Alaska from Switzerland during World War 2 to find a safe place for him to live. He married Ruth Weber in 1941. The couple had eight children from the marriage, two sons, and six daughters.
Initially struggling to provide food for the family, Yule later got involved in politics and helped form the state of Alaska. Yule was appointed as a delegate to the first Alaskan Constitutional Convention in 1955.
The Kilcher family has long left behind their struggling and now enjoy the millionaire position. Otto Kilcher enjoys a net worth of $4 million whereas his daughter-in-law, Eve, proclaims a net worth of $2 million. Together the family possesses assets worth $16 million including the homestead.