Entertainment
Who Is Ella Anderson: From Age to Her Most Recent Movies and TV Shows
Who Is Ella Anderson: From Age to Her Most Recent Movies and TV Shows Among all the stars, people notice the one that shines the brightest. Similarly, among many talents, the name that has been winning all the hearts is the child actress, Ella Anderson.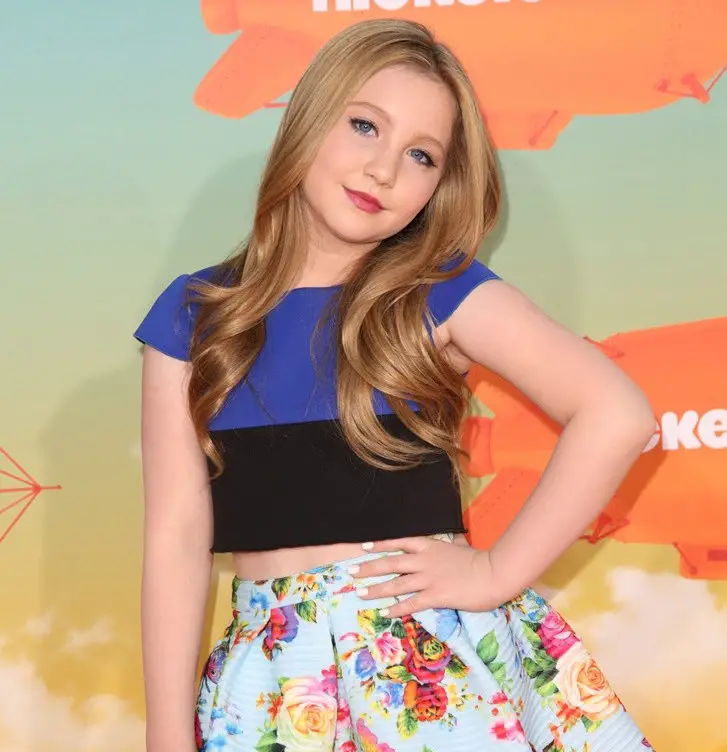 Among all the stars, people notice the one that shines the brightest, and among such talents, the name that has successfully captivated all the hearts she's come across is the child actress, Ella Anderson.
Ella has made her way towards stardom at a tender age and has garnered her place in the hearts of both her fans and her co-stars.
If you have the desire to know about her journey towards the stardom, then you've hit the right place!
All You Need to Know About Ella Henderson:
Ella Aiko Anderson was born on March 24, 2005, in Michigan, USA and was fond of acting since a very young age. She started grooming her acting skills from the age of 5, and by the time she reached 6, she got a chance to appear in the 2011 TV movie, 'Last Man Standing' as 'Haley.'
In the same year, Ella made her first debut, portraying the role of 'Jamie' in the drama, 'Touchback' where she realized her dream to be an actor. Sharing the same thought, she divulged,
 "It was on that set that I decided that I wanted to be an actress for the rest of my life. Once we wrapped, I couldn't wait to get back on set again."
The animal lover, Ella, moved from her hometown to Los Angeles with her parents, her two siblings, and her lovely dogs back in the year 2012.
However, moving homes didn't have any effect on her career as in the same year, Ella was seen in the Disney channel's 'ANT Farm' along with a feature movie,'The Giant Mechanical Man,' adding a positive impact on her career.
Ella's professional life took the right turn after being featured in the hit Nickelodeon show, 'Henry Danger' earlier in 2014, and has been a member of the show ever since. Her role of Henry's little sister on the show got a lot of positive reviews, subsequently enhancing her fame even more.
While working on the series, Ella was also seen in 'Unfinished Business,' and 2015 movies 'The Boss,' and 'Mother's Day,' including many other TV shows. Her growing fame increased her fan base as well, which got her nearly 700,000 followers on Instagram and over 34,000 followers on Twitter.
In the year 2016, Ella launched her beauty care company brand and named it as 'Aiko' which is also her middle name.
Ella continued her journey in pursuing her career in acting and her recent movie, 'The Glass Castle' brought her a step closer towards her dream. Ella, who has portrayed the character of Young Jeannette Walls alongside Woody Harrelson, Naomi Watts, and Brie Larson, has demonstrated her maturity through her acting.
Despite her young age, Ella has shown her exquisite acting as well as her maturity as a professional, which has offered her many movies and tv shows. When Ella was asked to choose between the two words: kid or actor, she described herself as:
"I am a kid and acting is what I love."
Considering her reply, the 12-year-old is much more matured for her age; one of her co-stars even commented,
"Crew members adore Ella and are impressed at her maturity and how effortlessly she holds her own with A-List directors and actors."
Besides work, the young actor doesn't fail to have fun as well. The fun-loving prankster once fooled her co-star, Shane Johnson, giving him a fake donut and exploded with laughter when he took the bite. Although she doesn't reveal much about herself, she said that sometimes she stays up till 3'O clock in the morning chatting with her friends on snapchat. 
The TLC lover, Ella did a 90s song lyrics challenge by Seventeen HQ, after her movie 'The Glass Castle' was released, in which she made everyone laugh with her first-hand snap. 
Ella's mischievous act and her maturity both blends seamlessly and it can be seen in her acting as well. She molds herself according to the given character which has made her one of the sought-after child stars, and although her net worth is yet to be revealed, her rising fame suggests that her fortune is beyond the millions!