Emeril Lagasse is a craftsman when it comes to...world recognized chef broaden his horizon of cooking by traveling different place around the globe and mastering... mother was of Portuguese descent whereas his father was...turned down a scholarship from the New England Conservatory to pursue his dream...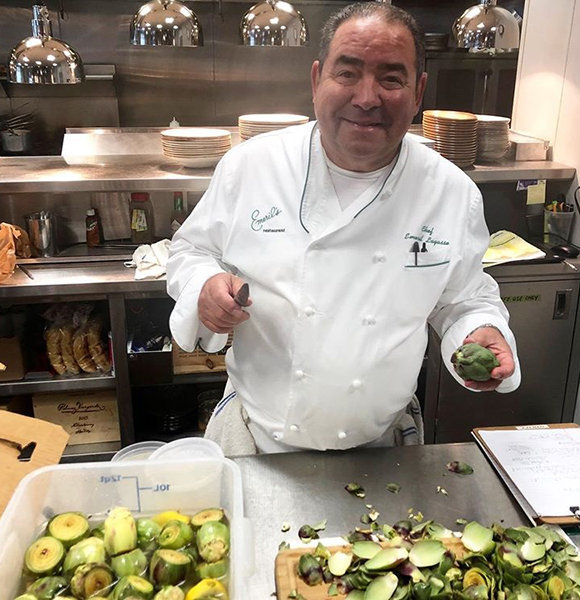 From creating mouth-watering dishes to teaching people how to make them, American chef Emeril Lagasse is an artisan when it comes to cooking.
The host of the famous cooking show Essence of Emeril has presented over 2,000 shows on Food Network. He is also the food correspondent for ABC's Good Morning America.
The world recognized chef broadens his horizon of cooking by traveling to different places around the globe and mastering each style of cookery wherever he goes.
Emeril Lagasse Biography
Emeril Lagasse was born in Massachusetts on 15 October 1959. His mother was of Portuguese descent; whereas, his father was of French Canadian descent.
Growing up, Emeril was always passionate about cooking. He started working in a Portuguese Bakery, where he enhanced his cooking skills.
Amidst his job, he also continued his studies. Upon completing his high school, he was provided a scholarship to the New England Conservatory of Music but turned down the offer to pursue his passion for cooking.
Similar Chef:- Roy Choi Chef, Wife, Children, Restaurant
Later, he joined the Johnson & Wales University and received an honorary doctorate from the university. Driving a hunger for cooking, the young cook traveled abroad to enhance his skills and learn new techniques.
After a long hop tour to learn different cuisines, Emeril showcased his skills in reputed restaurants in Boston, New York, and Philadelphia. He finally landed a long-term job at Commander's Palace in New Orleans in 1982.
He helmed the kitchen there for eight long years and later went onto start a resturant of his own called Emerils in 1990. Soon after a year in 1991, Emeril was awarded the Best Southeast Regional Chef by James Beard Foundation.
Since then, the award-winning chef has triumphed in the cooking field. As of now, even at the age of 60, he is a popular television personality and celebrity chef. He has appeared in the Top Chef as a judge and also co-hosted TNT's first cooking series, On the Menu.
Married Thrice, Wives
Most women are intrigued by the idea of having a husband who can not only romance her but is also a great cook. Not much was different with Elizabeth Kief, Emeril's first wife.
The couple tied the wedding knot in 1978 and even became parents to two girls, Jessica and Jillian. However, their love couldn't last long as the two parted ways in 1986.
After, the split Emeril cooked another love affair with Tari Hohn. He married the fashion designer in 1989 and also shared two children John and Meril before getting divorced in 1996.
In the hot and cold love life, the chef married for the third time to real estate broker Alden Lovelace in 2000.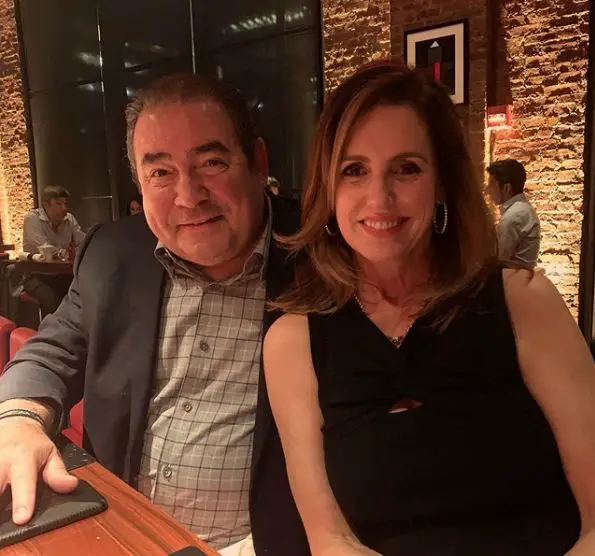 Emeril Lagasse with wife  Alden Lovelace on a dinner date in June 2019 (Photo: Emeril Lagasse's Instagram)
Much to people's surprise, the pair are still happily married and cherish each other's presence. In May 2019, Emeril posted a picture of him and his spouse wishing her on their 19th anniversary, which shows his concern towards the relationship.
Net Worth Details
Being a celebrity is a tough ask, but Emeril Lagasse fits right in the spot.
With more than a decade of experience in professional cooking, the classy chef boasts several cooking jobs up his sleeve.
Also Read:- Claire Robinson Husband, Food Network, Family
He is the head chef and the owner of 12 restaurants across the US, with a variety of cookbooks to his name. He also serves as a host and food correspondent for various TV shows and channels.
From his multiple work-lets, the chef enjoys a lavish life and accumulates a net worth of $70 million. However, he is involved in charity and helps the needy financially whenever required.