Emily Fernandez, a.k.a. Right Cheek, had a tough start in life. After being born with dwarfism known as Achondroplasia, her biological parents put her for adoption.
But a kind couple - also suffering from dwarfism - adopted her and gave her a nurturing childhood. However, at the age of sixteen, Emily suffered another tragedy in her life when her adopted mother died due to surgery complications.
While dealing with the tragedy, she slowly rose in her professional life. She made a splash via starring in Little Women: Atlanta and Little Women: Dallas. Add to that; she is also a part of the performer duo called, The Cheeks with Bri Barlup.
Net Worth, Height
Emily had a happy childhood after being adopted by her kind second parents. She boasts a trust fund, which means she is set for life in terms of money.
However, she chose to work to earn a living and have a career. Emily is a club owner, performer, and a reality star. Her group The Cheeks are quite popular. They got featured in rapper Lil Chuckee's music video for his song, Da Wop.
Also Read:- Hannah Snowdon Bio, Age, Tattoos, Wedding
Add to that; she earns a sizeable salary from every episode appearance in the reality show - Little Women: Atlanta - which adds to her net worth. Taking about the money maker's height, she stands at 4 feet 1 inch ( 1.24 m).
Husband Potential And Baby Details
Emily had an on-off relationship with Lontel Johnson for a long time. The intensity of their romance had lead people to believe that the reality star would turn Lontel into her husband.
People's speculation grew as the pair welcomed a baby boy named Lontel Jahnar Johnson Jr. (JJ) on 27th April 2016. However, the pregnancy and eventual birth of the baby was a testing time for Emily and her boyfriend both as a couple and parents.
The reason behind such condition was Lontel like her mother suffered from dwarfism. Add to that; he also had brain damage; thus, even while inside the womb, the child suffered a lot.
Well, the health scare continued as Emily's baby boy suffered from seizures and had to be tested and monitored continuously. The situation got worse, and he had to be put in the ventilator. After just three months of his birthday, the reality star's son died in August 2016.
TV Host Of Same Name:- Emily Compagno Wedding, Husband, Salary
Post the death of the baby, Emily and her boyfriend grieved a lot and found solace in each other. But, differences cropped up when the Little Women: Atlanta star wanted to become a mother again. But, Lontel didn't want to suffer another tragedy again; thus, they broke up.
After break up, Emily struck a deal with her ex-boyfriend and asked him to become her sperm donor. She gave birth to a son Zayne Odell Johnson in October 2018 via IVF.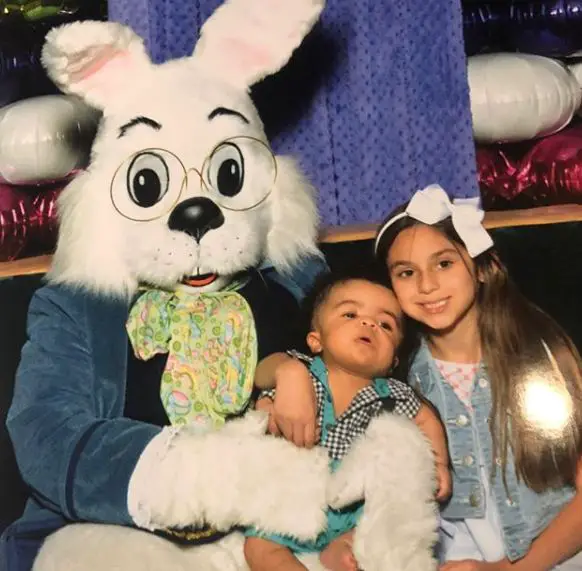 Emily Fernandez's son Zayne Odell Johnson and daughter Eva celebrate Easter on 21st April 2019 (Photo: Emily Fernandez's Instagram)
Now, the reality star is a mom to two living children, Zayne, and a daughter named Eva from her previous relationship. While Emily's second son suffers from dwarfism, Eva, on the other hand, is normal.