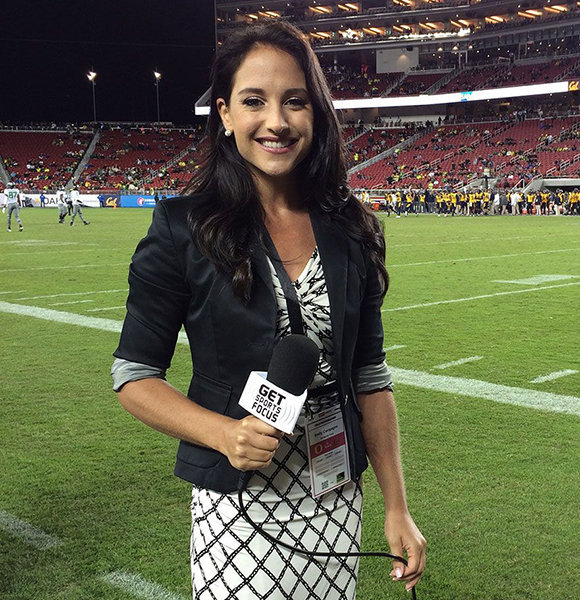 Fox News' Emily Compagno is a multitalented woman who has established a prominent mark in reporting. She is a legal and sports business analyst, a practicing attorney, a sports reporter, and a former NFL cheerleader. 
Even though she seems single and looks younger than her age, she is actually married to her loving husband. 
Let's find out who this amazing woman is married to.
Emily Compagno's Husband
The American journalist, who gives the whole world her take on legal and sports affairs, has kept her personal life a secret. She has managed to keep the identity of her husband hidden to date. She even has not revealed any pictures of her husband. 
Don't Miss:- Eboni Williams From Fox News Found Husband? She Might Have Revealed It
However, it is not a secret that she married the love of her life, Peter Riley, on 14th September 2017 in a beautiful Italian wedding ceremony. They celebrated with their close friends and family.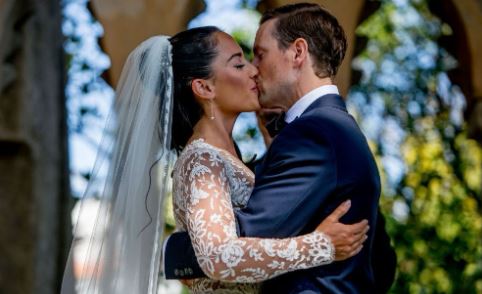 Emily is on her wedding day with her spouse. (Source: Pinterest)
Emily met her husband when they both were teenagers. They were just acquaintances until they fell in love after 16 years while crossing paths on the sidewalk of Seattle. 
Although she refuses to bring her man into the limelight, Emily does mention him time and again on Twitter.
Both being fans of football, it becomes an event in the Compagno house during NFL games. Interestingly, Emily is an Oakland Raider fan, while her husband is a die-hard Seahawks fan. During the matches, the journalist's house is divided into two teams per se.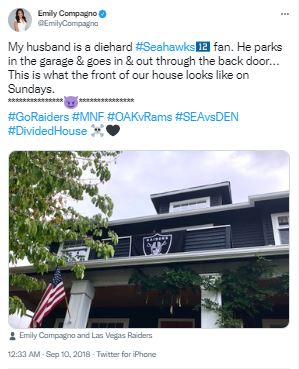 Emily and Pete's house. (Source: Twitter)
On 9th September 2018, Emily shared a snap of the front of her house where she had sneakily put up the shield of her team Oakland Raiders, behind her hubby's back.
The American journalist's hilarious take on married life was not new to her fans. Just a day after a wedding, she tweeted that her newlywed husband had left the wedding ring in the room and gone out.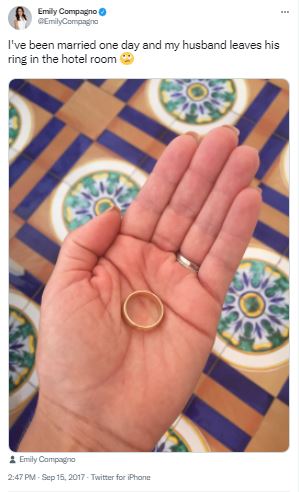 Emily with her partner's wedding ring. (Source: Twitter)
Her admirers aren't complaining as they love her goofy commentary about her married life.
Despite sharing her moments with her husband, Emily has never shared any pictures of her partner on social media, which caused a lot of rumors about her getting a divorce. She was also rumored to be pregnant, but the rumored died when she constantly posted pictures of her normal figure. 
Maybe she is still not ready for children and wants to focus more on her career.
Emily Compagno's Career
Emily, age 42, began practicing as an attorney in 2006 after graduating from the University of San Francisco with a Law Degree. The talented lady, who celebrates her birthday on 9th November, didn't take time and quickly cleared the California Bar exam in the same year.
In 2007, Emily, with a height of  170cm, added another feather to her cap when she started working as a cheerleader for the Oakland Raiders side by side, practicing law.
The reason behind her unconventional choice was her love for dancing and NFL. Little Emily started dancing when she was just three years of age, but her challenging time as a law student didn't allow her to pursue her dancing passion.
Emily Compagno in her element as a cheerleader ( Photo:s.hdnux.com)
A master of prioritizing things, she kept her passion aside for her high school and university education, but once the law degree was cleared, she pursued her dancing dream as a cheerleader.
After dancing her heart out for the team she loved, she put aside her cheerleading shoes and focused on her career as a journalist.
Read About Talented Fox News Journalist:- What Is Liz Habib Age? Husband, Bio, Salary
To her credit, she provides her expertise in sports, business, and legal affairs on national networks and local television stations. In the past, she covered PAC-12 sporting events and FanSpeak segments.
Besides the media gigs, she worked as a federal managing attorney in one of the top legal firms in America.
Her resume includes working as a civil litigator; and a criminal defense attorney. In addition, Emily famously worked under Honorable John T. Noonan, Jr. at the United States Court of Appeals for the Ninth Circuit in San Francisco.
Explore: Taran Noah Smith's Life Now- His Wife, Net Worth, Parents & More
There is no reliable source that reveals her net worth. But, looking at all her professional stints, she boasts a salary of around  $80,000 per year.
Even though she is active on Instagram and Twitter, she mostly shares her working life rather than her married life. 
We hope Emily soon gives us information about her married life. We will surely update you on Emily Compagno in the coming days. Till then, stay tuned.