Enes Kanter before the Knicks match with Washington Wizards...Knick's Center was born on...he was declared permanently ineligible to play...disowned by his parents...he holds a wrestling and bodybuilding superstar...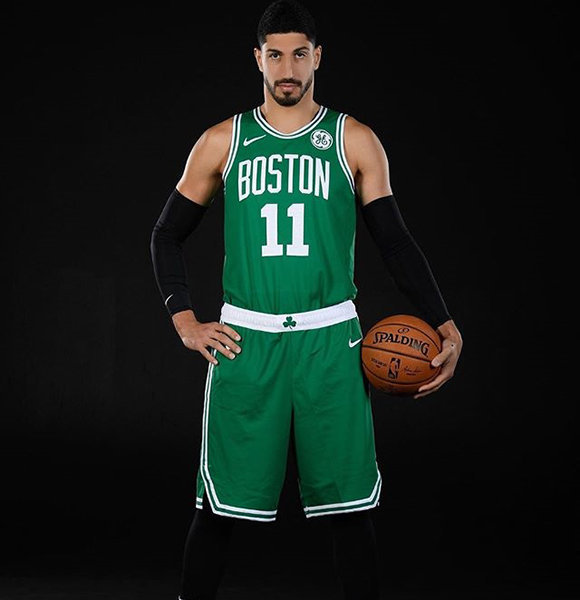 "Anyone who speaks out against him is a target. I am a target. And Erdogan wants me back in Turkey where he can silence me."
The above mentioned was the statement of New York Knicks' big man and outspoken political critic Enes Kanter, before the Knicks match with Washington Wizards at the O2 Arena in London in 2019. He didn't take part in the match, and Knicks also lost the close game 101 to 100 to Wizards, but the game was not the problem for this NBA star.
Enes was fearful of his life due to his vocal opposition to the president of Turkey, Recep Tayyip Erdogan. Turkey officials have issued Enes's arrest warrant in Turkey since 2017, and further, have been seeking international warrant citing his connection to a Turkish political figure in exile in Pennsylvania, Fethullah Gulen.
Actually, Enes was born in Switzerland, but he possesses Turkish ethnicity.
Family: Father And Background
Knick's Center was born on 20th May 1992 in Zurich, Switzerland, to Turkish parents, Mehmet and Gulsum Kanter.
Another NBA Star:- Marvin Bagley III Parents, Stats, Contract, Salary
The family then returned to Turkey. Enes's father became a professor at Trakya University, and his mother was a nurse in Turkey, where Enes grew up with his three younger siblings.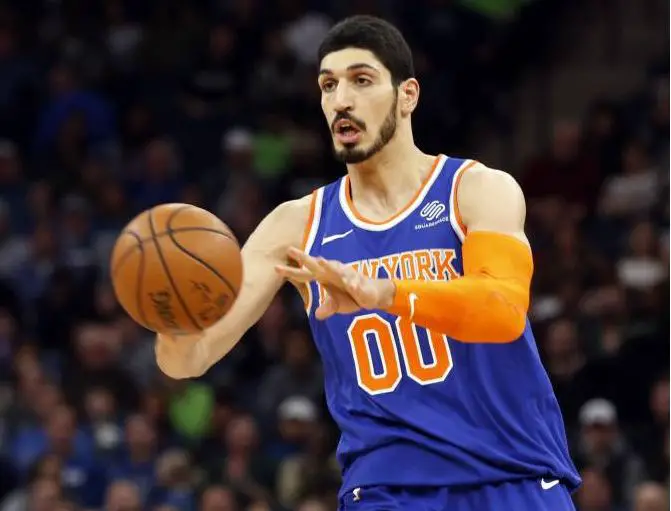 Enes Kanter with New York Knicks Jersey in 2018 (Photo: Jim Mone/Associated Press)
Specifically, NBA star has a sister and two younger brothers, including basketball player Kerem Kanter.
Taking about Enes' athletic career, he played professional basketball in Istanbul before he moved to the United States at the age of 17. Though he was declared permanently ineligible to play college basketball by NCAA, Utah Jazz drafted Enes third in 2011 NBA draft.
Enes of the height of 6 feet 1 inch (2.11 m) has been gracing the Basketball court with his immense talent since 2011. He holds the Turkish nationality but has a permanent residency in the United States.
However, life has not been smooth for Enes or his family due to his tie-up with Gulen, who was suspected of being involved with the group that tried to overthrow Turkey's president in 2016.
In August 2016, Enes was disowned by his parents for supporting Gulen.
In response, Enes wrote an online letter,
"Today I lost those who for 24 years I called ... my family ... My own father wanted me to change my surname. The mother who gave birth to me rejected me"
In the summer of 2017, the Turkish government sentenced Enes's father to 15 years in prison but was released after five days on a condition that he regularly report to a police station. In August 2018, Enes's father was arrested again for leaving Istanbul to visit his relatives.
Enes released a statement with a hard response towards Turkish authority,
"No matter what happens, I will continue to keep fighting for human rights and freedom of speech, justice, and democracy above all. I will stand for what I believe in. All I'm doing is trying to be the voice of all those innocent people."
Who Is Enes Dating? Girlfriend?
Enes is a long-time professional wrestling fan, and he even briefly held the WWE Championship. Now, he holds a wrestling and bodybuilding superstar, Dana Brooke, closer to his heart.
Enes was seen with his girlfriend hanging out since August 2018. Further, Dana was spotted seen at Knicks game in February 2019 when the NBA trade deadline was approaching.
The duo is not married yet, but both superstars will have a happy life considering their salary and net worth.
Interestingly, the power couple might share the same profession again as the NBA star claimed earlier in 2019 that he was even considering wrestling as a post his basketball career.