Erica Herman has been involved in the restaurant business since her college days. She previously worked at Blue Martini, Orlando as a bartender. Armed with the experience, Erica then went on to open a late-night club entitled Don't Tell Anyone in Orlando.
However, the business was shortlived and ended up costing the businesswoman a great deal of money.
Now, she works at pro-golfer Tiger Woods' The Woods Jupiter restaurant, and a weekly amount of $1,586.54 from her wage goes to pay her nightclub's debt. Reportedly, her debts will get cleared by 2085.
Bio, Age, Professional Link Turns Romantic
The restauranter was born on 15 February 1984 in the United States. The 35-year-old boasts Aquarius sunsign, according to her birthday.
Erica's life first came under scrutiny when she was seen boasting a player spouse badge and accompanying Tiger Woods at 2017 Presidents Cup. From the romantic revelation, the former bar tender's details began emerging in media.
Interestingly, she went to the University of Central Florida to pursue a Political Science degree. While serving as a part-time bartender, she met Tiger.
Reportedly, Erica and the pro-golfer weren't romantically involved then but forged a special connection. They kept in touch, and the Masters Tournament champ contacted her when he opened his restaurant, The Woods Jupiter in 2015.
Tiger's Ex-Girlfriend:- Lindsey Vonn Casually Dating; Won't Marry Boyfriend Soon, Ski Racer Reveals
While Erica and the golfer's relationship was often speculated, they never confirmed the nature of their relationship. But, in April 2019, Tiger - height 6 feet(1.83 m) - made the public declaration when he kissed Erica after his 2019 Masters Tournament win.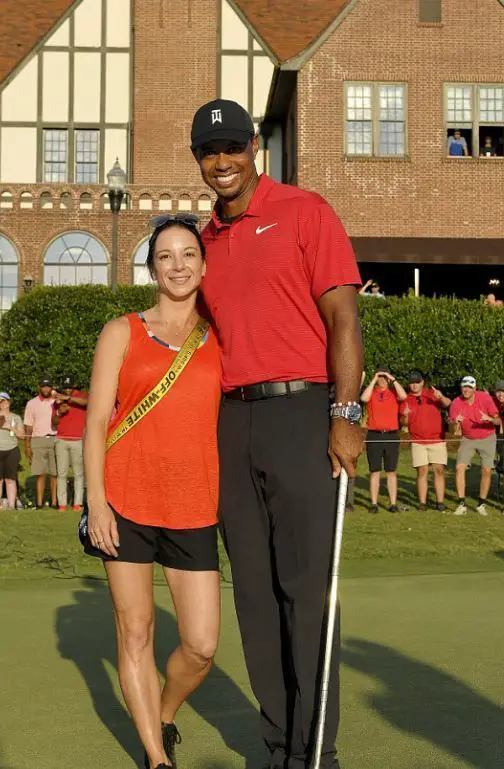 Erica Herman poses with boyfriend Tiger Woods at Masters Tournament in April 2019 (Photo: www.dailymail.co.uk)
Also, the University of Central Florida alum gets along well with Tiger's children; Sam Alexis Woods and Charlie Axel Woods. She often accompanies her boyfriend and his brood to Tiger's Yatch for vacation.
Although the pair are yet to get engaged or married, Erica and her man seem like a reliable pair.
Erica's Net Worth
Erica has been plagued by financial worries all her life. It all started when her nightclub business failed in 2014. She along with then-boyfriend, Jesse Newton, and a business partner had taken a loan of $200K from Tom Morris in 2010.
But, the nightclub venture became ready only three years behind the original date. Despite the adversities, the establishment created buzz and attracted people. However, it closed just months after its opening in 2014. Failing to receive his money, Tom filed a lawsuit due to which Erica's weekly wage continue to get cut to pay the moneylender till date.
Explore:- Elin Nordegren Talks About Relationship With Ex-Husband While Dating A New Boyfriend
Similarly, Erica was involved in another law-suit in 2012. Crescent Bank took the legal way to take back her BMW for failing to comply with the loan agreements.
The pro-golfer's girlfriend's history with lawsuits doesn't end there. In 2012, Erica and her lover Jesse Newton were slapped with a lawsuit for failing to pay the rent. Following the ordeal, they were eventually evicted from the building.
On the other hand, Erica's pro-golfer boyfriend Tiger's net worth is $800 million.