Entertainment
Erika Costell Dating? Meet The Boyfriend She's Smitten With
Erika Costell Is Dating! Meet The Boyfriend She's Smitten With The American Fashion Model, Erika Costell, who is famous to be the part of the YouTubers group 'Team 10' has more than million fans and followers on her YouTube channel.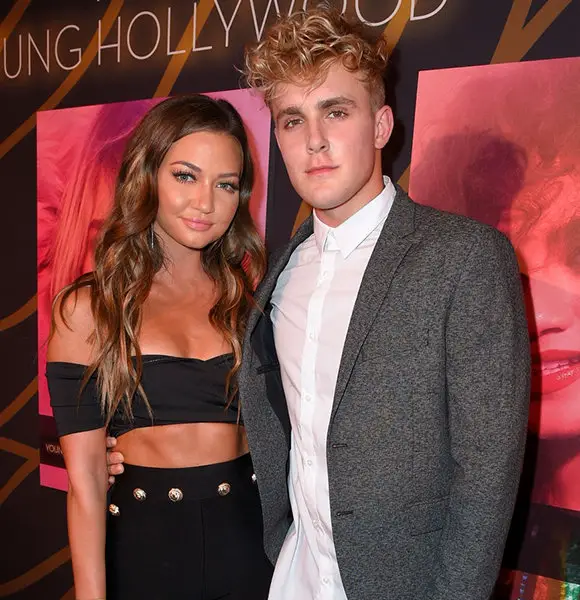 American Fashion Model Erika Costell, who is famous to be the part of the YouTubers group 'Team 10,' has more than million subscribers on her YouTube channel.
If you belong to the group of fans of this lady, you most probably know her personal life. Well, if you don't; you need not worry as today we'll shed light on her dating life in the following context!
Dive in!
Erika Costell's Love-Filled Life
The ravishing beauty Erika is mostly speculated to be having a dating affair with the YouTuber Jake Paul, the founder of Team 10. Erina started getting romantically linked with Jake after she officially joined Jake's Team 10 on Jun 27, 2017. 
The cute videos of them acting to be the boyfriend and girlfriend of each other is so appealing to their fans to believe that the two are indeed in love. Their bonding has even earned a nickname; "Jerika."
Interestingly, Erika doesn't seem hesitated to share their fake relationship not only on Youtube but her Instagram account as well. She timely updates her fans and followers with the confusing posts that hint to quote out her affection for Jake. 
Previously on 18 January 2018, on the birthday of Jake, Erika posted an affectionate picture of herself sitting in Jake's lap and captioned the photo stating Jake to be her favorite human. The caption read:
HAPPPPPY BIRTHDAY to my favorite human?☺️
Moreover, on 9th December 2017, Erika Instagrammed a picture, where she can be seen standing with Jake with hands clutched to each other. In the caption that accompanied the photo, Erina wrote:
somethin just feels right ?‍♀️
Similarly, on 10th August 2017, Erina uploaded a photo with Jake, where Jake can be seen passionately holding her while their eyes meet each other.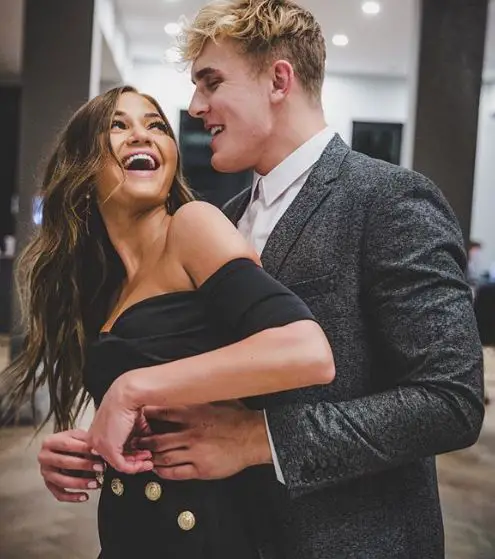 Erina looks happy with Jake Paul (Photo: Erika Costell's Instagram)
For the sake of their video, the duos even got married and exchanged their vows on 18th June 2017 along with the other couple Tessa Brooks and Chance Sutton in Las Vegas.
Though Jake proudly calls Erika his wife, it has been clear that the pair is no more than just best friends. After a day of their marriage, Jake clarified his fans about his relationship with Erik, affirming that they were not dating. He stated:
We're not even actually dating. It's like the WWE. People know that's fake, and it's one of the biggest things of entertainment.
Well, with that confirmation, the alleged relationship of Jake and Erina stays out of the question, but the fans would have been happy if their chemistry was real.
Erika Costell's Short Bio:
The beautiful Erika Costella was born on 12th November 1993 in Bedford, Michigan. Although not much is grasped about her parents, it has come to light that she has a half-brother named JC Sheehan and two half-sisters named Morgan Sheehan and Dani Sheehan in the family.
Erika, who stands tall at the height of 5 feet 7 inches (1.8m), completed her graduation at Middle Tennessee State University in business administration. From a very young age, Erika had interest in modeling, and by the year she was 16, DAN Talent Group offered Erika contracts of modeling. Her first and oldest manager, Larry Murdock was the one who introduced her to the modeling world. 
 As for now, Erika is competing in a contest to have her own company 'ModelHostess,' and is working on vlogs for her own YouTube channel along with collaboration with the Team 10. Despite the success, the net worth of the model remains confined to this date.
Keep visiting for the emerging updates on the life of Erika Costell!