Jake Paul Dating Teammate Girlfriend? Gets Married, But With Mystery, The YouTube star and social media sensation Jake Paul, better known as JP, is undoubtedly a talented and the coolest vlogger...He certainly falls in the list of vloggers, who have interesting videos with more than eight million subscribers...If you are one of those people who adore Jack, then you are obviously interested in knowing more about him...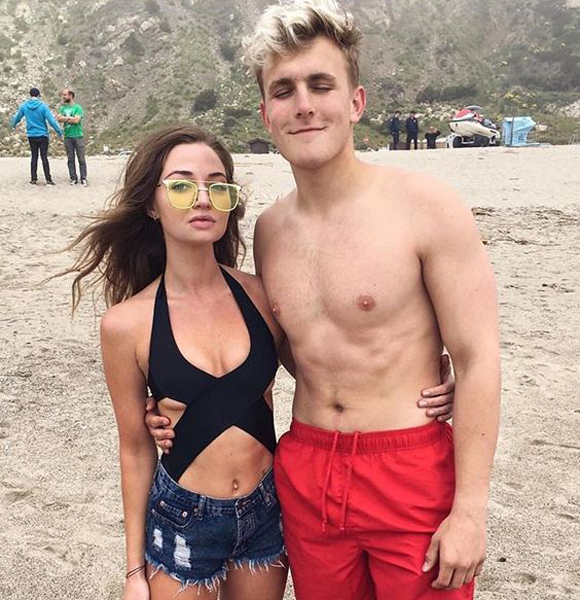 The YouTube star and social media sensation Jake Paul, better known as JP, is undoubtedly a talented and one of the coolest vloggers.
With more than 19 million YouTube subscribers and over 12 million Instagram followers, Jake has built a massive online empire. As his every move makes headlines, Jake is surely an A-list celeb of social media.
Relationship With Girlfriend
Being a social media star, the twenty-year-old Jake has many fans and followers, who peek his day-to-day life through social networking sites. But it's not a cup of tea to find out his affairs so quickly, although one of his relationships created quite a buzz!
Though Jake got linked up with many of YouTubers, he became famous for dating the gorgeous and talented Alissa Violet. After an on-and-off relationship, they started dating officially since June of 2016.
Soon after they publicized their relationship, they were continuously referred to as #relationshipgoals or #jalissabffgoals.
But, when "Jalissa" were stealing and captivating many hearts, they ended their relationship in February 2017. The news about the split of Jake and Alissa, who used to live in the same house and make cute videos together, came out as a shocking and surprising story.
While many people were not getting over with their cute videos and pictures, Jake's ex-girlfriend Alissa revealed that Jake was cheating her and was emotionally abusive.
YouTuber With Criminal Past:- Bryan Silva Gay, Age, Net Worth, Height, Tattoo
Though Jake dated Alissa openly and was linked with several beauties, some people still misunderstood him to be gay due to his unsuccessful affair with Alissa.
Jake's Rumored Romance
Within a blink of an eye, the news of Jake sparking his romance with fellow YouTube star, Erika Costell surfaced the media. After knowing each other as a Team Ten's family member, the pair got married with ring pops like YouTube star Social Repose and his love interest Jaclyn Gleen.
They exchanged vows back on 18 June 2017 in a dual ceremony with Tessa Brooks and Chance Sutton in Las Vegas. Despite the official ritual in the ceremony, Jake ended the video saying that the marriage was just a part of the joke. 
Around the same time when Erika also launched her official YouTube channel, the pair started making collaborative videos quoting each other partners. Within some days, Erika's YouTube channel gained over 1 million subscribers.
The public appearance of Jake and Erika as partners covered up the rumors of them dating making their fans believe that they were in love. 
Though Jake proudly called Erica his wife in his YouTube videos, he clarified the status of their rumored relationship. He simplified the allegation saying that he is no more than a best friend with Erika and only shares friendship with her. Post the break-up, he remained single in the public eye.
Married? 
Jake made headlines when he got engaged to fellow YouTuber Tana Mongeau on 24th June 2019. However, fans were skeptical of their union as Jake had earlier fooled fans with a fake wedding.
But, the social media powerhouse couple remained adamant about the authenticity of their love and engagement. Jake and his girlfriend kept showering each other with love and posting picture and stories together on Instagram.
More About Tana:- Tana Mongeau Wiki: Age, Affair, Net Worth Of Girl Who Was Dating Mac Miller
After the massive buildup, YouTube got married to Tana on 28th July 2019 at Las Vegas. The wedding was a public affair as people could watch the ceremony live streaming by paying $50.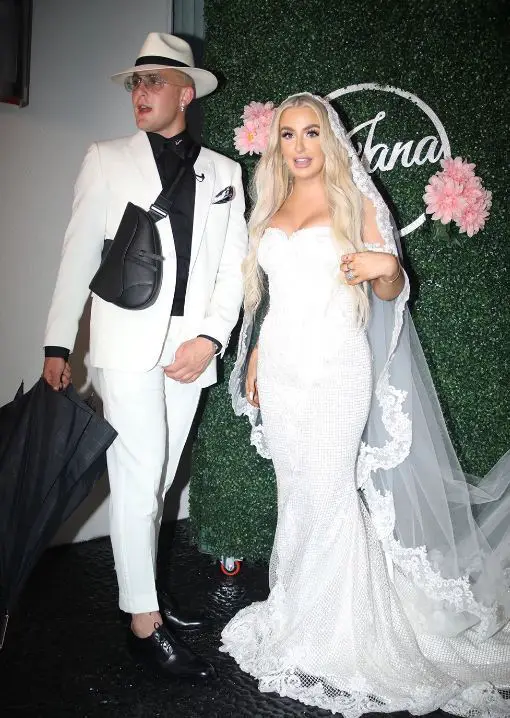 Jake Paul poses with wife Tana Mongeau on 28th July 2019 at LasVegas ( Photo: hollywoodlife.com)
Also, in attendance were 300 guests including Jake's YouTube sensation brother, Logan Paul. 
Even after literally getting married in front of the whole world, Jake hasn't been able to shake off fake marriage allegation from his wedding. Only time will tell what the prankster has in store for his fans regarding the legitimacy of his wedding to Tana. 
Jake Paul's Bio
Jake Paul is a successful YouTuber, who has earned over 8 million subscribers on his self-titled YouTube channel. The interesting facts about Jake are that he is just twenty-years-old and a crowned user with over 3.7 million fans. 
Well, he is known as "One Take Jane," as he can complete any difficult scenes and shows in only one take.
Rising YouTuber's Bio:- Reece Hawkins Age, Net Worth, Dating
Jake was born on January 17, 1997, to parents Greg Paul and Pam Stepnick. Before gaining popularity as a YouTube star, Jake was a Vineographer, who had more than 5 million followers by the time the app was discontinued.
One of the rising stars of the Internet, Jake frequently makes videos with his brother Logan Paul, and he has now launched Team 10, where he works with other social media stars.
Jake undoubtedly receives a wonderful salary from his professions and although he hasn't revealed his actual earnings, his net worth is estimated to be in millions.