Entertainment
Eugenie Bouchard Exclusively Clears Boyfriend Rumors! Tennis Star Dating Dilemma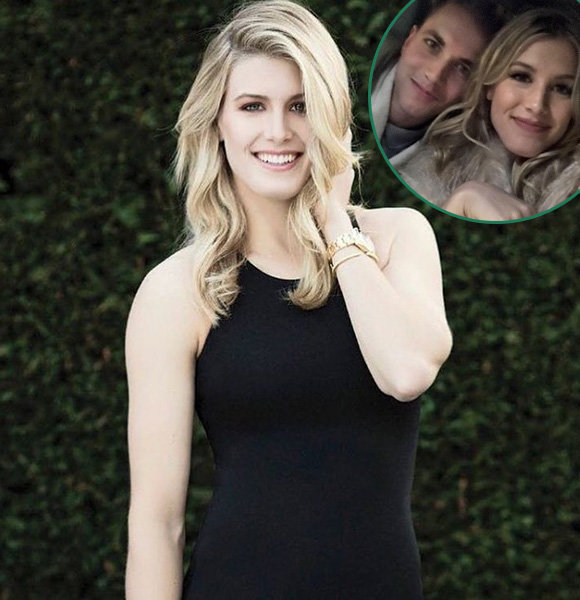 Canadian Tennis star, Eugenie Bouchard rose to the limelight after claiming the 2012's Wimbledon girls title. She is the first Canadian to ever reach a Wimbledon final.
Started playing tennis at the age of five, Eugenie has a supportive family, and her mother moved to the United States along with her when she was just 12 to train under former tennis player Nick Saviano.
With her career on the high pitch, Eugenie has become the girl on the dating list of his male fans. And so, she fulfilled her fans dream to date as she was spotted on a multiple dating with her fan, John Goehrke after he won the Twitter bet. 
Dates With Fan; Dating Night Hints New Romance
The player is true to her words when she proved when she went on a Superbowl date with her fan John Goehrke after he won the bet.
In February 2017, Tennis star tweeted her speculation that "Atlanta would win the game." And that's when John made his entry tweeting her back, "if Patriots win, we go on a date?"
See Also:- Tennis Player Jack Sock Super Supportive Girlfriend After Split With Sloane Stephens
Since he won the bet, the tennis star stayed true to her words and hung out with John Goehrke. Also, she shared a series of snaps and videos with him and preferred to call their meeting as "Superbowl twitter date."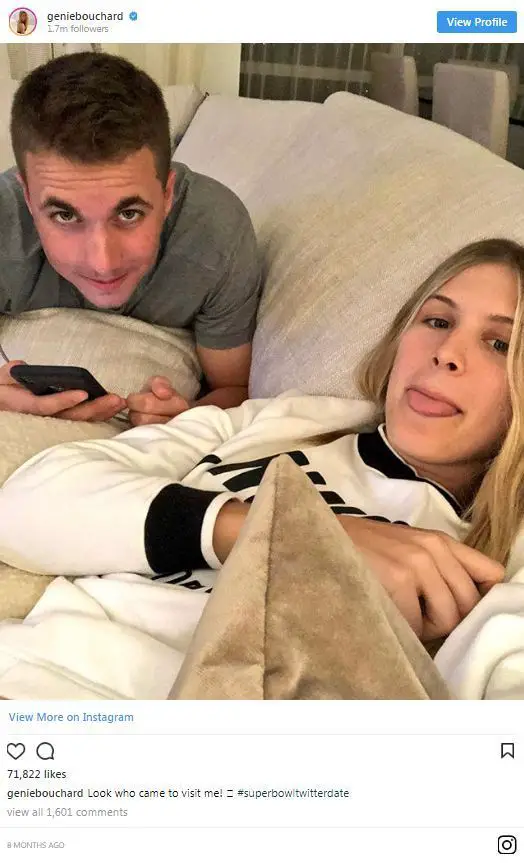 Eugenie Bouchard with John Goehrke on December 2017 (Photo: Eugenie Bouchard's Instagram)
However, they were just an item as people were speculating about their romantic life. However, she confirmed that the couple is not dating in February, and also she revealed on her Sports Illustrated shoot that she was "single," which she said made her 2018's Valentine Day a lot less enjoyable.
Also, at that time, she was reportedly dating Ice Hockey star, Jordan Caron. The romance between the player aired after she flaunted their adorable snaps on Instagram. Also, they were spotted on the romantic getaway in Majorca in 2017. With their unconfirmed romance, the couple was rumored to have split after a short romance.
Related To "Tennis Player":- Victoria Azarenka Fights With Boyfriend For Son! Has A Rough Patch Between Career And Baby 
But after going public with her previous rumored relationship and boyfriend, Jonh Goehrke, and John Caron, she is mum about this newly blossomed relationship.
The Sports Illustrated star, Eugenie Bouchard shared a picture from her "date night" to her millions of followers on 25 April 2018. With her hinting at her romantic relationship, she made her fans confused about her identity of her boyfriend.
And with her unrevealed post, her fans asked her about the lucky man on which she has remained tight-lipped.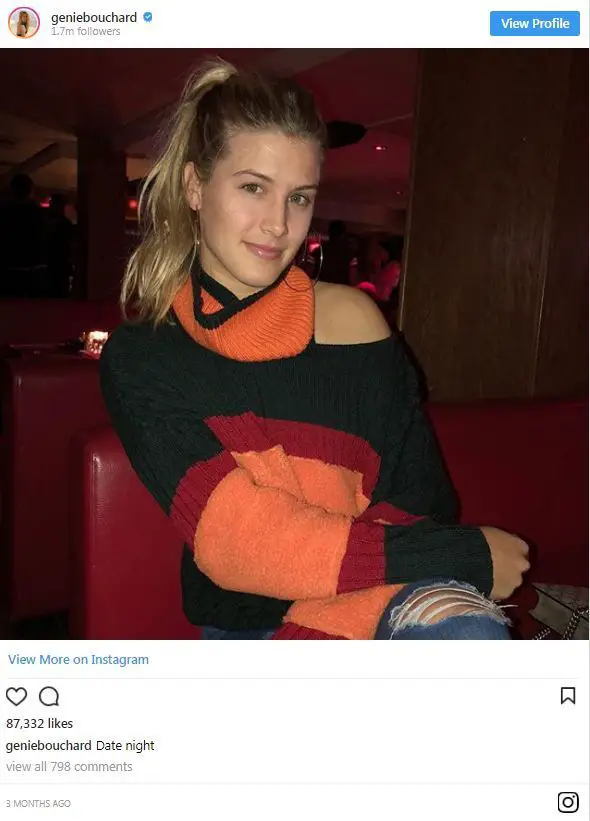 Eugenie Bouchard on her date night in April 2018 (Photo: Eugenie Bouchard's Instagram)
Moreover, if Eugenie has been dating new flame,  then the relationship could not have exceeded more than five months as on February Eugenie had posted that she was single.
Family Includes Twin Sister; Mother Obsessed With Royal Family 
Born on 25 February 1994 to the parents Mike and Julie Bouchard, Eugenie Bouchard also has a fraternal twin sister named Beatrice, and a younger brother named William and sister named Charlotte.
Eugenie, whose feet measures approx. 23.8 cm, is six minutes younger than her twin sister Beatrice but is four inches taller than Beatrice.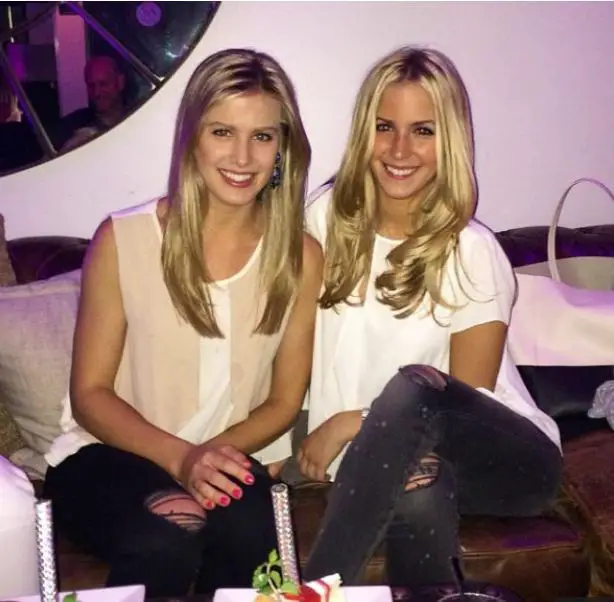 Eugenie Bouchard with twin sister, Beatrice Bouchard (Photo: Eugenie Bouchard's Instagram)
Her mother loves the royal family and she kept all the name of her children under the royal influence. Eugene's and her twin sister was named after Britain's princesses.
Also, Eugenie, who stands at the height of 5ft 10 in, took to Instagram on 14 May 2018 with her mother where she wished her mum on the mother's day. Also she expressed her gratitude towards her mother for coming forth for her and supporting her. 
Don't Miss:- David Lee Is Engaged To Get Married With Tennis Player Girlfriend! A Beautifully Escalated Dating Affair
To her mother's passion for giving the royal names to the four siblings, Eugenie claimed that her mother might be obsessed with the Royal family. She told reporters in an interview:
"Maybe it looks like my parents were royal obsessed, it makes me feel a little bit more at home in England among my fellow royals. When I was young my Mum gave me a magazine with the two princesses in it and I still keep it on my bedside table, my brother is Prince William.
Also, she expressed that she likes the name her mother gave to the four siblings.