Entertainment
Everything You Wanted To Know About Lauren Godwin Is Right Here; Her Age, Height, Weight, And Family
People beginning their careers in the entertainment world are not much aware of the popularity and success that they might achieve in the future. The only thing that they have is their ambition to achieve their goals.
When YouTube stars and Vine stars are getting popular day by day, along with some TikTok stars who are struggling to win the hearts of several people, some of the TikTok stars have gained popularity, and the seventeen-years-old Lauren Godwin is one of them. If you are one of her followers who are willing to know about her personal life and bio, you are in the right place.
About Lauren, Her Age, And Her Family
The chubby beauty Lauren Godwin is famous as a TikTok content creator. On her "laurengodwin" account, she has gained over 16 million fans. She is not only renowned in TikTok, but is also popular in social networking sites like Twitter, Instagram, and Facebook with a large number of followers. In October of 2012, she tweeted for the first time, which reads "@justinbieber I <3 u."
Another TikTok Star:- Paul Zimmer Age, Girlfriend, Net Worth, Family
Lauren was born on 21 February 2000 to parents D'Ann Godwin and Christopher Godwin. She has introduced her mother and father to us via her Instagram.
On 9 May 2016, Lauren took her Instagram to wish her mom a "Happy Mother's Day."
Lauren has very supportive parents who always motivate her to follow her dreams. Her love and respect for her parents are visible in her Instagram account, where she shares the images of her moments with her parents.
The roly-poly Lauren, who lives peacefully with her parents in the same house, stands tall with a height of 5 feet 3 inches, and her weight reads 169 pounds or 77 kilos.
At this rate, Lauren, who has now millions of fans and followers, has more to achieve in the days to come. She can even overshadow some other YouTube stars as a TikTok star.
With such fame, she gets a lot of sponsors paying her for her videos. Looking at her followers on YouTube, it must be the same situation therein as well. From the views alone, she earns probably $5.1K - $82.4K per year. Hence, she should have a hefty net worth which, the TikTok star opts not to share.
Lauren Godwin's New Found Love
Since another TikTok star named Sebastian Bails popped up in Lauren's Instagram and a TikTok video, fans all over have been speculating if the two started dating or not. The speculations began in February 2019 when she posted a picture of the two dressed up as Mario and Luigi.
The two regularly appeared in each others' TikTok and YouTube videos giving more base to the speculations.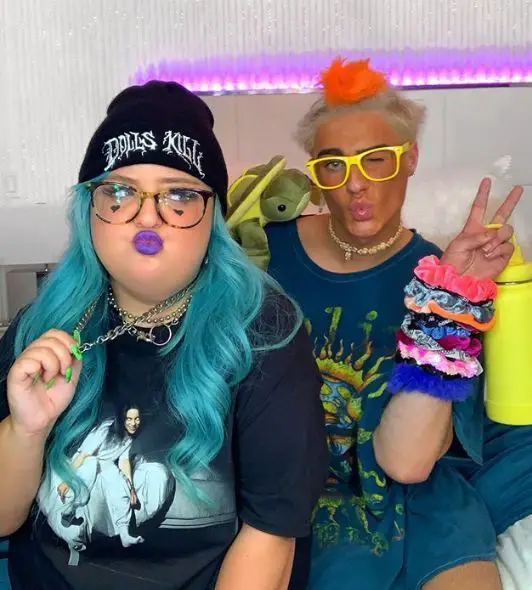 Lauren Godwin and her boyfriend Sebastian Bails on 25 August 2019 (Photo: Lauren Godwin's Instagram)
Well, the rumors seem to be true. On 25 August 2019, the TikTok star posted a picture with Sebastian with a caption that read,
"...new youtube video where I TRANSFORM MY BOYFRIEND INTO A VSCO GIRL..."
Congratulations to Lauren for finding love.