Entertainment
Fans Concerned When Constance Wu Started Dating White Boyfriend; What If She Married And Made Him Her Husband?
Quick Information
Date of Birth

1982-03-22

Age

38 Years 8 Month(s)

Nationality

American

Profession

Actress

Birth Name

Constance Tianming Wu

Zodiac Sign

Aries

Religion

Christianity

Ethnicity/Race

Taiwanese

Sister/s

3

Children/Kids

Not Yet

Relationship Status

Single

Divorce/Split

No

Ex-Boyfriend

Ben Hethcoat

Net Worth

Not Disclosed

Awards

Indie Series Award (2014, 2016), National Board of Review (2019)

Nominees

Indie Series Award (2014, 2016), Critics' Choice Television Award (2014, 2015, 2016, 2018), Dublin Film Critics' Circle (2019), 25th Screen Actors Guild Awards (2019)

Career

2006–present

High School

Douglas Southall Freeman High

College

Purchase College, Columbia University

Height/ How Tall?

1.63 m

Hair

Long

Hair Color

Dark Brown
Racism is one of the prominent issues in the world currently, and people have had various feuds and matters because of the color they have and the race they represent.
Similar scenario surrounds Fresh of the Boat actress Constance Wu, who has been making a name for herself as someone vocal about the issues of Asian American representation, and while she has been doing so, she has a dating partner, her boyfriend, who is white in race.
So, let's take a peep at the backlash she coped with her fans!
Constance Wu's Boyfriend Is White Considering Her Strong Advocacy On Asian Americans.
Constance Wu has been making her voiced heard when she is advocating on the part of Asian Americans, and she made people raise some major eyebrows when she criticized the whitewashing of the great Chinese history with the casting of actor Matt Damon in 2017's action epic "The Great Wall "
"We have to stop perpetuating the racist myth that only a white man can save the world. It's not based in actual fact. Our heroes don't look like Matt Damon. They look like Malala. (Gandhi). Mandela. Your big sister when she stood up for you to those bullies that one time."
She also added,
"If white actors are forgiven for having a box office failure once in a while, why can't a POC sometimes have one? And how COOL would it be if you were the movie that took the 'risk' to make a POC as your hero, and you sold the (expletive) out of it?! The whole community would be celebrating! If nothing else, you'd get some mad respect (which is WAY more valuable than money) so MAKE that choice."
But while she has been criticizing things like these, she has a boyfriend Ben Hethcoat, a director and producer, who is white, and that has got people lashing at her. She had met Ben back in 2011 during a Christmas Party at friend Ryan Spindell.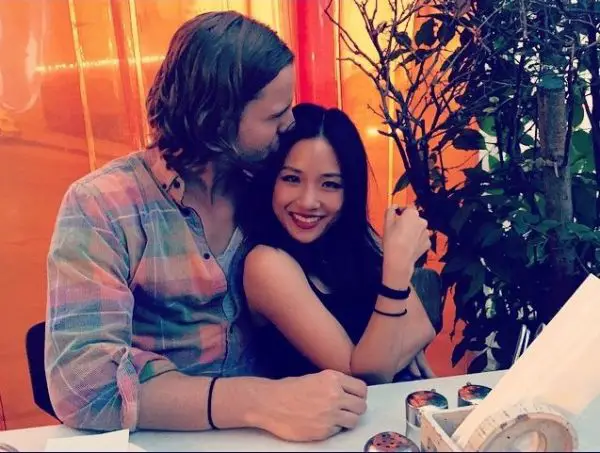 Constance Wu with boyfriend Ben Hethcoat. (Photo: yomyomf.com)
She loves flaunting her love, which is evident in her tweet about her boyfriend back on Valentine day in 2015:
People have been expressing their thoughts on this very regard.
You may also like: Jenni Konner & Lena Dunham, Power Production Couple Split - What Went Wrong?
Sean Wong, MS Electrical Engineering & Economics, California Polytechnic State University, San Luis Obispo said,
"No, people can date whomever they want as long as they are not racist about it. However, what is inconsistent is that She is complaining a white person is in a Chinese movie (Great Wall) and would like a Chinese person playing that part, when in fact there are tons of movies made in China (you have scoll down many pages to find the 07/28/2016 post on the great wall) while sometimes are released in the US with good reviews, and yet she made zero noise about them… Had the movie being made with a Chinese actor in it, will she even knows that movie exists? Does she actually care about Chinese movies at all? Additionally, she is projecting the role will be that of a savior when there is no indication of him being one. It shows that she is protesting in a subject that she does not really understand and even if she had more."
Jacky Ye, your everyday Chinese-American fellow said,
"Am I surprised? No

Am I offended? No

Am I threatened? No

Does she have every right to date whoever she likes without our judgement? Yes

Revised answer:

Yup.

Pretty surprised in light of the remarks she's made. I suggest reading Collin Anthony Spears' comments on this answer for more clarity."
Also, C. Michel de Wilde, Chinese Indonesian, with a Dutch and Sri Lankan ancestry said,
"I don't know this person at all.

but surprised because of what? she dates a generic decent-looking white guy that is only attractive because of his whiteness?

from what I know, it's quite stereotypical. so I am not surprised at all. I will be surprised if she dates another non-asian/non-whites people. that's not stereotypical."
All of this lashing only for dating a white man makes us hard to imagine what will happen if she ends up getting married to the man and makes him her husband.
Relationship With Ben Comes To An End
Well, with all those lashing following their love life, their relationship came to an end. Even though the couple looked good together, their relationship could not last. After being in a relationship for almost four years, their romance came to a halt.
See Also: Did Eugene Lee Yang, Age 32, Secretly Come Out With Gay Sexuality?
They appeared together back in January 2016 during the 21st Annual Critics Choice Awards held at Baker Hanger Airport in Los Angeles.
Neither Constance nor Ben made any statement relating to their split. However, their last public appearances and social media posts date back to the starting of 2016.
Well, after the separation, Constance, the strong feminist and activist, has been living her life fully and independently.