Entertainment
Faye Chrisley's Bio Including Her Age, Late Husband and Two Sons; One With Negative Net Worth and Another With Cancer
Faye Chrisley's Bio Including Her Age, Late Husband and Two Sons; One With Negative Net Worth and Another With Cancer. A seventy-three old lady who portrays Nanny in an American reality television show 'Chrisley Knows Best,' Faye Chrisley is an exceedingly interesting character who makes the most of her existence through her character in an energetic style, despite her old age.The engrossing old lady's details tote up to a fascinating biography of her. Her show Chirsley Knows best seems to be back this summer and we are all ready for it
Quick Information
Divorce/Split

Not Yet

Lesbian

No

Eye Color

Blue

Hair Color

Blonde

Hair

Short

Weight

N/A

Height/ How Tall? N\A
Net Worth

Not Disclosed

Dating/Affair

No

Date of Birth Sep 02, 1943
Husband/Spouse

Gene Raymond Chrisley (Died. 2012)

Relationship Status

Single

Son/s

Todd Chrisley, Derrick Chrisley, Randy Chrisley

Ethnicity/Race

Mixed

Religion

Christianity

Zodiac Sign

Virgo

Profession

Television Personality

Nationality

American
A seventy-three old lady who portrays Nanny in an American reality television show 'Chrisley Knows Best,' Faye Chrisley is an exceedingly interesting character who makes the most of her existence through her character in an energetic style, despite her old age. Being a reality star, Faye's personal life is out in the open.
In honor of the show 'Chrisley Knows Best' back this summer, let us revisit the iconic Nanny, Granny Fayes Journey so far. 
Who Is Faye Chrisley's Husband? 
As per reports, Faye Chrisley's husband, Gene Chrisley, was 9 years older than her. During his teenage years, he served in the Korean Army, which came to light after his son posted a picture on his Instagram. He captioned the picture-
Found this today of my dad during his stint in the army, he was 16, I am proud of his sacrifices and will never take them lightly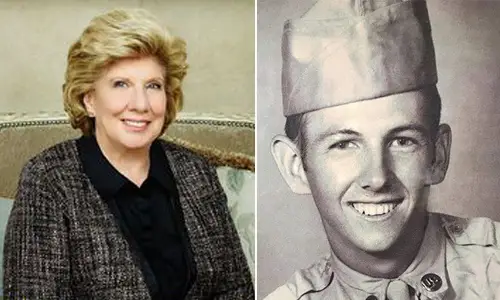 Faye Chrisley and her late husband, Gene Raymond Chrisley
Gene Chrisley was 77 years old at the time of his demise (July 11, 2012). He took his last breath at Emory University Hospital, Atlanta. His demise deeply affected the Chrisley family. A look at his grandchildren's posts shows how connected they were with him. 
For instance, Chase Chrisley- Faye and Gene's grandson shared a throwback picture of the two via Instagram with the caption- 'Miss you bubba.'  
A Glimpse Of Faye Chrisley And Her Family 
Faye and her late husband share two sons: Todd Chrisley and Randy Chrisley, raised in Westminster, South Carolina.
Todd Chrisley was born on 6th April 1969 in Georgia, United States, and grew up in Westminster. He is a businessman, and a reality television star, who starred in Chrisley Knows Best, which began on March 11, 2014.
Talking about Todd's relationship status, he has married twice. He married his then-wife, Teresa Terry, when he was just 21 while Teresa was 19. Teresa was also pregnant with their elder child Lindsie Chrisley while getting married.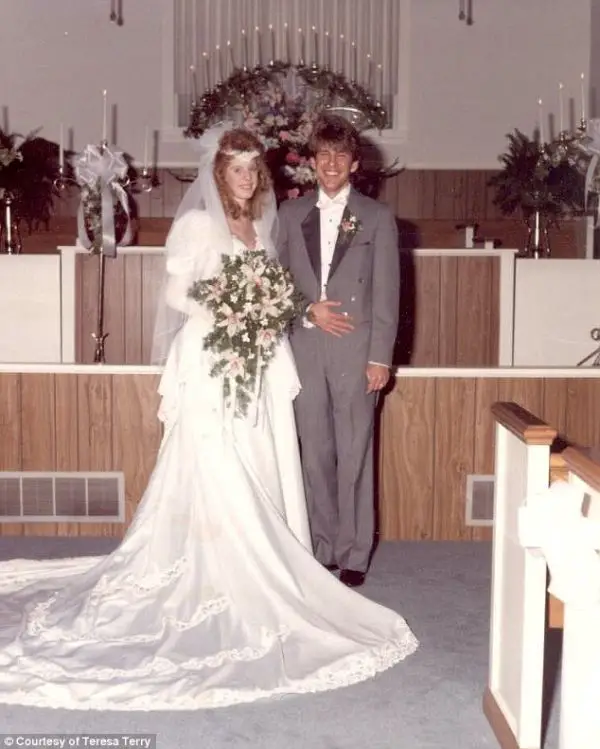 The marriage ceremony of Todd and his ex-wife Teresa (Photo Credit: dailymail.co.uk)
After starting their marital life, they welcomed their son, Kyle Chrisley. But, their relationship couldn't last longer than seven years, as Teresa decided to part ways with Todd in 1996 because of domestic violence.
As per MailOnline, Todd got charged with domestic violence against Teresa.
"In court documents seen by MailOnline, Chrisley is accused of waging a 'campaign of mental and physical abuse,' of 'battering' his ex-wife multiple times, once with 'his closed fist' after stripping her naked. In a string of allegations, all hotly contested by Chrisley, it is claimed that he wielded a knife and threatened to kill her and that, on one occasion, she witnessed him beating his own mother."
The relationship had a bitter end, but his first marriage experience didn't stop Todd from getting married again. 
After the divorce from Teresa, Todd got involved in a marital relationship with Julie Chrisley in 1996.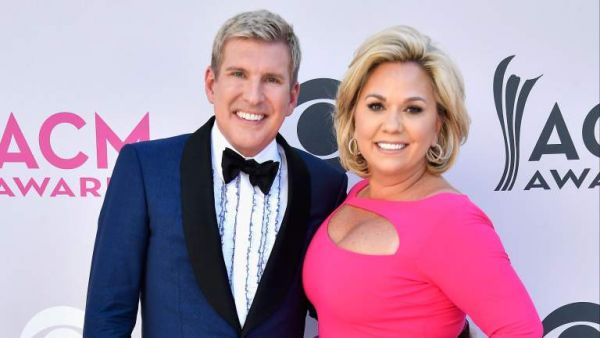 The late 90's couple Todd and his second wife, Julie (Photo Credit: heavy.com)
Todd Chrisley has a negative net worth of around $5 million, which shows that the businessman is in debt.
Talking about the debts, back in April 2014, Todd, along with the business debt, had mortgages topping $12 million, owed the IRS more than $500,000, and even had a loan worth $4.4million from his former beauty queen wife, Julie.
His money troubles brought him to be such low that he forced his mother out of her home. Although Todd claimed to be a millionaire on the show, he got disabled in debt and could no longer afford the upkeep of his mother's home.
Randy Chrisley is the younger son of Faye Chrisley, who is indeed a low-profile personality. While the Chrisley family doesn't give the details about Todd's sibling- Randy, he supposedly has a son.
Randy was diagnosed with stage four cancer in 2014, as confirmed by the representative of Todd-
"Todd Chrisley and his family are saddened to announce that his younger brother, Randy, has been diagnosed with stage four cancer."
Further, Faye has five grandchildren Savannah, Lindsie, Kyle, Chase, and Grayson, who jointly feature in the American reality show with their parents.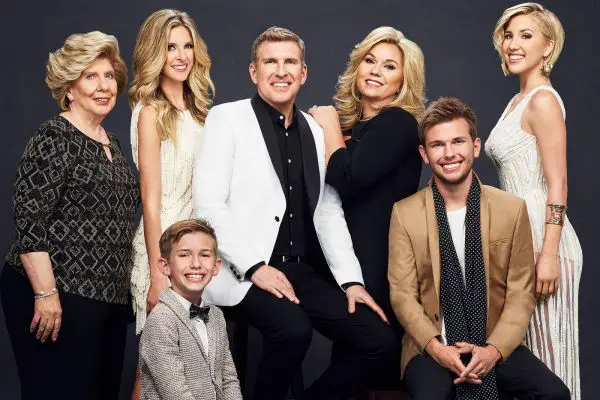 Faye Chrisley amid her family members, including her elder son, his wife, and their children (Photo Credit: people.com)
The Harsh Truth Behind All The Smile
Behind all the laughs that the wonderful granny shares with the world, her childhood had been quite hard. Even though the family seems to splurge money now and lives a luxurious life, The Chrisley Knows Best star Nanny Faye did not always live a lavish lifestyle. 
Nanny Faye gets upset with three grandchildren in one of the show episodes upon seeing them using their phones. While she gets counter questioned on similar behavior by Grayson, She reveals how in her childhood, she didn't get to enjoy all these privileges. She says-
"I think about how hard I had to work, milking cows every morning at 4:30 in the morning, and then going to feed the hogs and the chickens...Y'all couldn't survive one week on what I had to do." 
It can be seen that she didn't always have all these privileges, and she is grateful and values all she has now. It is good to see the 77-year-old enjoying her best life now and staying happy.
Chrisley knows Best Back This Summer 2021
The 'Trouble Maker' Is Back This Summer? Granny Faye is an adorable grandmom. But her social media presence lets us see the best side of her. Oftentimes, resulting in troubles for the 77-year-old.
She does not back away from sharing pictures that we can only imagine teenagers sharing. But she looks cute doing so. Recently her grandchild Chase Chrisley shared a picture of his grandmom holding a cigar in her hand. 
Though she looks adorable with her pink hat and pearl earrings, we don't usually see a 77 year old enjoying her time like this. As much lovely as her aura is, she seems to be equally witty and wild. While sharing a picture with her grandchildren, she quoted-
Love these children. But I like them more when they go gambling with me
We are soon enough to witness more craziness on camera as Chrisley Knows Best is back this summer.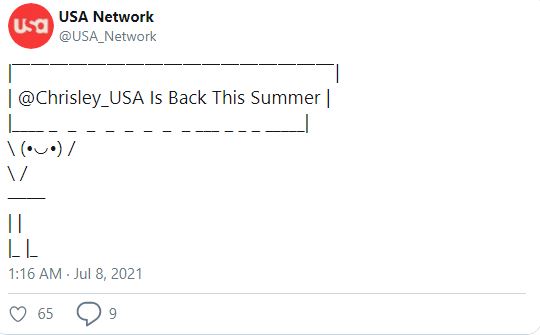 The show's official website recently updated information that the show is coming back this summer, and yup, the show's fans are excited.