Entertainment
Kyle Chrisley, 26, Stepping Up With Wife! This Is What He's Been Up To
Kyle Chrisley posted a picture with his wife and their newly purchased home on...also looking after his son from a private eye only hoping...is a daughter of Kyle with his baby mama....he started seeing his now estranged wife, Alexus Chrisley...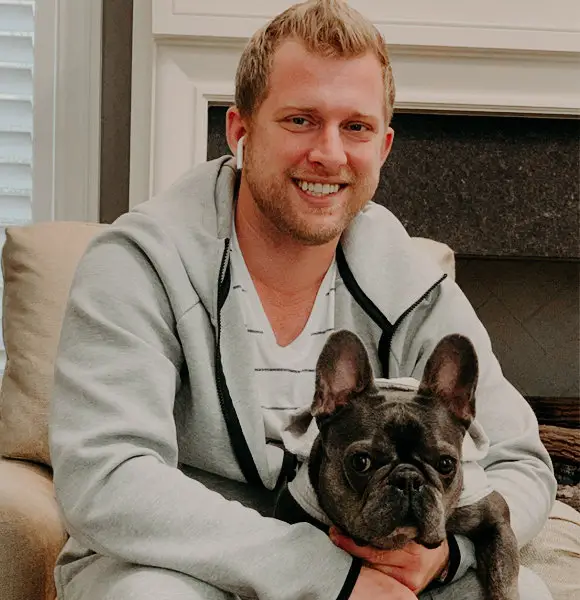 Quick Information
Daughter/s

Chole

Instagram

https://www.instagram.com/kyle.chrisley/?hl=en

Facebook

N/A

Hair

Short

Net Worth

N\A

Gay

No

Ex-Girlfriend

Angela Johnson

Girlfriend

Ashleigh Celeste Nelson

Divorce/Split

Yes

Relationship Status

Dating

Date of Birth 29-08-1991
Son/s

No

Sister/s

Lindsie Chrisley and Savannah Chrisley

Brother/s

Chase Chrisley and Grayson Chrisley

Mother

Teresa Terry

Father

Todd Chrisley

Zodiac Sign

Virgo

Profession

Reality Star

Birth Place

South Carolina, United States

Nationality

American
Life gives us several chances to redeem ourselves; all you have to do is take it. And that is what the reality star Kyle Chrisley did.
After facing family issues, drug addiction, and domestic violence, he came up clean and is all set to start a new life with his better-half.
So let's take a tour of his roller-coaster life.   
Kyle Chrisley Age (Bio)
Kyle is the son of self-made millionaire Todd Chrisley's first wife, Teresa Terry. He was born on August 29, 1991, in South Carolina. Kyle, the firstborn of Todd, was raised under his dad's wings and stepmother Julie Chrisley, a Cancer survivor. 
Diagnosed With Cancer:- Julia Baird Reflects On Health Crisis | Cancer Threatens Married Life
He was raised along with his siblings Lindsie, Grayson, Savannah, and Chase Chrisley.
He was sent to Samoa to work with the Red Cross and finish his education. Then, he starred along with his family on the reality TV series Chrisley Knows Best in its first season (March 2014). 
Kyle Chrisley Wife
Kyle has been in a couple of relationships; dating and marriage.
He was first reported to be dating Angela Johnson. The couple welcomed their daughter Chole in 2014. However, they did not get married, as they had an abusive relationship.   
Chrisley was charged with assault allegations stating he had choked her when she was pregnant. Then, for the second time, it was reported that Chrisley had attacked her with a knife when she was holding their daughter Chole. 
After such a relationship, he started seeing his now estranged wife, Alexus Chrisley. The couple had started dating in late 2014 before finally getting married in 2017. 
However, this time again, he ended his relationship in a toxic manner, although not officially divorced. He was alleged of sending death threat texts to his ex-wife, saying he will end her life. When Alexus asked if that was a threat to her life, Kyle responded, 'yes.' 
As of now, he is in a relationship with Ashleigh Celeste Nelson as per his Instagram post. He seems to be wanting a fresh start to his life with a new partner by his side. 
Drugs and Domestic Violence
In 2013, Kyle Chrisley lost custody of his daughter after a series of violence with his ex-girlfriend and daughter Chole; His father, Todd, and step-mother Julie took over their granddaughter's full custody, while Kyle was sent to the rehab center. 
When he returned, he acted completely ridiculous as he accused his father of using his daughter just for the TV show. And that's when the relationship between Todd and Kyle started to crumble.   
Domestic Violence Perpetrator:- Orlando Brown Arrested For Alleged Assualt Against Girlfriend; Call For A Split?
During the taping of the first season (2014) of Chrisley Knows Best, he was involved with drugs. 
However, Kyle, age 29, was all set for the new beginning; He had not touched drugs and remained sober for a couple of years. He even purchased a new 3,000 square foot dream home in Georgia, hoping for a new start with his family. Kyle talked with Radar Online on 6 July 2017 after a week of buying his new home and stated,  
"We just moved in last week and we are already loving it. I never would have dreamed that I would own a 3,000 foot house and we are just so blessed,"
He shared,
"I cannot wait to start a family with my wife once we are all settled in. She is my best friend and is going to make a great mother," 
Likewise, he shared his excitement as he shared a Facebook post with his wife and their newly purchased home on July 27, 2017. He shared his gratitude as the new home marked a new beginning in his life with his then-wife and daughter Chloe. But things didn't go as planned.
Meanwhile, Kyle, who had altercations with his dad, finally let go of the anger towards him and the Chrisley family. He shared his feelings towards his family with Radar, stating,
"I do not talk to my family but I wish them nothing but the best. I have moved on with my life I am just going to be the best father and husband that I can be."
He added,
"I have an amazing career and a wonderful life today and would not change a thing."
Kyle and his wife Alexus also formed a music duo together named after themselves titled Kyle and Alexi. 
Relapse Rumors and Suicide Attempt
Unfortunately, moving on with a healthy life was harder than it seemed as reports were pouring in May 2019 that Kyle was arrested for possession of drugs. Moreover, reports pointed out that the reality icon was taken to Okmulgee County Jail as he was caught red-handed with Methamphetamine. However, these reports weren't confirmed by the actor nor his family members.
Even if these rumors were false, he was not doing well. In August 2019, he was admitted to the hospital after he tried to commit suicide. The reason behind his tragic move was due to the side effects of the medication he had been taking to cure his bipolar disorder. Thankfully, he began to recover under his family members' care, with whom he reunited shortly.
On top of that, many things became crystal clear about Kyle's relationship with his father. It turned out that his previously estranged father was also looking after his son from a private eye, only hoping the best for him. As per his father,
"Folks, I hired a private investigator to watch him every week, send me photographs of him in his uniform looking so handsome just to make sure my son was okay."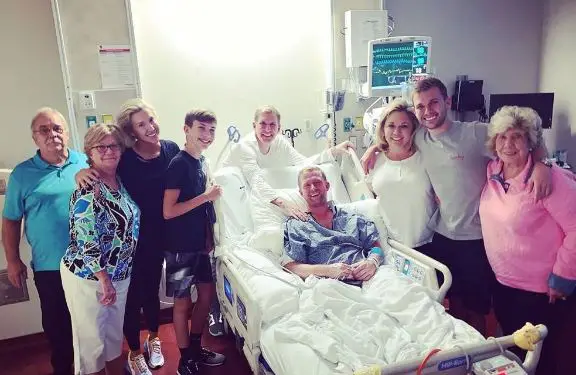 Kyle Chrisley with his family members after his suicide attempt at the hospital in August 2019 (Photo: eonline.com)
Moreover, his father too was present alongside his son and other family members in the hospital. So, with all of his loved ones beside him during his recovery phase, it must've certainly boosted the reality star's will to continue holding onto his life towards better days to come.