Entertainment
Find Out Why Chicago Sky's Star, Cappie Pondexter, Doesn't Disclose Her Personal Matter. Her Boyfriend Rumors: Married?
The celebrity world has always been divided into two fragments: One who loves to twinkle in the limelight and the other who adores being in the shadow. Cappie Pondexter, the phenomenal basketball player from California, has the reputation of being the latter type. If you interrogate her, the only answers you will be getting is few limited words and head gestures.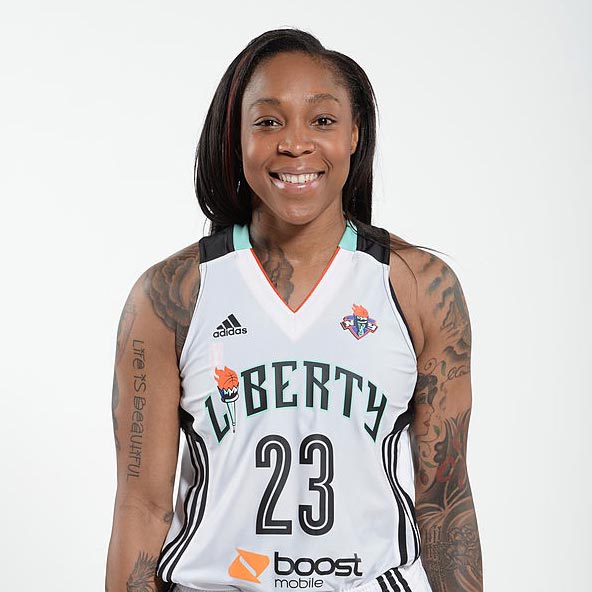 Cappie Pondexter, the phenomenal basketball player from California, has the reputation of being the latter type. If you interrogate her, the only answers you will be getting is few limited words and head gestures.
With tattooed body and profound fashion sense, you may mistake her for being some brutally honest girl who throws her tantrums all around in media.
However, it isn't the case. She loves keeping the low profile, and you can't simply squeeze out details of any personal matters from her. Right here, find out all there is know about the personal side of her life story. Learn about whether she has a boyfriend or is she married below.
So, what makes this star remain mom about her personal affairs?
When humans refuse to remember things, the most prominent reason is that it isn't worth remembering. Cappie's reason is no exception. Throughout her life, she has encountered all sorts of hardships and crisis.
Cappie was brought up in the "rough" neighborhood in West Chicago. No matter how hard her mother Vanessa Pondexter tried to segregate Cappie from them by raising her in church, the impacts couldn't be avoided for much. Her 16-year old cousin was gunned down ruthlessly which would go on to alter her sentiments broadly.
The life-changing moment actually came later with Leon Smith incident. During her high school days at John Marshall Metropolitan High School, her then boyfriend King Alumnus and Leon Smith, a mentally troubled NBA prospect, began stalking her. Things took the ugly turn when
Things took the ugly turn when Smith, who has "Cappie" tattooed in his hand, rammed into her mother's car, vandalized it and threatened. Smith was found guilty and penalized with probation and a restraining order, but it left behind a huge imprint on tender Cappie's heart. The unnecessary hype that the incident gathered taught her to maintain isolation between "media" and "personal affairs."
"That was a terrible situation, but I'm glad it happened at such a young age," she said to Chicago Tribune talking about it. "I learned from that."
Also, her honest opinions and remarks in social media haven't been a pretty one either. In 2011, her tweet regarding Japan Tsunami dragged her into bitter controversy.
Pointing out at the destruction, she tweeted, "What if God was tired of the way they treated their people in their country! Idk guys, he makes no mistake. U just never know! They did pearl harbor so u can't expect anything less."
She did come back with the apology later, but the spark had already turned into a flame.
"I wanna apologize to anyone I may hurt or offended during this tragic time. I didn't realize that my words could be interpreted in the manner which they were. People that know me would tell u 1st hand I'm a very spiritual person and believe that everything, even disasters happen 4 a reason and that God will shouldn't be questioned but this is a very sensitive subject at a very tragic time and I shouldn't even have given a reason for the choice of words I used." 
It does seem a compulsion for Cappie to remain away from publicity, but her on-court absence can't be afforded.
Be alongside Pondexter as she narrates her everyday life in the video:
Caption: 24 Hours featuring WNBA Star, Cappie Pondexter.
A glance at her Splendid Career:
The Olympic gold medalist with US Women Basketball team has a legacy built with her deeds in court.
The Chicago Sky star commenced her career with the Phoenix Mercury after being drafted as 2nd overall in 2006. She put on MVP performance at final to assist the Mercury to win 2007 WNBA Championship and another in 2009.
Caption: Cappie Pondexter talks about plans at New York Liberty.
After a three year long stay there, she would be traded to New York Liberty, where she completed her tally of seven WNBA All-Star positions.  Her off-seasons around Europe with Fernerbache Istanbul, Besiktas, and UMMC Ekaterinburg have also sharpened her skills.
However, she was controversially left out of the Olympic squad in 2012.
Before living this extraordinary career, she was sensational in her collegiate career with Rutgers University scoring 2000 points as a guard.
Her business ventures and Rumors of Relationship:
As a reputed fashion enthusiast, she has been the founding member of company 4 Seasons Style Management whose one achievement includes designing the urban band Guitars N Bandanaz.
"This is about my future and planning for it. I realize basketball is not going to be here forever, and I have to plan for my business and my future.''
If rumors are to be believed, Cappie Pondexter is a gay. She was also featured as "an out and proud lesbians" in WNBA by Curve, a best-selling lesbian magazine.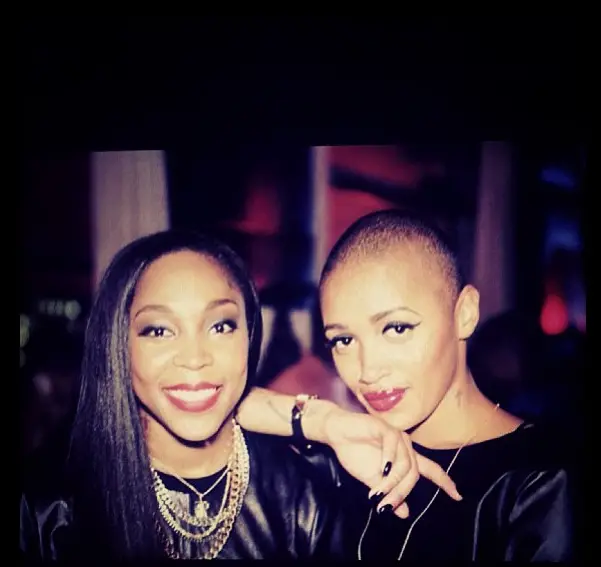 Caption: Rita Lynn and Cappie sharing a moment together.
Source: missvinc.com
Although the authenticity of such gossips is yet to be ascertained, she is said to be married to longtime girlfriend Rita Lynn, a model, since 2013.
And the rumors are found in abundant on Twitter:
That makes her or maybe Rita her husband, doesn't it?
Internet Emoji:
There are a lot of ways you can end up being an internet sensation. Being a celebrity, she already does appear quite a lot on the Internet, but she has been able to achieve something only a few others have. She has become one of the emojis on the internet.
This was all managed by WNBA following the NBA's act of developing emojis out of their top 20 players in the league. She and her other players now have their own emoji which can be accessed through NBAmoji app.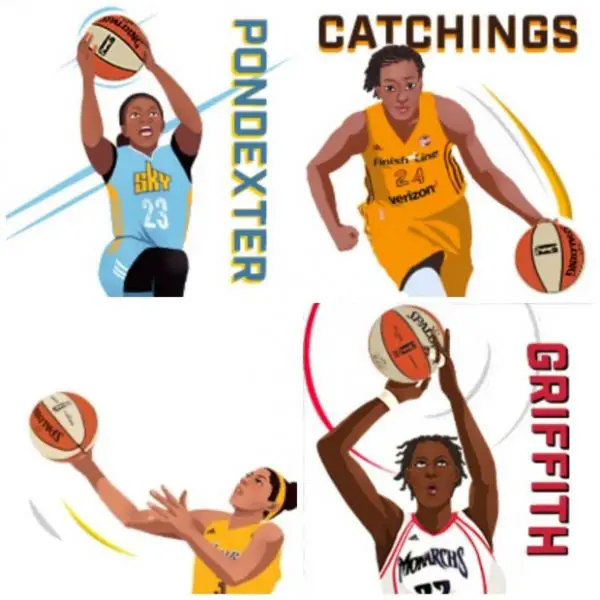 Caption: Cappie Pondexter's emoji (on the top left corner) released in July 2016.
Source: trbimg.com
Cappie Pondexter to Captain Chicago Sky:
With Elena Bella Donne being traded to Washington Mystics, Cappie Pondexter has been called upon to lead the team of Chicago sky. Amber Stocks, the head coach and GM of the Chicago Sky was quoted talking about this change stating,
She is one of our hardest workers, and just a professional with her approach to the game and definitely our most vocal player in training camp.
The levelheaded Point Guard of Sky responsibly accepted her new role and talked about it saying,
"It's always been the type of player I am. I have been blessed with that but I am at the stage of my career where I am focused on being a better leader."
Her new post is made more significant considering the number of talented rookies on the team including South Carolina star Alaina Coates who was the No. 2 overall pick in the 2017 WNBA Draft. With Jamierra Faulkner and Courtney Vandersloot out for the season, the load falls on the recently drafted players Tori Jankoska and Makayla Epps. In the end, the shoulders of Cappie are heavy with how the team is currently. However, Coach Stocks remains optimistic about the future confessing,
"With the way our team is and the way this league is, I expect them to be ready when there number is called."
Pondexter also added her opinion the current state of the team as well as its rookies saying,
I like them.We don't have many but overall we are a young team that is trying to gel."