Entertainment
FNC's Beauty Jedediah Bila is a Kitten Lover, Married Life and Future Husband, Pay Attention!!!
It's always confusing for a boy to think the perfect gift that he can offer his beloved. However, this may not be the case of Jedediah Bila's beau, for she, herself has revealed the gift she wishes from her future husband.
One of the sexiest people in television, Jedediah Bila, is a kitten lover. She revealed that the cute kitten bouquet is the incentive to win her heart. Jedediah wrote on Twitter that her future must be husband aware of her love for a kitten. He should offer her cute kitten bouquet to keep her happy and pleased. Her fascination towards kitten seems so strong that perhaps she will divorce if she is not gifted the kittens.
Jedediah is a Fitness Lover:
Despite her age, 36 and busy schedule, she can maintain a good figure. Don't you want to know her fitness secret?? She has recently shared her workout video on Instagram.
Her Professional Life:
She is highly admired for hosting several televisions and radio programs. Jedediah previously co-hosted the program outnumbered along with Stacey Dash, Julie Roginsky, Sandra Smith and Tucker Carlson. She also served as a TV host and analyst for Fox news and Fox business.
The multitalented presenter Bila wrote a book "Outnumbered: Chronicles of a Manhattan Conservative" which helped her to gain immense popularity. She has her career journey from working as a college dean to popular TV host.
Jedediah joined ABC's, "The View."
Jedediah Bila started appearing in the ABC's popular show "The View" alongside Sonny Hostin from September 6. The show started since 1997 and now is running its 20TH season. Jedediah revealed about her shift from Fox News to ABC's "The view" from her Twitter post.
According to Jedediah, she stepped into "The View" due to the suggestions of Andrew Breitbart. Andrew suggested Jedediah enter in the hit tv-show and make people optimistic about libertarians and conservatives.
My last talk w/ @AndrewBreitbart was one I'll never forget. I keep my word. Grab some popcorn up there, AB. Miss you every damn day. ????????????

— Jedediah Bila (@JedediahBila) August 5, 2016
Jedidiah Bila Announces Engagement
June 11, 2017, while on Air with the rest of the 'The View' girls, Jedidah announces her engagement and everyone is flabbergasted.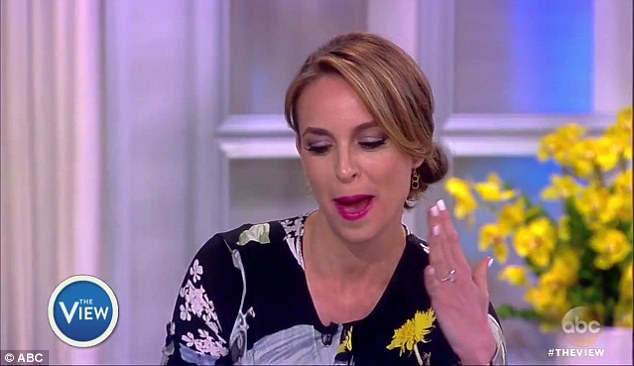 Caption: Jedidiah Bila shows off brand new engagement ring to Viewers and Co-hosts
Photo-credit: Dailymail.co.uk
"Can anyone in the audience see anything different about me?", Said Bila while showing off her new engagement ring.
The View Co-host was proposed to by Freewheel Business Advisory Associate, Jeremy Scher. She revealed about her engagement on her Instagram after her little 'escapade,' the details of which were not revealed.
The engagement news came straight of Flank as no one had seen it coming. News about Bila dating someone was almost non-existent, and no one expected her to announce her engagement so soon. Regardless of how surprising it is, we still congratulate her on this auspicious occasion.
What We Know About Her Fiancee
According to his LinkedIn, Jeremy Scher lives in Brooklyn, New York and works as a Business Advisory Associate at FreeWheel. He previously worked as a Management Consulting Senior Analyst at Accenture.
The management/business scholar graduated from Rice University with a degree in Bachelor of Arts and Cognitive Science. He also attended Tenafly High School, New Jersey and graduated with highest honors. He kept himself mostly out of the Celebrity spotlight, until now. Now that his engagement with Bila is official we expect to see more of him in the future.
Bila talks about Fox's treatment towards women and their outfits:
As the women of 'The View' celebrated Equal Pay day, the talk eventually delved into women's treatment at workplaces, Bill O'Reilly's sexual harassment case as well as Fox News' sexual harassment cases.
The hosts of 'The View' admitted that Fox would never get rid of Bill O'Reilly considering how valuable he is to him and basically called him Fox News' Cash Cow. But the talk was progressed even more to Fox News' treatment of women reported and how they created a "culture of Sexual harassment."
"It's a de facto hostile work environment, and until you change the culture by getting rid of the folks that are the vestiges of that culture like Bill O'Reilly. They got rid of Roger Ailes. Clearly, it's not enough, you're not going to see changes, " says 'The View' co-host Sunny Hostin. 
Caption: The View's Equal Pay Day episode with the women of the crew delving deep into the treatment towards Women in the Journalism business
Sara Haines furthermore added how their look 'while on air' affected their career with Bila talking about how Fox controlled what outfits they were allowed to wear indirectly. Fox News had no written policy about what their parameters for on-air outfits were, but the reporters were supposed to choose something from their wardrobe, but the wardrobes were very limited, especially for Females.
"You used to go into a room, and there was a bunch of dresses that you can choose from. I was told I wasn't allowed to wear orange because Roger [Ailes] didn't like orange. People say, 'why didn't you wear pants?' I wasn't given a pants option, so I had to choose skirts," says Jedediah, talking about her experience working at Fox News.
Many women, like Bila and Haines, have been quite affected by Gender discrimination in their respective career in Entertainment and Journalism but with recent efforts from multiple Major News sources and Fox News as well as Parent Company 21'st Century Fox's efforts in improving their work conditions, it seems that the work environment for women has been improving in recent times.