Entertainment
Fox News' Show Host John Stossel: Never Smoked, Diagnosed With Lung Cancer
Receiving something that just was not meant for you sometimes can be disastrous because everything that life offers isn't always wonderful. John Stossel got something out of his imagination which he never thought could occur to him.
Survivor of Lung Cancer:
Recently, on April 20, 2016, John revealed in his writing from the hospital that he has been diagnosed with lung cancer. After he had received the news that he had a lung cancer, he said that he never smoked. It sure was a dilemma because for a person who never smoked to be diagnosed with lungs cancer, but it is possible as we live in a pretty polluted world.
All thanks to his wife Ellen Abrams, who forced John to get a CAT scan for a cough he was suffering. When they went for check up, the doctors discovered a malignant growth in Stossel's lung but ultimately, it wasn't related to a cough he was suffering. If his wife hadn't forced him to get a check-up, cancer would have gotten much worse.
However, the malignant growth in his lungs was removed at the Presbyterian Hospital in New York the same month without any use of any chemo or radiation. Writing about his reflections on health care he said-
"I lost half a lung and I'm hardly in pain. I'm grateful that I got good medical care. But I'm a consumer reporter. I don't get why the rest of the experience can't be good, too."
He mentioned that the medical care was excellent, but the customer service stinks. On April 20, he published an article on Fox News stating the poor customer service of the hospital in which he was getting his treatment. He started,
"I write this from the hospital. Seems I have lung cancer.

My doctors tell me my growth was caught early and I'll be fine. Soon I will barely notice that a fifth of my lung is gone. I believe them. After all, I'm at New York-Presbyterian Hospital. U.S. News & World Report ranked it No. 1 in New York. I get excellent medical care here.

But as a consumer reporter, I have to say, the hospital's customer service stinks. Doctors keep me waiting for hours, and no one bothers to call or email to say, "I'm running late." Few doctors give out their email address. Patients can't communicate using modern technology."
Some wished him well and some not:
However, his words also had its consequences because people were angry over his judgments on the customer service of the hospital. In response to the anger that was rising, he published another article a week later where he gathered the angry comments. He said,
"Last week's column on my lung surgery struck a nerve. Many of you wished me well. Others said I deserve to die."
The angriest comment according to John was on Washington Post. The commenter said,
"Stossel should ask for his money back and the doctors should put cancer back into his lungs. That's what happens in a consumer-driven market, right?"
Later, he thanked his well-wishers for his Twitter post.
Well, we are just glad that we got our host back of the popular show of his name, "Stossel". Hope he lives a healthy life
Married Life, Wife, and Children?
He is married to Ellen Abrams, but their marriage date is a mystery. The couple has two children Lauren Stossel and Max Stossel.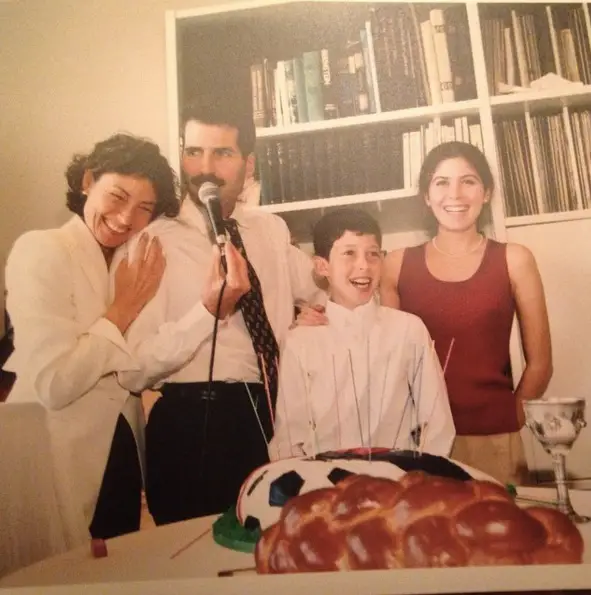 Caption: John Stossel with wife Ellen Abrams and children Lauren and Max.
Source: liverampup.com
John Stossel's Short Bio:
John Stossel was born on March 6, 1947, in Illinois, U.S, and currently ages 69 years old. Stossel attended the University of Chicago's School of Hospitality Management but later was not so interested in studying and thought that taking a job would inspire him.
After graduating, he started working for KGW-TV in Portland as a newsroom golfer which led him to become a researcher and then a writer. He has written four books among which "Give Me a Break: How I Exposed Hucksters, Cheats, and Scam Artists and Became the Scourge of the Liberal Media" is an autobiography published in 2005.
He was awarded the Chapman University Presidential Medal, by the current president, James Doti, and chancellor, Danielle Struppa on April 23, 2012. He also received an honorary doctorate from Universidad Francisco Marroquín
In 1981, he got a job offered as a correspondent for 20/20 and consumer reporter for Good Morning America at ABC News. Later, in 2009, John joined the Fox News Channel and Fox Business Network and in December of that year, he landed on hosting a show entitled, Stossel. He is enjoying a massive net worth of $4 million dollars.