Entertainment
Fox News' Stuart Varney Faced Risque Divorce Complaint From Wife of 21 Years: Family Life, Children
It's really depressing to see the couple sharing a wonderful relation for years and separating. And it's more depressing if it happens because of one partner deceiving the other. In this regard, today we are talking about a veteran TV personality who was slammed with a divorce case two decades after the marriage for a deceiving wife with a mistress.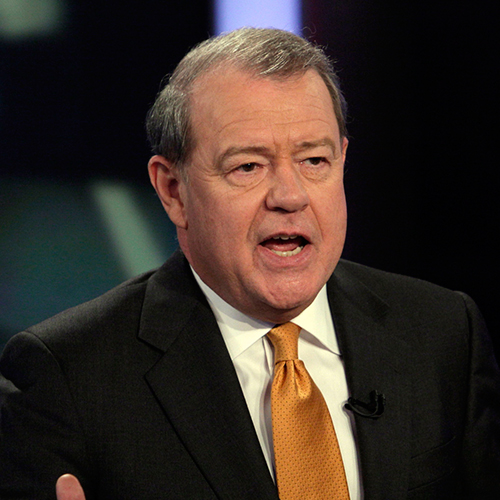 Quick Information
Divorce/Split

Yes (Once)

Weight

N/A

Height/ How Tall? N/A
Education

London School of Economics and Political Science

Career

1992-present

Awards

Peabody Award(1987)

Net Worth

$10 Million

Gay

No

Ex-Girlfriend

Jennifer F. Shibley

Girlfriend

Not Known

Date of Birth Jul 07, 1949
Wife/Spouse

Deborah Varney(m.1993-2014)

Relationship Status

Married

Children/Kids

Six

Daughter/s

Jill Varney Meyer

Ethnicity/Race

White

Zodiac Sign

Cancer

Profession

Journalist

Nationality

American-British
Togetherness and seperation are two sides of a coin that goes side by side. While some stick by tossing just one side of the coin and living in harmony with their partner together, while the other fuels to toss the coin around and end their bond forever!
It's really depressing to see the couple sharing a wonderful relation for years and separating. And it's more depressing if it happens because of one partner deceiving the other.
In this regard, this article talks about a veteran TV personality Stuart Varney, who was slammed with a divorce case two decades after the marriage for a deceiving wife with a mistress.
Stuart Ended Ties With His Married Wife With Extramarital Affair!
Stuart Varney married his wife, Deborah Varney in 1993. The couple spent 21 years together until Deborah claimed for the end of relation. In 2014, Deborah slammed divorce case accusing Stuart of staying in a relationship with another woman, Jennifer F. Shibley.
Deborah claimed that he was wasting thousands of dollars on her.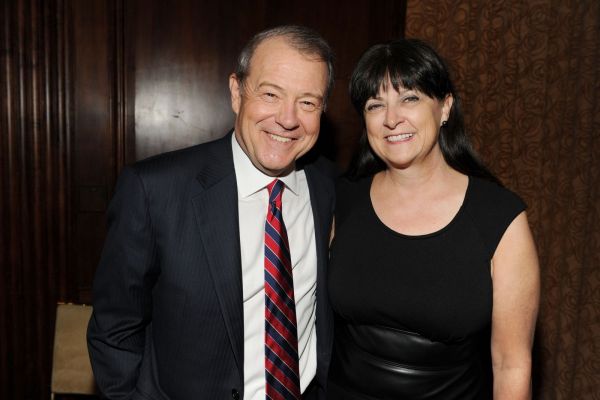 Stuart Varney with wife Deborah Varney(Photo: wordpress.com)
She also shared that he took her to various places including Hawaii, Hong Kong, Singapore, and Macau. According to Deborah Stuart, when she probed questions to Stuart about the extramarital affair he said,
"When I was with you, I did not think about her, and when I was with her, I did not think about you,"
Deborah filed the complaint in the Bergen County alleging him of staying in an extramarital affair with Jennifer Shibley. But Stuart confessed that he was not in love with the women but cheated on her. The couple ever since hasn't stayed together anymore. 
More Fox Partner Stories: Charlie Gasparino; Married Man With Wife! A Look Inside His Life
However, no news is found about whether the pair is just living their separate lives or about they ending their relation in official terms with divorce procedures.
Stuart Stands Proud After Fathering Six Children!
 Stuart is a proud father of six beautiful children. Excluding one, all his children are grown up and ready to live on their own. His daughter, Jill Varney Meyer recently earned the sum of $25,000  in Travel Channel's Hotel Showcase.
Jill is married and is blessed with five beautiful children in the family. Including Jill's five children, Stuart is a grandfather of seven children.
Well, looking at Jill's achievement, we can predict about other children. It is assumed that all her kids are self-reliant and well to do. We have a video of 2012 in which Stuart has shared his sadness after his fifth child enrolls in college.
He tells that the house which used to be full of teenagers' noise once, seems silent nowadays.
Stuart talks about his youngest daughter enrollment in college in 2012.
Stuart Varney On His Professional Life:
The veteran journalist, Stuart Varney joined Fox Business Network with the launch of the network in October 2007 as an anchor. Later from January, he started hosting "Varney & Company" which broadcasts ever weekdays at 9:20 a.m.
The show falls among the popular shows in the country. Stuart told about the show with NorthJersey.com, saying,
"It's a relatively fast-paced program with lots of personality.We're not shy of a point of view. We'll take a position and discuss it in a fair and balanced way, and we steer clear of what I'm going to call jargon. We talk much more in down-to-earth terms that everybody can relate to."
Undoubtedly, the 65 years old anchor is highly dedicated towards his work. He has interviewed the personalities from various professions including politics, Hollywood, sports and much more. 
More Interesting Topic: Fox Business Host Charles Payne Suspended Amid Sexual Harassment Allegation! Company Taking Matter Seriously
His Varney & Co performances have been ranging out from his attention worthy topic of fewer tips to the restaurant workers. The Fox Business host made an argument about tipping the waiters less in a restaurant after they7 are being paid $15 an hour which is more than what they used to get paid in their previous years.
He explained this topic saying:
"If I walk into a restaurant and I know the waiter or waitress is making $15 an hour, way more than they used to make the previous year, I am going to say, 'Wait a minute am I going to give you 20 percent, 15 percent or whatever?'" This is not the first time Varney has shared his thoughts on class issues in America. 
Additional to this he also showed his rage against the insult done to the President after an offer made by New York City's Guggenheim museum to loan Donal Trump a working solid gold toilet. He reported his expression to this fact saying:
"It is, in fact, a direct insult to the president and the first lady. It was a deliberate insult, this work of art had been displayed at a public restroom at the Guggenheim and it had been used by thousands of people,"
It is Stuart's burning topic that he shares to his audience that makes him one of the most anticipated reporters in America.
Stuart Varney's Short Bio:
Born on July 7, 1948, Stuart Varney is a British-American economic journalist who works for the Fox Business Network and Fox News Channel. He is a graduate of the London School of Economics. He was awarded the Peabody Award in 1987 for his excellent reporting and analysis of the stock market.
Stuart took the American citizenship only in November 2015. Stuart Varney is known for having taken the stand in the favor for Republican Electoral Victories. He enjoys a net worth of $10 million.