Entertainment
Fredrik Eklund & Husband, Perfect Gay Couple! First Vacation For Twins
Swedish real estate broker, Fredrik Eklund is a prominent face on Bravo, who colored the Bravo's show, Million Dollar Listing New York. The businessman has gathered all kinds of success and prosperity, stamping on reality shows but there's just no sign of stopping for this real estate agent.
And his personal life is a prime example of that!
The reality star first met the love of his life in his thirties and has been stepping new levels of romance. He got married to his partner-in-crime Derek Kaplan, the British-Zimbabwean painter and now, recently welcomed new additions to his family.
From the looks of Fredrik Eklund's love journey, it seems you might have to bring out your diary to note down your next couple's relationship goals!
"Angel" Becomes Husband; Gay Romance With Husband
Back in 2010, Fredrik, age 33, was roaming as "still single" on Greece tour, until he met a tall blond guy from behind across the room full of people in the holiday. During the summer of 2010, he first met Derek back in 2010 in Greece and got impressed before he could strike his first conversation.
It all changed only after the New York City real estate agent manned up and went towards him and placed a knock on his shoulder on his "angel." His effort counted and made all the difference as the next morning, Fredrick woke up beside Derek.
The couple spent the rest of the week together but later got separated as Derek had to leave back to London while Fredrik to New York. But, the couple sparked their dating despite the long distance.
The couple followed three years of dating and eventually tied the nuptial knot in February 2013. They got married on Little Pal Island in the Florida Keys, which was televised in Million Dollar Listing New York.
On their wedding day, the couple got into a major fight as Fredrik could not step away from work even on the big day. Later at the end of the day, everything went as it was supposed to and the pair exchanged the marriage vows.
Later, on the occasion of their five years marriage anniversary, Fredrik dedicated a whole article titled "My Side of the Story Is That I Saw an Angel..." on bravotv.com on April 2016.
After the marriage, the couple was looking forward to starting a family together. They both were planning to have children together. As for Derek, he already had a son named Kai via surrogacy, prior meeting Derek.
While Fredrick and Derek were on their journey to parenthood, they both planned for babies tragically ended with miscarriages back in 2015 and 2016.
However, even though they much through much trouble together, they did have something to smile for. The couple celebrated their four years anniversary back in February 2017.
Later the very same year the pair was blessed with happiness when they welcomed twins back in November.
World Tour With Twins
The married couple welcomed twins; a boy, and a girl via surrogacy. The pair named their baby girl Milla and boy Fredrik Jr. The duo even revealed that Fredrick is the biological father of Milla and Derek is the biological father of Fredrik Jr.
Later in January 2018, the couple celebrated the baptism of their two children.
Adding to it, the happy family of four took a vacation recently in May 2018. The little ones went on their first international vacation only after five months of being born.
On 6 May the proud papa, Fredrik took to Instagram sharing their snaps of the trip. Though he did not let in on the exact place the snaps indicated a tropical location.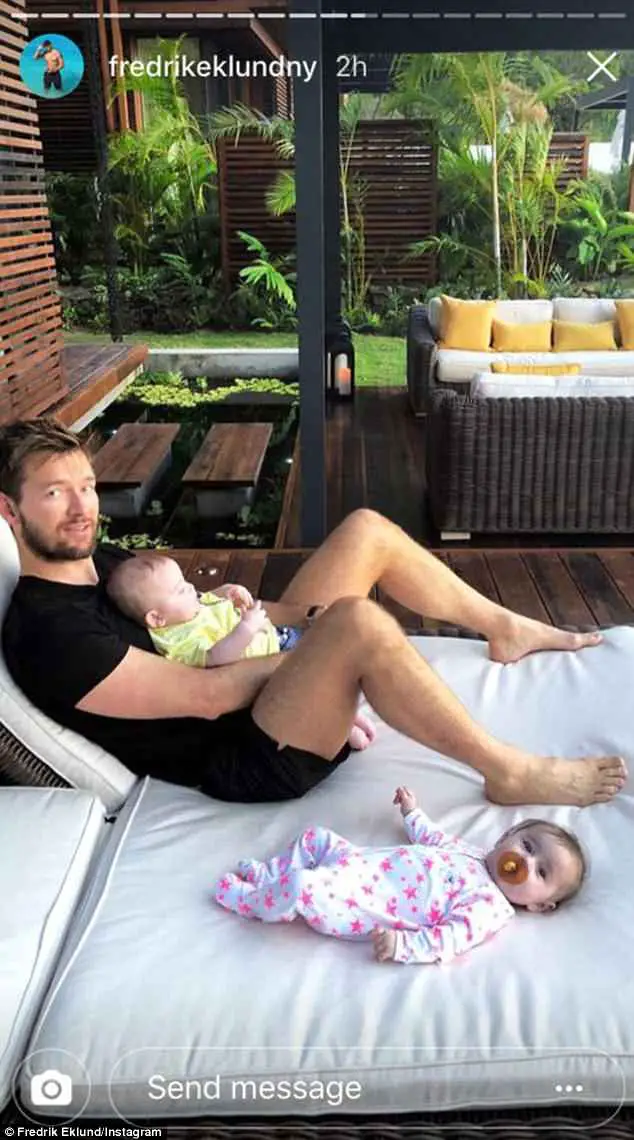 Fredrik Eklund's Husband Derek Kaplan and their twin babies Milla and Fredrik Jr. (Photo: Fredrik Eklund's Instagram)
The snaps featured waterfront around turquoise water; hillside estate with majestic mountains along with sounds of sea breezes and steel-drum bands. The trip surely seemed like a happy family on a tour.