Entertainment
Gabi Demartino [YouTuber] Wiki: Bio, Boyfriend, Height, Net Worth
Gabi Demartino is one part of the popular YouTube channel, Niki and Gabi. She runs the channel with her twin sister, Niki.
The YouTuber has also worked with Awesomeness TV and Style Haul. Read on to find more about Gabi. 
Dating Life With Boyfriend 
Gabi has been dating Collin Vogt since July 2015.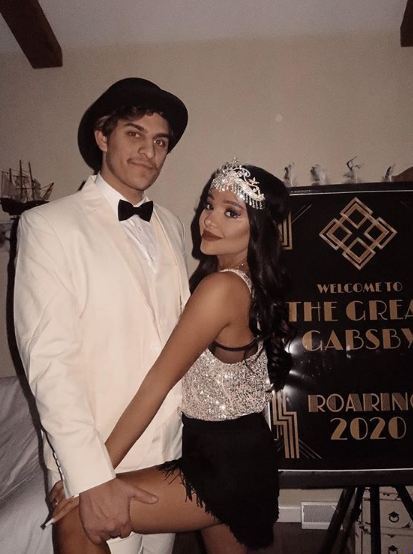 Gabi Demartino with boyfriend Collin Vogt in January 2020 (Photo: Gabi Demartino's Instagram)
The pair has been living together from 2018; they live in a cottage named "The Castaway Cottage." 
Info On Collin Vogt
Colin was born on 24th February 1997. He is an Instagram star; his popularity grew due to his association with Gabi. He also dabbles in music in his social media account; Colin plays guitar and sings. 
Ex-Boyfriend & Cheating Rumours 
Gabi was in a relationship with her high school sweetheart, Brandon Grupe, from 2010-2015. The pair used to run the YouTube channel titled, GabiandBrandon, during the course of their relationship. 
YouTuber:- Is Matthew Santoro Dating? Girlfriend, Net Worth, Hair & More
Gabi and Brandon had quite a scandal regarding their relationship in 2015. It so happened that Gabi was accused of cheating on him with her current man, Collin Vogt. The situation was further complicated as Collin was also dating another girl at the time. 
Surgery
Gabi has undergone multiple surgeries since she turned 18. She has done nonsurgical nose jobs, lip fillers, and added veneer over her teeth. 
In 2018, she opened up about her decision to enhance her face on YouTube. Gabi was insecure about her looks from a young age.
As her mother was a beauty queen (runner-up Miss New Jersey), she would try to match her conventional beauty standards and fail. Gabi ended up hating her face; thus, she chose to change it as soon as she turned legal. 
After the surgery, Gabi started looking different from her identical twin, Nikki. 
Facts On Gabi Demartino Including Age, Birthday & Height 
Gabi was born on 5th May 1995 in Pennsylvania. She is a Taurus. 
Gabi and her sister, Nikki, started their YouTube journey with a channel named 00RemakeGirls. Their sister, Alex, was also involved with the channel. 
The YouTuber has a younger brother named Anthony Demartino. 
The social media star's YouTube channel was initially named "nikiandgabibeauty." Gabi's first video on the channel was Demi Lovato Inspired Curls Tutorial; it was released on 3rd September 2012. 
Gabi had a cameo in Ariana Grande's video, Thank U, Next (2018). 
Related To Ariana Grande:- Graham Phillips Spotted With Ariana Grande, Dating Again?
She stands at the height of 5 feet 1 and a half inches (1.56 meters). 
Gabi has a store named Gabtoinette Antiques. 
She runs a collection named Niki-Gabi with her sister, Nikki. 
The YouTuber is a singer as well. She has sung a song named Hair Tie to her credit.
Gabi's sister, Nikki, is in a relationship with Nate West- their photographer since high school. 
She has been trolled for her plastic surgery. 
Her full name is Gabriella Demartino.