Entertainment
GBBO Winner Nadiya Hussain, Bengali Ethnicity, Getting Married Second Time With Husband?
'The Great British Bake Off' ended one of their highest rated seasons on 7 October 2015, with the fan favorite Nadiya Hussein being titled the winner of the show. The suburban Bengali-Muslim housewife must have her plates full with a guaranteed career as her prize. But as it turns, one of her first plans is to marry her loving husband for the second time.
And the Winner of GBBO Is......
On October 7 a total of about 14.5 million people tuned into the cooking show's finale including Hussein's fans that go by the name, Nadiyator fans. The finale featured a very competitive battle to the top between Hussein and other two finalists Tamal Ray, 29, and Ian Cumming, 41. But it was Nadiya who came out at the top.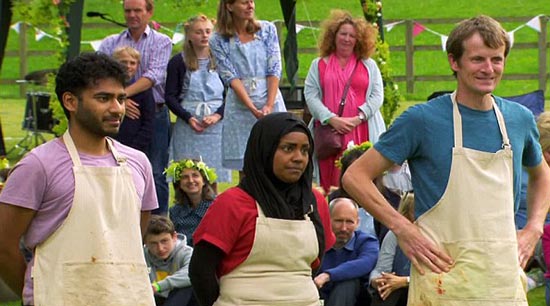 Caption: Finalists Tamal (left), Nadiya (centre) and Ian (right) nervously waiting for the result.
Source: dailymail.co.uk
After being called out as the winner, Nadiya was surrounded by her husband and her three children as the victory brought tearful joy to many viewers. Even Mary Berry, the show's judge, looked happy unlike the death stares to the contestants he is usually known for.
Caption: Nadiya Hussein being announced as the winner of GBBO.
Second Marriage with Husband:
Speaking of her husband, guess who got an unexpected amount of stardom. After the final, many viewers took to Twitter to pass some great words about her husband.
. Mrs. Hussein may even have to tightly hold on to her hubby, as many of the female viewers look very impressed from the star.
Oh MY. Can you imagine Tamal's family & Nadiya's family having dinner together? THE CUTENESS. THE HOT HUSBAND. THE AMAZING FOOD. #GBBOFinal

— Suze Azzopardi (@TheAzzo) October 7, 2015
And why wouldn't they? It turns out that her husband, Abdal Hussein, is just not all about the looks. On the show, she had expressed about her lack of confidence to participate, but it was her husband who has acted as the morale booster during those days. Furthermore, he assured her that he would look after the house and their children.
Now that the show is complete, Nadiya wants to marry her husband for the second time. This is because Nadiya was only 19 years old when they were married in an arranged way. Even though they had the chance to know each other 6 months before the marriage, they only talked over the phone.
Caption: Nadiya's Husband proposing over the phone to Her while she was in 'Loose Women'
Nadiya, now 31, says, "We're married Islamically but we've never done the proper vows here. So we're talking about making it all 'official'. It's a great excuse for a party."
Ethnic Culinary Experience:
After the show, Nadiya has found a new confidence in herself. She is now taking on a TV show of her own that will be known as 'The Chronicles of Nadiya.' The show is a cooking show, where Nadiya will be seen travelling to Bangladesh in order to explore the culinary roots of her ethnicity.
Nadiya Hussein was born on December 25, 1985, in Luton, Bedfordshire, England and is the first generation to be raised here. She completed her education here attending Challney High School. She also attended the Luton Sixth Form College.
It was revealed recently in 3rd August that she would be attending the Bakewell Baking Festival to demonstrate a few recipes from her book. She also expressed on July 28, according to Huffington post, that her friends had thought she was cheating on her husband after all the time she spent on her show.