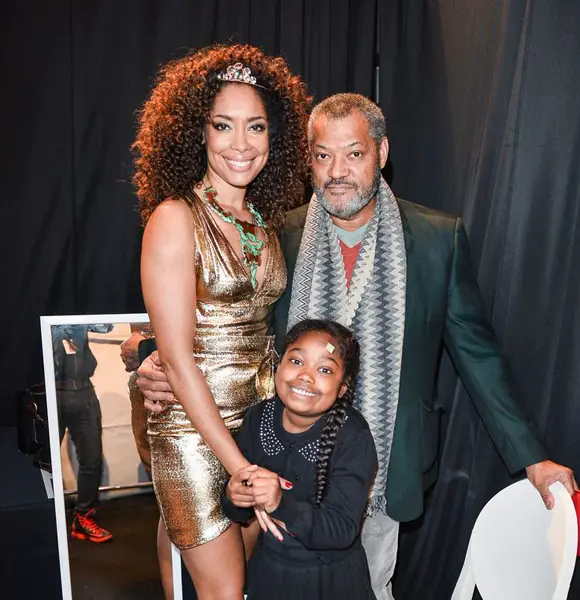 Being a celebrity is often a boon but other times a curse. A celebrities' profession obliges them to grab the attention of the people around them because of which it is difficult for them to maintain privacy in their personal life. Their private life either blends with their profession or overshadows their career.
But when a celebrity is clear about their priorities and purpose, they can surely enjoy both their personal and professional life separately. 50-year-old American actress Gina Torres, who portrayed the character of Jessica Pearson on USA's Suits is one of those celebrities to define herself by her priorities.
Gina, who is known for her take-no-prisoners attitude in Suits, always kept her family before her career. But, as everything loses its charm with time, Gina's romance with husband also faded away slowly. 
Let's shed some more lights on the personal aspect of Gina Torres!
Married life With Matrix Actor
Gina Torres has managed to captivate our hearts with her natural acting skills, but her heart is captivated by her loving husband and charming daughter.
She was married to actor Laurence Fishburne at The Cloisters museum in New York City on  22nd September 2002, after keeping engagement low-key for around eight months. Gina was engaged to Laurence in February 2001.
Gina Torres marries actor Laurence Fishburne on 22nd September 2002 at The Cloisters museum in New York City. (Photo: Liverampup.com)
The pair shares a daughter named Delilah, who was born in the year 2007. 
Ginna Torres Priority Is Family
Gina, who appeared in Hannibal with her husband Laurence Fishburne while portraying the character of husband and wife, kept her family before her career.
Gina's Co-Star:- 'Suits' Star Patrick J. Adams & Wife Welcoming First Child At Age 37!
In an interview with Hello! Magazine in January 2016, she talked about her life as a wife and mother. She even shared her hopes and dreams for her daughter, Delilah.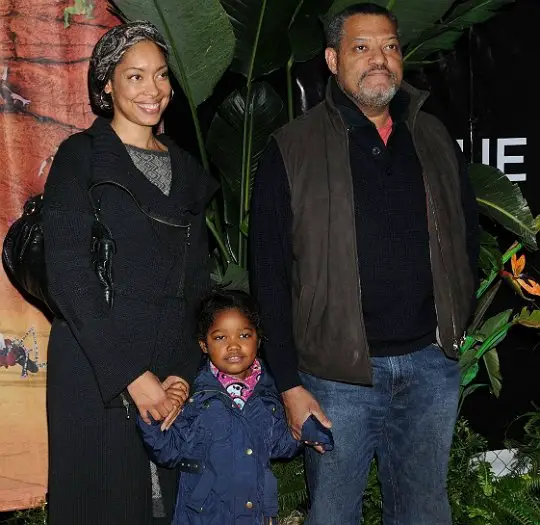 Gina Torres with husband Laurence and daughter Delilah at the Cirque Du Soleil show in Santa Monica in January 2012 (Photo: muzul.com)
Likewise, in an interview with The New York Times, on 15th September 2016, Gina revealed the reason behind leaving "Suits." She said that her contract was up and her personal life needed to be tended. She explained-
"I think the public doesn't understand the rigors of shooting a show for an actor, much less when you're on location and away from home. At one point I approached Aaron [Korsh, the showrunner,] and said: "It's not that I don't love the show and love Jessica, who is my alter ego. But my life is my life, and I need to take care of it." And everyone was completely supportive."
Cuban ethnicity actress Gina Torres was working in The Catch in 2016. The actress, with height 5 feet 10 inches (1.7m) and body measurements 34-25-35 inches, has appeared in many films and television series.
She is known for working in Teenage Mutant Ninja Turtles (voice, 2016), Hannibal (2013-2015), Castle (2013), Star Wars Rebels (voice, 2015-2016), Huge (2010), Standoff (2006-2007), Angel (2003), and Cleopatra 2525 (2000-2001).
Gina is not only able to grab the attention from her audience but is also able to accumulate the net worth of $5 million.
Marriage Ends In Divorce
Shocking everyone, the once power couple of Hollywood - Gina and her husband, Laurence - split on 14th  October 2016. Ending the 14-year marriage, Laurence filed for divorce on 2nd November 2017 citing irreconcilable differences.
Former Suits Star- Duchess Meghan Markle's Ex-Husband:- Film Producer Trevor Engelson Wedding, Wife Amid Divorce
Although divorces tend to take a long time in Hollywood, the former power couple fastened the process by splitting the assets and agreeing on joint custody of their daughter, Delilah.
Besides the lovely child, Laurence has two children, son Langston (born in 1987), and a daughter, Montana (born in 1991) from his previous marriage to actress Hajna O. Moss.
New Romance
After the ending of her long marriage, Gina found solace in the arms of entrepreneur Kevin Wright of Utah. Interestingly, the pair met on a Southern California beach in August 2017 and hit it off since then.
According to Gina, her boyfriend's similar past-he divorce his wife of 20 years- and non-Hollywood background brought them together.
The TV-actor seems to be in cloud nine with her cowboy type boyfriend. She flaunts her love via her Instagram and is nothing but glowing in relationship bliss.