Entertainment
Gregg Sulkin Sparks Dating Rumor With Bella Thorne! Getting Back with Ex-Girlfriend Again?
After the break-up, if the two, who had been an item in the past come together; then undoubtedly people will think the duo had got along again. 
The couple going through the similar situation is Greg Sulking and "Shake It Up" star, Bella Thorne. Well, speculations have been made that Gregg is back with his ex-girlfriend. But is it true? Are they really back together? Hang around to find that out!
Dating Rumors With The Ex-girlfriend; How Actual Or True Is It?
The Westminster-born actor, Gregg Sulkin's past relationship with actress Bella Thorne is not new to many. They had a thing back in 2015/2016. The then couple started dating from May 2015 and managed to take it for more than a year.
Gregg and Bella did set relationship goals and were also used to attending the family functions together. Bella attended Gregg's brother's wedding, and also shared a video of them dancing together.
On the other side, Gregg shared a family picture with the then newly-weds and wrote,
"I NOW HAVE A SISTER."
After the PDA had filled a year, they announced their split in August 2016. In a joint statement, they shared,
"After much thought and soul-searching, we have made the difficult decision to end our relationship. We will always love each other and have a deep respect for one another, as we have each grown to be better people because of our time together. Our schedules made seeing each other difficult, and we decided that for now, this would be best,"
After the break-up, the two moved on with different dating affairs. Gregg got linked with Danielle Campbell and also had some behind the veil affairs.
On the other side, Bella Thorne had an encounter with Tyler Posey, Charlie Puth, Chandler Parsons and more recently, with Scott Disick.
But after Bella Thorne shared a snap with Gregg lying over and Bella, with her barely-there bikinis, was on his back. Alongside the snuggled picture, she wrote,
"Happy birthday Gregg!!!! I love you :)) always been such a wonderful person :) glad we are here through thick and thin. Let's party you old man!!"
From then and there, Bella and Gregg got amid by the rumors of them being together again. Adding to the rumors, they were also spotted together; time and again.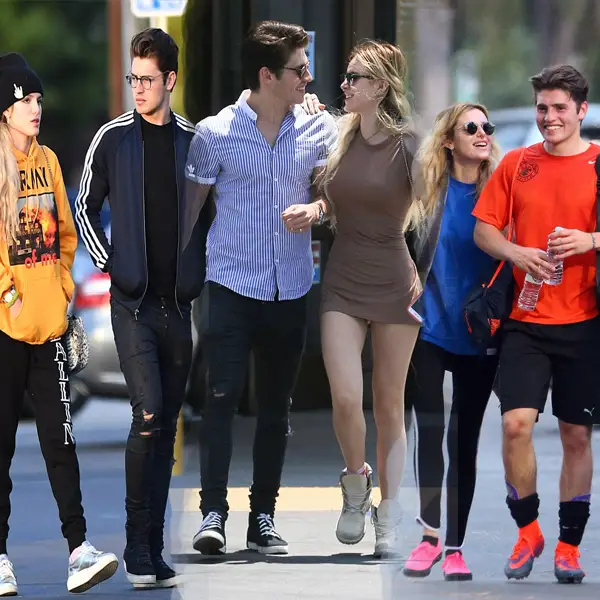 Caption: Back Again? Gregg and Bella snapped together time and again as spending time together. 
Photo Credit: liverampup.com
So far, Gregg, who has featured in gay magazine, hasn't talked about the alleged relationship; while Bella went on to deny the dating thing and mentioned,
"Gregg and I are so close — we hang out all the time,"
She continued,
"helped me grow up and helped me through such an important and impactful time in my life. He has such great intentions."
She further added,
"this guy is in-f*cking-credibly nice and obviously ridiculously good looking and funny and charming,"
Hence, the dating rumors turned out to be wrong, but they do have a chemistry more than friendship, just as equally important as the romantic relationship.
Stay with us for the emerging updates on Gregg Sulkin!