Entertainment
Is Griffin Newman Married and Has a Wife? His Tweet Says No
Is Griffin Newman Married and Has a Wife? His Twitter Says No. Griffin Newman has attracted the hearts of many people with his superhero role in the series The Tick. He is tremendously busy shooting for new projects. But still, he has time for a little romance. In his tweet back in 2012, he clearly mentioned that he would even pay the girl just to pretend to be his girlfriend.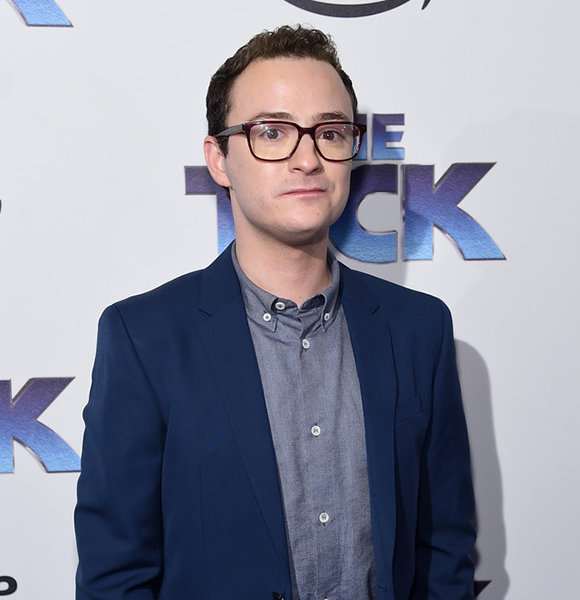 Quick Information
Sister/s

Romilly Newman

Weight

55 Kg

Height/ How Tall? 5 Feet 6 Inches (1.68 Meters)
Career

2006-present

Net Worth

Not Disclosed

Gay

No

Girlfriend

Not Known

Divorce/Split

Not Yet

Relationship Status

Single

Children/Kids

Not Yet

Date of Birth Feb 19, 1989
Brother/s

James Newman

Mother

Antonia Dauphin

Father

Peter Newman

Ethnicity/Race

White

Zodiac Sign

Pisces

Birth Name

Griffin Claude Beresford Dauphin Hunter Newman

Profession

Actor

Nationality

American
The change in one's relationship status comes from a conscious decision and commitment. Some people instead choose to commit to their work, leaving their relationship status undefined.
As the fans of a celebrity, it only makes them more curious when a celebrity chooses the latter path. Born to the family of performing arts, Griffin Newman, an American actor, has kept his relationship status very confidential.
So, is he married and living happily with his wife or still dating someone? Are you wondering what's happening in his life? Then, here let's present to you the information about his personal life.
Griffin Newman's Relationship Status
Griffin Newman, born as Griffin Claude Beresford Dauphin Hunter Newman, has attracted the hearts of many people with his superhero role in the series, The Tick. He is tremendously busy shooting for new projects. But still, he has time for a little romance.
In his tweet back in 2012, he mentioned that he would even pay the girl to pretend to be his girlfriend. It reflects that he was single at that time and he humorously sounded desperate for a girlfriend.
I'd pay a lady $15 to pretend I didn't pay her $15 to pretend to be my girlfriend.
Ladies, there was your time to shine! But, wait, there was a change in his relationship status.
Newman was linked to a girl, but it seems their relationship ended before 2015, as he addressed to her as his ex-girlfriend.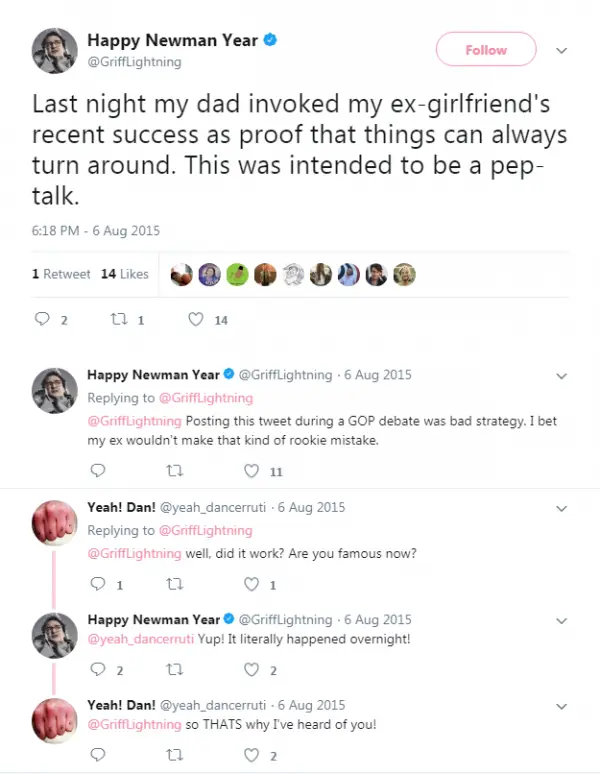 Griffin talking about his ex-girlfriend (Source: Griffin Newman's Twitter)
No further information about the famous ex-girlfriend has been revealed. If anything, the tweet clarifies that the relationship is over.
But again, he shared a post saying that his ex-partner sent him a link to THE LOBSTER's website. Fans guessed he was talking about the same girl.
Gay Or With Girlfriend:- Brendan Sexton III Married, Girlfriend, Gay, Family
Later, on the same post, he confided that he was thinking of taking a break from dating for two years.
Well, the two years' over now and Griffin could have gotten into a new relationship. Back on Valentine's Day 2019, he wrote on Twitter that his girlfriend was sick, thus implying that he was indeed dating someone.
Griffin also mentioned that he along with his girlfriend spent the day of love watching Tom Hank's movie Sully as they had no alternative.
The detailed information about his past relationship/s has not been disclosed. He has kept it very confidential. All we know are the bits and pieces he revealed on the social media that are barely enough to draw any conclusion.
Since he has not talked about his current relationship yet, we cannot just deem him single. He might be dating secretly under the media's prying eyes.
An Overview of Griffin Newman's Career
Looking at his career and increasing success as an actor, it's not surprising to know acting runs in his genes. Griffin, who was raised in New York, hails from a family with a long career in the arts. His father is a producer, whereas his mother is a casting director as well as a former actress.
After he dropped out of college to act full-time, he kicked off his acting career with less prominent roles in films like Draft Day and the series like Vinyl and Search Party. Newman's appearance on The Tick marks his first time in a leading role, which must have, without a doubt, helped his net worth.
In an interview with EW, he disclosed that he was obsessed with the superheroes, and how fortunate is it that he is now portraying the role of one?
"I have been obsessed with superheroes for the majority of my life, so just the fact that I'm, like, in a superhero suit that was actually made for my body…"
Griffin's other film credits include Beneath, Night Moves, Naomi and Ely's No Kiss List, Bakery in Brooklyn, and Inside you. Similarly, he even co-hosted the show Blank Check with Griffin and David.
Regrets Working With Woody Allen
A few years ago, getting a part in a Woody Allen's movie was considered a fortune as only talented actors got to work with the director. 
However, Woody was accused of sexually assaulting his then-seven years old adopted daughter named Dylan Farrow in 1992. After the incident was publicized by an adult Dylan, actors - who once were close to Woody - began discarding him as a fly dropped on coffee.
Among them was Griffin - who instantly regretted his decision to work for Woody. He even considered walking out of the movie, A Rainy Day in New York. However, he didn't do so as the film's success could help his career. Unfortunately, the movie never released surrounding Woody's controversy.
Sexual Allegations:- Who Is Jack Burkman? Lobbyist Who Money Fueled Mueller Sexual Assault
In the end, Griffin decided to donate his salary from the film to an organization named RAINN, which looks after the victims of sexual assaults. Finally, some charitable activities on the part of Griffin after all his time with a sexual predator.