Entertainment
Guy Sebastian Nearly Averted Married Life With Girlfriend-Turned-Wife – Here's How
Guy Sebastian is Australia's sole male artist to get his six singles and two albums to number one in chart history. He has Australia's one of best success stories that can inspire most people out there!
Well, with the huge success in the professional life, Guy has a very captivating romantic life. Prior kissing the success and popularity, Guy was in a blissful dating relationship which ended in marriage.
So, if you are interested in his married life with girlfriend-turned-wife, then keep reading down!
Guy Sebastian's Marital Life With Girlfriend
The first winner of Australian Idol, Guy Sebastian, got married to his teenage sweetheart, Jules Egan, back in 17th May 2008. Four years after being bound in a marital relationship, they welcomed their first son, Hudson, in March 2012. Well, their family completed when Hudson became a big brother with the arrival of Archer, back in 2014.
The married couple knows each other for a long time. They met at their local church group and eventually, started dating in 1999 when Guy reached the University.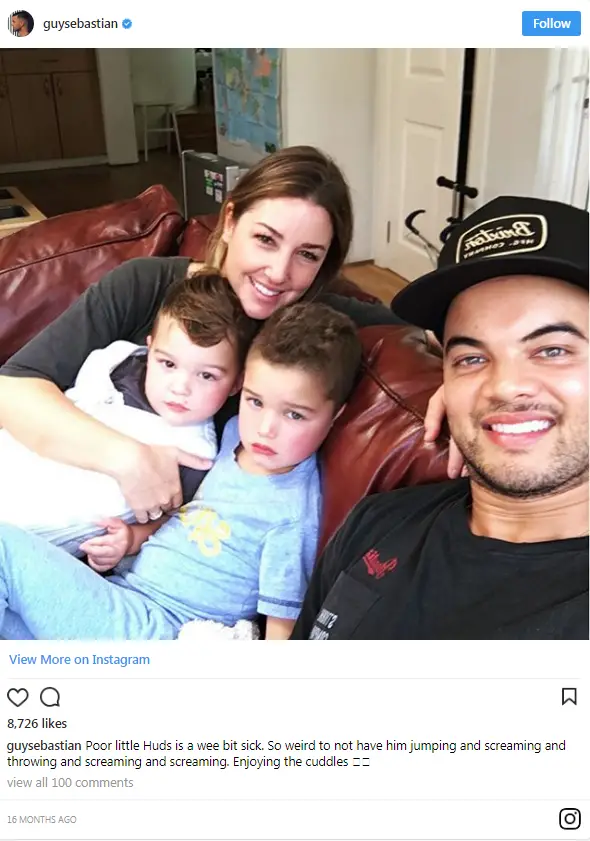 (Photo: Guy Sebastian's Instagram)
Well, Aussie singer, Guy Sebastian and his wife, Jules, who is a fashion stylist, have had many ups and downs in their long relationship. However, neither of them left each other's side while they had a bad time going on their relationship.
Back in 2017, Guy admitted that he was a "rubbish boyfriend" and never was there for Jules when she was in need of him. He also enlisted some of the problems because of which his lady love left him. Explaining the scenario, Guy said that he kept music and sports over his relationship.
Also an award-winning singer, Sebastian opened up with the Herald Sun that his near breakup with his wife, Jules, was the inspiration for his single, Bloodstone.
"I remember trying to break up with Jules years and years ago, way before kids.''
However, it was Jules who maintained their relationship by handling it from the verge of breakup.
"Jules was actually like, 'we've got a history and you're just having a down moment, let's just push through it'. Jules was just straight up and said, 'you're an idiot'. In hindsight I was because I would have lost something really special."
As of now, the self-taught musician is living happily with his wife and two children, along with a prolific career.
In the early stages of Guy's career, his 'afro hair' and 'amazing voice' were two of his most celebrated foreground. Now, the versatile artist, who belongs to mixed ethnicity, has received 22 ARIA Award Nominations including Single of the Year, Best Male Artist, and Best Pop Artist's nomination. Similarly, he has won the ARIA Award for Highest Selling Single for Angels Brought Me Here and Who's That Girl.