American singer Halsey is no stranger to the fans of pop music. She is best known for her hits like Ghost, Hurrican, and New Americana.
However, only a few know that her real name is Ashley Nicolette Frangipane. And the globally famous name- Halsey is an anagram made by rearranging the letters of her first name- Ashley.
Keep reading for more exciting info on Halsey's personal and professional life.
Parents/ Family Background
Born on 29 September 1994 in Clark, New Jersey, Halsey did not have an easy life. 
The Bad at Love hitmaker was born as the first child to her parents Chris Frangipane and Nicole Frangipane. She also has two younger brothers- Sevian and Dante Frangipane. As for her ethnicity, she is a mix of African-American origin from her father's side and Italian, Irish, and Hungarian from her mother's side.
Halsey's parents were both into music. She grew up around her dad, listening to a ton of old school rap and her mom listening to a ton of 90's grunge.
Hasley was a musician in the making from a very young age. She played the violin, viola, and cello. Later she also started playing guitar at 14. Further, her parent's taste in music introduced Halsey to her greatest influences like Nirvana, Alanis Morissette, the Cure, Gin Blossoms, and also Tupac, Biggie, Bone Thugs-N-Harmony, Slick Rick.
You May Be Interested:- Dua Lipa Boyfriend, Gay, Parents, Net Worth
Later, things started to change as Halsey grew up. As a teenager, Halsey grew to be a rebel. She and her parents had a lot of arguments. But things escalated pretty far after, Halsey quit school. Her parents, who were college dropouts, did not approve of their daughter making the same mistake and eventually kicked her out to teach life lessons.
After getting kicked out, Halsey suffered a lot. At one point, she attempted suicide by overdosing on painkillers. After that, she was taken for psychiatric help and diagnosed with bipolar disorder.
Halsey had a cold relationship with her parents for quite some time. But as of now, the family seems to have buried the hatchet. Further, Halsey has even credited her 'hip' parents for her music taste.
Halsey's Career
Well, many have said, 'Halsey's career took a turn overnight.' And it's not wrong!
In 2014, the singer recorded her song Ghost and posted it on SoundCloud, and it became an instant hit.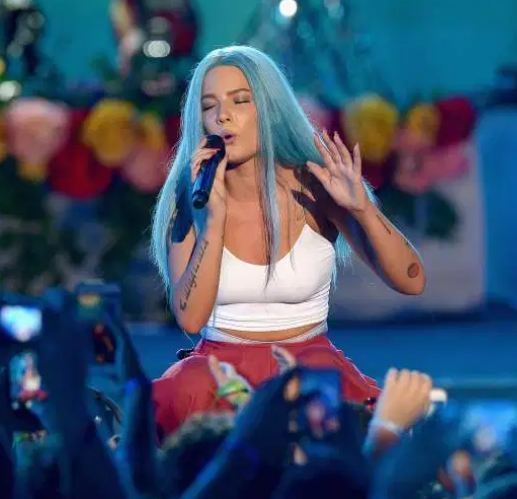 Halsey performing at iHeartSummer '17 Weekend (Photo: heavy.com)
She gained not only massive popularity but also many record deals.
Before that, Halsey used to perform under very stage names. In 2012 she had also made a parody of Taylor Swift's I Knew You were Trouble as The Haylor Song, which did attract some attention. But it was her original song, Ghost, that took her to another level.
More On Halsey:- 'You & I' Singers Halsey & Boyfriend G-Eazy Split & Fans Are Mourning!
Following her massive success, she won the Rising Star Award by Billboard Women in Music in 2016
After that, Halsey has created create hit after hit. Further, she has collaborated with artists like Justin Beiber, The Chainsmokers, BTS, to name a few. As of now, Halsey is a global star with a huge career ahead of her.