Entertainment
Halston Sage Alleged Dating Affair With Actor Any True? Thoughts On Making A Boyfriend Or Busy With Upcoming Movies?
When you become a public figure, then you have lots of eyes in your life. Not only your working life becomes public but also your personal life. On that point, we are no new to the rumors of celebs dating.
Talking about 'Hoe to Rock' star Halston Sage is also speculated to be dating her co-actor from 'Bad Neighbors' Zac Efron. Is Zac Efron Halston Sage's boyfriend? Or for now, the rising star is just busy in her career? Let's give a glance on that very topic on our story today.
Dating Rumors True Or Just Busy Building Up Career?
The American actress Halston Sage has been very busy in few years. After landing on the breakout roles in the Nickelodeon's series 'How To Rock' she is not planning to stop the pace which is diminishing the difference from the immense success.
But meanwhile, along with the professional career, her personal life has also been catching the limelight. The blonde beauty has been linked up with the handsome hunk Zac Efron.
The two are said to be together while filming their movie 'Bad Neighbors.' A source told,
"They are definitely an item. They were seeing each other a bit during filming of their movie together and ever since he went to rehab they got a lot closer. Her friends love him and say he is so sweet. He's really good to her."
The rumor came out stronger after the pair was caught getting cozy together in Los Angeles at the Lakers Basketball match.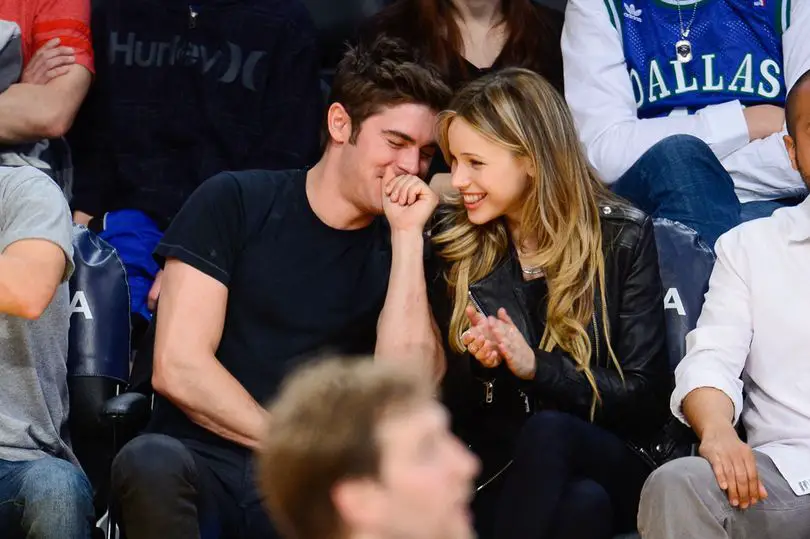 Caption: Halston Sage with her alleged boyfriend, Zac Efron at the Lakers Basketball game (2014).
Photo Credit: mirror.co.uk
The rumor got more confusing when Sage was quizzed whether the two are dating or not and for that she replied,
"I don't know."
On the other side, when Zac was asked about Halston Sage he answered,
"She's really sweet. She's a sweetheart."
Also, Zac claimed that he's not sure about him dating Sage and cleared out that he is not looking to be in a romance with anyone else.
On the other side, different sources have their view on the relationship between them, all of which must be the publicity stunts for their movie.
As of now, Zac Efron is not dating anyone and is possibly single.
The actress with perfect body measurements and beautiful face must have been busy with her career which leaves her little time for romance and is keeping her single till date.
Halston's Busy Schedule:
As we know, Halston's career was launched in 2011 after she was cast for a role as Grace in the series "How To Rock." From then she landed on various parts which include Crisis (2014), and she also did a guest appearance in the series Victorious (2011), Bucket & Skinners Epic Adventure (2012).
More recently, her movie 'Before I Fall' released and in 2016, she has completed filming the comedy-drama People You May Know. She got cast for the upcoming thriller movie "You Get Me and has also started working on the 2017's series 'Orville.'
From all these, what we can figure out is Halston Sage is real busy with her movies and televisions and is not stopping anytime sooner.