Entertainment
Hannah Simone & Husband New Parents, Married Life Blossoms With Ecstasy
Hannah Simone who dazzled all through her role for Cece, now had confirmed to have tied the knot with husband....the pair who have been leaving hints of their relationship on social media have more big news on the way. The stars, now soon to be parents have excited the world with their wonderful news.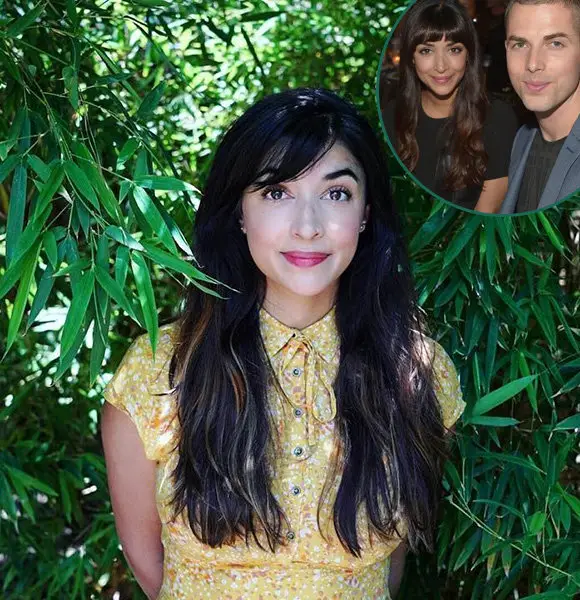 "A new beginning, a newer happy story" is what happening to British-Canadian actress, Hannah Simone. 
The Canadian actress, who is popular for her role as Cece in the Fox hit series 'New Girl', coincidently faced the same incident she went through in her season finale of the show.
Yes! The actress, who tied the knot with husband Jesse, has a baby on board!
Starting their love story by taking vows secretly, Hannah has embraced the journey to her marital life. After just a brief time, the pair has now announced even bigger news of her pregnancy. It's a bliss for Hannah to receive a family package of happiness all at once.
Married To Boyfriend: New Girl Star No More Single!
Nobody can deny the fact that Hannah, with her gorgeous features and long black hair, is one of the most beloved actresses in the Showbiz. Her confident and fascinating performance in the Fox Hit TV show "New Girl" earned her huge fanbase in a short period.
With a mixed ethnicity of Indian, German and Italian, Hannah has stunned the audience with both her beauty and talent. No wonder with such dynamics, the former E! News TV host and current musician, Jesse Giddings had fallen head over heels for her.
After being in love for nearly four years, the couple then decided to take their relationship one step ahead. With a chemistry that was undeniably strong, the couples got married on July 2016.
Of course, this all happened inside closed doors. But the constant Instagramming from Jesse just made it obvious to the viewers that the pair had some serious romance bulging inside.
Similar Stories: Michael Hope & Mena Suvari Gets Married, Dating To Secret Wedding | Details
In December 2015, Jesse Instagrammed congratulating the actress for the successfully airing 100th episode of her sitcom on Fox Hit. Later the same year he again posted a picture of their selfie together with their dog Mare. With so much attention on her husband's Instagram, Hannah couldn't ask for more.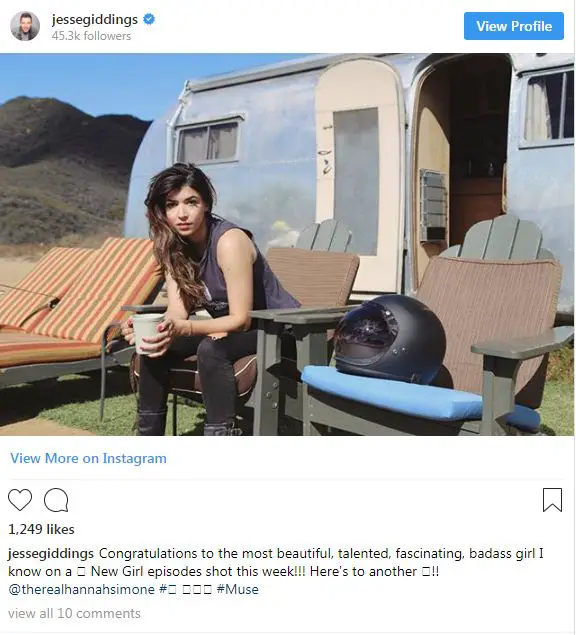 Jesse Giddings posting a picture to congratulate Hannah for her 100th New Girl episode (Photo:Usmagazine.com )
The small hints did give the people some room for guessing whether couples were now Husband and Wife.
News Conformation: Hannah Reveals About Her Pregnancy!
The low profiled pair, who had been trying too hard to keep their relationship under wraps, could not hide the news any longer. It was after seeing Hannah flaunt her baby bump in an outing the couples took in Beverly Hills on July 18, 2017, the audiences were taken aback by another bigger news.
Not only were the pair married but they were expecting a baby too!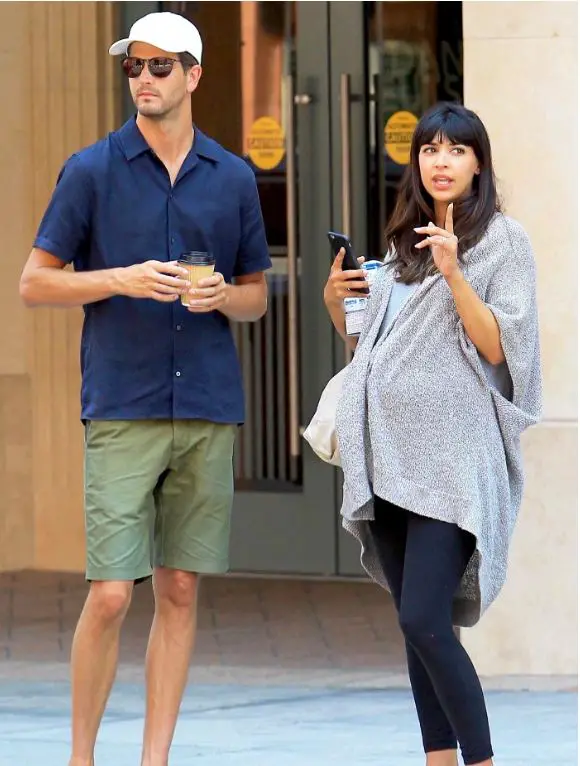 The New Girl Star flaunting her baby bump (Photo: Usmagazine.com)
The "Baby on board" news created a major fan buzz. The fans couldn't keep themselves from predicting how wonderful a mother would Hannah be. It was later in August of 2017, that the couples became parents after welcoming their healthy baby boy to the family.
Read Also: Pregnant Teresa Palmer & Husband Expecting Third Baby 'Girl' | Overjoyed
The fans were right after all! The actress, who's a mom now, was reported to have taken projects of decoring her son's nursery. The cozy and rustic theme she used in decorating her son's room just proves how much caring mother she is.
Now, the only thing the family of three is left with is, sharing more of their blissful family tales to all the audiences through their Instagram.