News
Michael Hope & Mena Suvari Gets Married, Dating To Secret Wedding | Details
Michael Hope has secretly crushed every "hope" of getting married to the Hollywood hottie, Mena Suvari!
Looks like a relatively unknown artist and Hollywood insider, Michael Hope secured the bag as he looks set to enjoy a blissful married life with American Woman actress Mena Suvari.
Michael's wife Mena, age 39, debuted her wedding ring at the red carpet as she attended the Last Chance for Animals' Annual Celebrity Benefit held in Beverly Hills on 20 October 2018.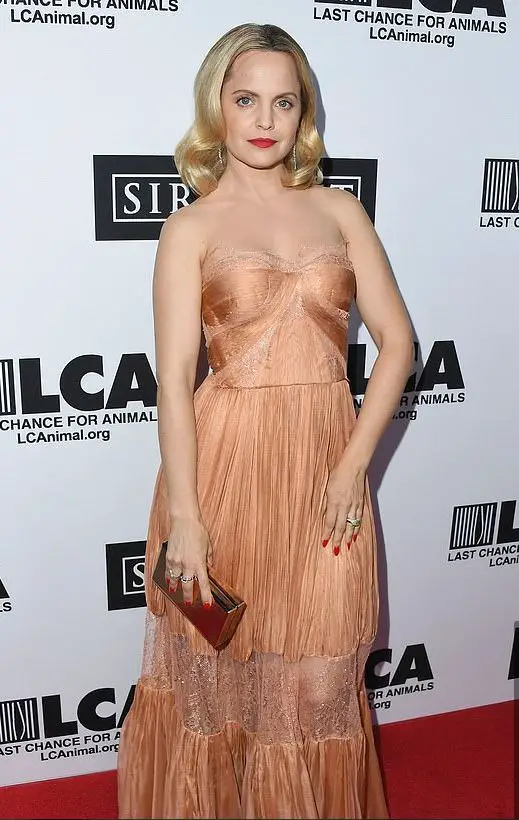 Mena Suvari flashes her wedding ring at the Last Chance for Animals' Annual Celebrity Benefit (Photo:- dailymail.co.uk)
At the same event, Mena later sat down with US Weekly to discuss their marriage. In addition to professing happiness with her marriage, the 39-year-old actress made a wishful remark that she got secretly married to Michael when she said:
"It's great. I'm really happy. We're happy. Third time's a charm!"
Her statement was a reference to her two failed marriages to cinematographer Robert Brinkmann (2000-2005) and concert promoter Simone Sestito (2010-2012).
Discover:- "American Pie" Actor Jason Biggs' Story With Ex-Girlfriend Stalker Wife; Married Through Crushing Moments
As for Michael, he is an artist who has work credits on films such as I Will Be Home For Christmas, Lead With Your Heart and Indian Horse. Interestingly enough he had met his future wife, Mena, on the set of the Hallmark movie I Will Be Home For Christmas. The pair has been dating ever since.
The American Pie actress described Micheal as:
"He's a really great guy. I got me a Canadian: Old school, really considerate, old-fashioned."
In the same US Weekly interview, Michael's wife Mena described their wedding as intimate without going into any details. She quipped:
"It was very intimate. It was very beautiful. I had my closest friends with me. It was very meaningful."
Further, in the interview, Mena flirted with the idea of being a mother one day. According to her, she has a few good years left in her.
Interestingly:- Jessie Wallace Reportedly Dating, Meet New Boyfriend 'Divorced Dad-Of-Five'
Back in August, she had put a cryptic Instagram post featuring - what looked like - a newlywed couple. The post didn't contain any caption.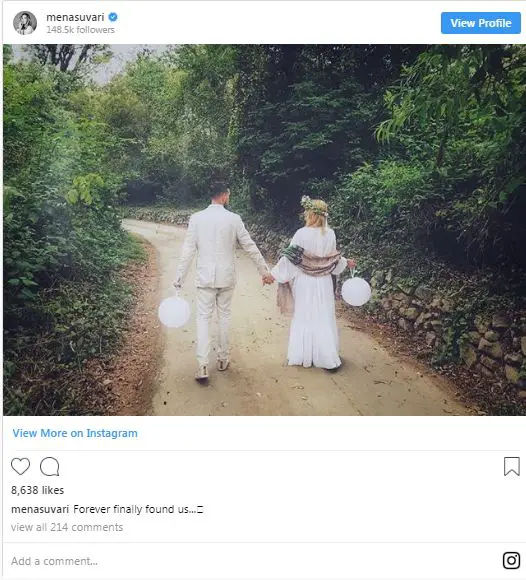 Michael famous half, Mena, shares a cryptic post (Photo:- Mena Suvari's Instagram)
In hindsight, Mena's August post could very well be from the day of their wedding. Nonetheless, congratulations to Michael and Mena on getting married!