Entertainment
Hasan Minhaj Has A Low-Key But Happy Married Life With Wife; Shows Memories Of Groovy Wedding Day
Some people love flaunting their married life and their relationship with their wife, while some prefer keeping it out of the limelight.
American actor and TV show host Hasan Minhaj falls in the second category who is not that open about his married life and his relationship with his wife. Fans and the media know that he is a married man and is happy with his wife but what is their relationship like? Let us find out!
The Secretive But Happy Married Life of Hasan Minha!
Hasan has been married to his wife Beena Minhaj (a management consultant) since January 2015, and the two are happy with one another.
But the relationship between them started way back when they both were students in the same educational firm. The two first met in college at the University of California.
Opening up about the first time he saw Beena, Hasan said,
"I met the love of my life there. It's wild. When you're living your life, you don't realize that history is happening in real time. So when I first saw her as a freshman, I was just living on the quiet floor in the Thoreau dorms. She was just a girl I had a crush on. I didn't know she'd be my wife."
He also said that the couple, who now live in Hell's Kitchen neighborhood of Manhattan, were very traditional when it came to their relationship and did not move in together until they got married.
"Beena and I didn't move in together until we got married. We kept it very traditional ... so I had to evolve very quickly."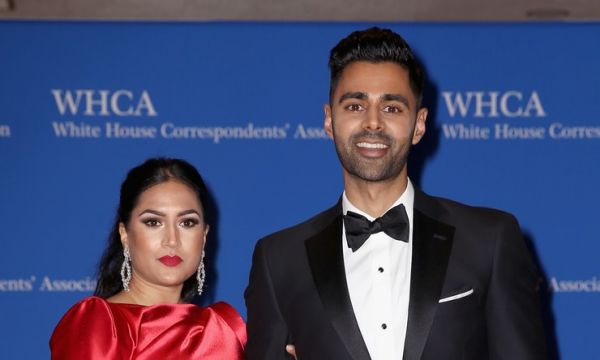 Caption: Hasan Minhaj posing for a picture with his beautiful wife, Beena Minhaj.
Photo Credit: bustle.com
But this just about how he and his wife met. If you are willing to know more about his marriage and how adorable the ceremony was, you might want to look at the video below where he is giving some Bollywood dancers a run for their money.
Caption: Hasan Minhaj dances on his big wedlock day
That shows how much he enjoyed the wedding. Moreover, to savor every moment of his big day, Hasan and his wife have hung the pictures of their engagement and wedding on the wall opposite to their kitchen.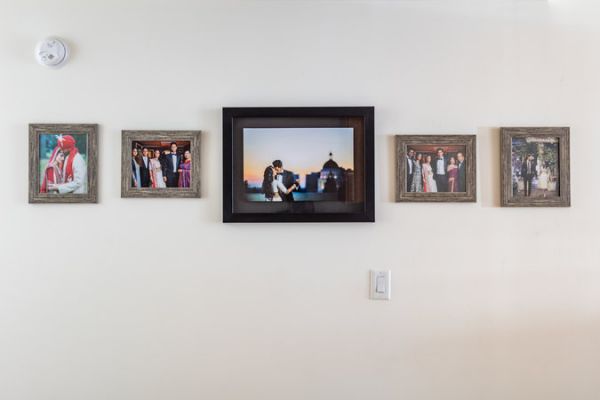 Caption: Hasan and his wife have their wedding and engagement pictures hung on the wall opposite to their kitchen.
Photo Credit: nytimes.com
That shows that despite him being low key in terms of his marriage, he is very happy in his life with his wife. We would like to wish the happy couple the very best for their relationship in the days ahead. Moreover, getting married to a woman surely saves him from the gay rumors that often surround the renowned individuals.
Hasan As A Proud Muslim:
Hasan in an Indian-American Muslim and everyone knows how racial the world has become. Moreover, in the U.S where Muslim bans and other racial issues are still arising, Hasan is someone who has been speaking about the same topic as well. Back in an interview, he spoke,
A lot of times, we as a country don't want to talk about these things because we're living our day-to-day lives. So when you read [about] something like the Muslim ban, or [that] we're going to build a wall, people are like, Look, man, I'm just trying to go to work, drop my kids off at school, and live my life. The story that I'm telling in "Homecoming King" about falling in love, these are things that happened to me — that actually happen everyday in our backyards and in our communities. The reason why I think that the story is so powerful – and I think we've all experienced this, regardless of race, color, creed, or class or sexuality – [is] we've all dealt with these doorstep moments where we've put ourselves on the line and we weren't accepted because of something we can't control. Now, for me, it was the color of my skin.
He then added,
But for other people it's a myriad of other reasons. It was the first We're going to go in a different direction moment, where you put your heart on the line and people say, Hey, because of variables you can't control, we just have to do something different because, you know, if you're seen with our daughter at prom, we're going to take photos, what are people going to think? And that moment in my life captured so much. And I think it speaks to a lot of moments people are having now.
He has got a fair point there and no one can argue about it.
Also, did you know, he famously performed at the 2017 White House Correspondents' Dinner?
He also spoke on that as well when he said,
A lot of times in life, it's personal choices that you're making, actively, and then there's a myriad of forces and circumstances that are out of our control. And without even realizing it, you're riding a wave of events that you have no control of. So, I am who I am. I'm Hasan Minhaj. I'm this this Indian-American Muslim comedian in America during the Trump Administration. Now, a series of circumstances unfold where Donald Trump is the president, he pulls out of the event, the Administration has boycotted, all these variables happen.
He continued,
A bunch of comedians had passed on the gig because it's too contentious. There's just a lot of, Will the event still happen? Is the event going to implode on itself? And then I get asked three weeks before the gig: "Do you want to do the dinner?" And I felt, Wow!What amazing timing and circumstances that, given the current administration, I would be asked to be the comedian to comment. I thought, This is a hell of an opportunity.
Caption: Hasan Minhaj Roasts President Donald Trump At The 2017 White House Correspondents Dinner (Published on Apr 29, 2017).
A Short Wiki-Like Bio of Hasan Minhaj:
Born in Davis, California on September 23, 1985, United States, Hasan Minhaj is an Indian-American comedian and actor, who was born to a chemist father and a doctor mother. Hasan is currently the Senior Correspondent on The Daily Show, a show he joined back in 2014.
When it comes to his profession and roasting skills, he does not even leave his parents out of it and once gave his hilarious take on his Indian parents and dating.
This comedian, who stands over 6 ft in height is someone who can make you laugh and cry out of it in an ample amount and if you are willing to catch him on the road while he is on the tour, he has some shows lined up in the near future. So you might not want to miss this opportunity.