Entertainment
Hayes Grier Not Dating! Says Girlfriend, Affair Never Secret
Hayes Grier, an Internet personality, has a large fanbase who keep inquiring about his dating life. But, it seems like 'romance' is not his forte, as he appears to be single in front of the public eye, as for now. However, to one's wonder, it seems like there are possible reasons why the young heartthrob doesn't have a lady in his life. So, let's dive in to find out! 
Why Hayes Grier Not Dating? 
While many celebs keep their personal life private for the obvious reasons that they don't want to share their life publicly, chances are there lies different reason for the Internet personality, Hayes Grier. 
Although the 17-year-old Instagram star has been uploading funny videos on his social media to date, he has been keeping his personal front, concealed to himself and doesn't seemingly share a romantic relationship currently. However, he has been involved in controversies several times which includes his fake photos and feud with his ex-girlfriend. 
Around June 2015, Hayes found himself tangled in a rumor of having a girlfriend that started from a fake photo created by a fan.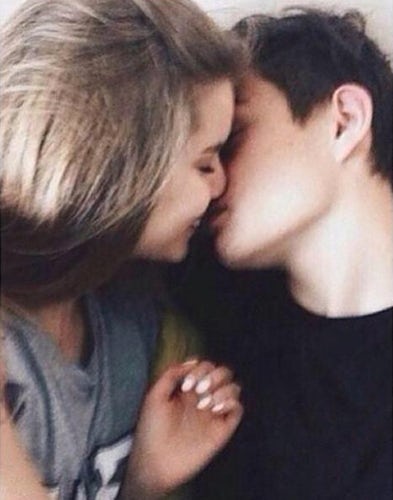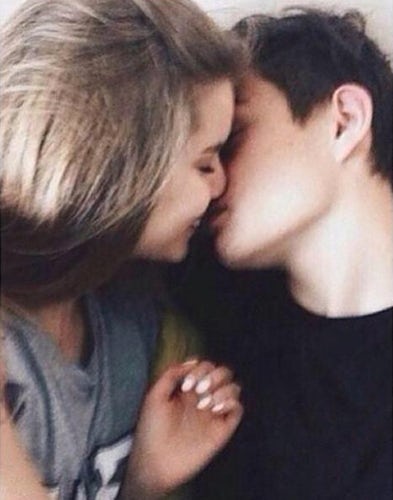 Fake photo of Hayes Grier kissing his girlfriend that became trending on Twitter (Photo: j-14.com)
The photo immediately fooled fans as well as Hayes himself. But, he didn't take long to clarify that the picture was indeed a fake one via his Twitter on June 8, 2015.
I don't have a girlfriend that picture was so fake. If I had one I would tell you but don't worry about me getting a gf I have 0 game

— Hayes Grier (@HayesGrier) June 8, 2015
But, that's not it! 
Hayes found himself caught in internet drama, yet again! But, this time it was with his ex-girlfriend, Jordan Griffis. Although the details of Haye's relationship with Jordan didn't surface to the media, it seems as though they didn't end on good terms. The ex-lovers kept throwing shade at each other on Twitter. 
Around March 2016, he got involved in a fight on Twitter with his ex-girlfriend after she ranted about Hayes meeting with Justin Bieber at his birthday party. On February 28, 2016, Jordan tweeted about how Hayes hung out with Justin and the fact that she will never understand why.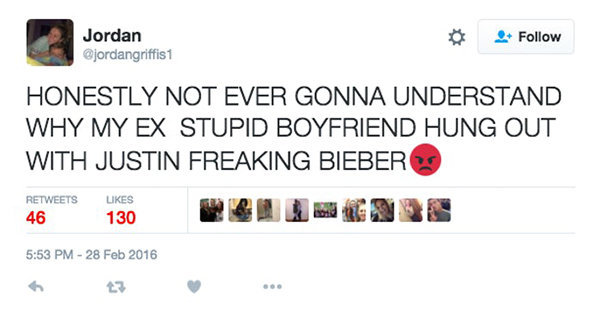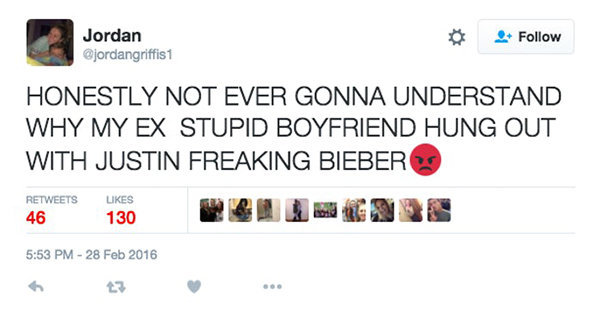 Hayes Grier's ex-girlfriend, Jordan Griffis calling out Hayes on Twitter. (j-14.com)
On the same day, Hayes's ex also uploaded a picture of him with Justin Bieber only to mock saying that he is not worthy to have met with Justin.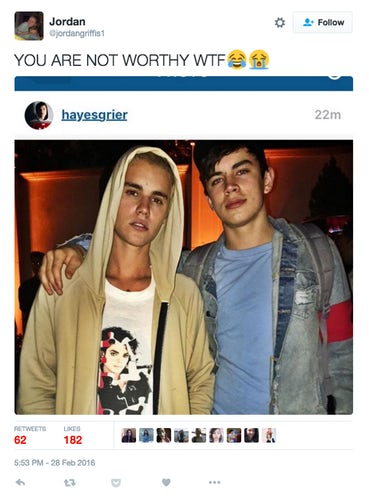 Hayes's ex, Jordan Griffis posts his photo with Justin Bieber (Photo: j-14.com)
However, Hayes immediately threw the shade back at his ex as he responded with a series of tweets which were apparently aimed at Jordan. Although his tweets reportedly got deleted, fans saved the screenshots of his tweets, and it seems like he wasn't offended by his ex-girlfriend. 

Hayes's reportedly deleted tweets which were responses to his ex (Superfame.com) 
Moreover, besides the controversies and Twitter drama, he was seen together with a possible girlfriend around early June 2016. In one of Willie Sosa's Snapchat story, Hayes was spotted with a brunette girl sitting on his lap.
Hayes Grier with a mysterious girl on his lap as seen in one of Willie Sosa's Snapchat Story (Published on June 4, 2016) 
Although it is quite challenging to clarify the person as Hayes and the identity of the girl, fans were confident it was Hayes based on his outfits. Additionally, fans were already starting to question Hayes on Twitter as to why was he hiding his secret girlfriend. 
Meanwhile, although Hayes has yet to respond on the matter, there are chances he might open up about the truth of his relationship status in the forthcoming days as he made clear in his tweet back in 2015; that if he ever has a girlfriend, Hayes' will let his fans know. 
More About Hayes Grier 
Hayes Grier, who goes by the full name, Benjamin Hayes Grier, was born on June 8, 2000, in New York City. He was born to parents, father, Chad Grier who is a football coach, mother, Elizabeth Grier and also has a step-mother, Nila. He was raised along with his brothers, Nash Grier and Will Grier and a younger half-sister, Skylynn. 
When it comes to the initiation of his career, he followed the footsteps of his famous older brother, Nash Grier who started his career by posting funny videos on Vine and eventually on YouTube. Nevertheless, Hayes still makes sure to include his older brother in a lot of his videos. 
Hayes Grier's latest video with his older brother, Nash Grier (Published on 24 December 2017) 
With almost a million subscribers on YouTube, over 5.7 million followers on Instagram, a net worth of $3 million as well as a book, named, 'Hollywood Days with Hayes,' Hayes has successfully earned his name in the entertainment industry. 
However, much more is yet to come for the 17-year-old teenager.