Entertainment
Hazel Irvine Married Her Longtime Partner In A Private Ceremony; Any Chances Of Divorce?
Among celebrities, there are some who share the details of their personal life, while there are some who like to maintain guard over it. And when a celebrity guards their personal life, then their fans are left to speculate and imagine on their own.
Sharing the similar trait is sports presenter Hazel Irvine, who is secretive about her life and prefers to share minimal information regarding her life beyond the profession. If you thrive to know the secret life of Hazel, you've hit the right place.
Hazel Irvine Secretly Got Married!
Sports presenter Hazel Irvine maintains a tight guard over her personal life, so least information has surfaced in the media regarding her personal life.
However, Hazel sparked the rumors of her marriage as she presented the program, The Open at Loch Lomond wearing a ring. In July 2008, the news of Hazel's marriage created a lot of buzzes, shocking all the fans.
As per reports, Hazel married her husband in a secret ceremony few months before July 2008. And when Daily Record contacted Hazel's agent, the agent confirmed the news of the marriage through a statement that said,
"It was a small and very private affair, and she and her husband are very happy. She wants to keep all the details private."
Moreover, a BBC insider shared that Hazel keeps her personal life to herself only.
"Hazel is really friendly and gets on great with everyone but she keeps her personal life to herself.
The insider added,
"She only talks to close friends about that sort of thing so even people who work with her didn't know about the wedding until after it happened. She seems really happy and all her colleagues are delighted for her."
Moreover, the insider also revealed that Hazel married her long time partner.
"Hazel is dedicated to work which can make relationships difficult, but she has been with her partner for quite a while and they just decided it was the right time to get hitched."
Hazel has maintained secrecy the such an extent that even the identity of her husband remains a secret.
In a rare occasion, on November 28, 2008, Hazel shared the joyous occasion of welcoming her child with her husband and announced that the baby would arrive in spring 2009.
"My husband and I have a new arrival coming in the spring - which is going to be a drain on my own profits."
Moreover, during an interview on July 13, 2014, Hazel shared few details about her personal life even mentioned about her family with husband and daughter.
On being asked what would she do when feeling down, she answered,
look at my daughter Gina.
She responded to the most romantic thing her husband has ever done for her as,
buy me a padlock. For a shed.
Moreover, describing her perfect Sunday holiday, Hazel expressed,
a family swim, then going out for some spaghetti bolognese and a walk in the park.
It seems that Hazel is happy in her paradise with her husband and daughter and it suggests that there are least chances of divorce.
More About Hazel's Professional Life:
According to reports on March 29, 2017, Hazel is taking retirement from the golf tournament, The Masters and she would cover it for the last time in 2017.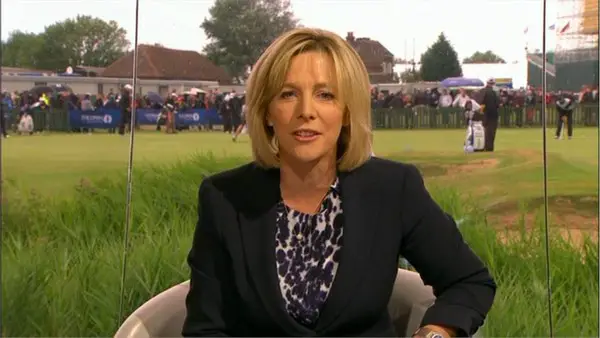 Caption: Sports presenter Hazel Irvine will present The Master for the last time in 2017.
Photo Credit: tvnewsroom.site
Pouring her thoughts about retirement, she said,
"I was pleased to be offered another long-term contract with BBC Sport to continue presenting snooker, golf and major events.However, after much thought, I have decided that in what is my 30th year in broadcast sport, I want to realign my on-air commitments around the changing needs of my family."
Furthermore, Hazel will cover Augusta National Club in Georgia in June 2017, and she shared her love for her work and excitement as,
"I have loved working with my brilliant friends and colleagues on the BBC golf team and look forward to being in Augusta to see Danny Willett defend his title and to savouring the unique atmosphere of the Masters one more time."
The BBC director Barbara Slater spoke beautiful words for Hazel while bidding her goodbye.
"It is with a heavy heart that we say goodbye to Hazel, who has been the familiar face of the sport for 25 years. However, we respect her decision and look forward to her continuing to front our snooker and major events coverage for many more years to come."
Hazel Irvine is a lead sports anchor since 2009. And she is the face of Bebe golf team for 25 years now and has anchored various sports events including Olympics and Commonwealth games. With her hard work, dedication, and passion she is sure to have accumulated a hefty sum to her name. However, like her personal life, her net worth remains under the wraps till date.
Stay with us for the emerging updates on Hazel Irvine!