Entertainment
Helen Lasichanh Wiki: Wife To Pharrell Williams And Parent To Four!
Happy by Pharrell Williams is the most downloaded song in the UK. That is quite an astonishing and spectacular achievement of this American rapper and songwriter. But today, let us leave Pharrell out of the spotlight and talk about his wife, Helen Lasichanh, and their kids.
This segment today is entirely dedicated to her life, and if you were not aware of what her life is like and who she is; keep reading below to find out.
Helen Lasichanh Short Wiki-Like Bio
Helen Lasichanh is a model with American nationality with Laotian and Ethiopian origin, which is the cause of her attractive and diverse ethnicity. She stands at a height of 5 feet 9 inches (1.8m). She is best known to be the wife of rapper Pharrell Williams or simply Pharrell. She is also cited to be one of the most influential people in the life of the American musician and has been supporting her man with all that she can.
Celebrity with Ethiopian Origin:- Marcus Samuelsson Post Wedding Spice In Wife & Mystery Daughter Relationship! Chef's Recipe
The two first met a long time back, and although Helen was not attracted to Pharrell from the get-go, Pharrell was smitten to Helen from the outset. He elaborated this during an interview with Oprah Winfrey in 2014, where he said,
"I was like, 'Who and what is that?' I just knew. I knew at some point something was going to happen. I was just so enamored by the moment I was having with her. I just wanted to read that book — I didn't care what was in it."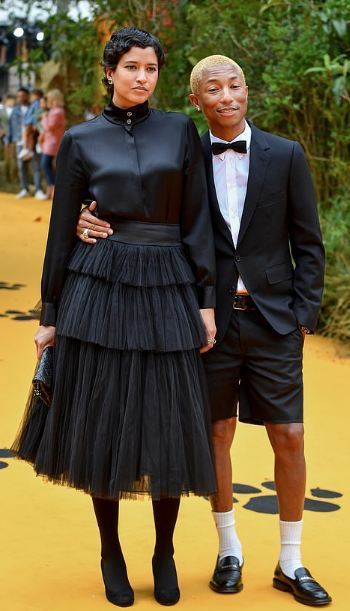 Helen Lsichanh and her husband Pharrell Williams at the premiere of The Lion King in July 2019 (Photo: dailymail.co.uk)
It was just the initiation of their companionship, which eventually led them to tie the knot back in 2013. The ceremony was a private celebration in the month of October. The attire of their wedding grabbed some attention as the duo dressed up completely different than the usual wedding garments.
Helen wore a voluminous dark blue and green coat with a white gown peeking through underneath. And Pharrell, on the other hand, wore a red and green tartan tuxedo.
Son & Triplet
Before getting married, the pair was already parents to their son Rocket Ayer Williams, who was born in 2008. The name is unique, but more unique is the reason as to why they decided to name him Rocket. Pharrell shared the idea in an interview with Oprah Winfrey, stating that they wanted to name their son after a "man-made machine that was meant to go up, meant to ascend."
The reason behind the name is not just one, but there are multiple reasons. In the same interview, Pharrell mentioned that metaphorically it was because of Stevie Wonder's Rocket Love, Elton John's Rocket Man, and Herbie Hancock's Rocket.
Related to Stevie Wonder:- They're Married! Tomeeka Robyn Bracy Ties the Knot with Her Boyfriend Turned Husband Stevie Winder
The name will indeed live up to the expectations, given the fact that Helen and Pharrell are doing their best to give their son the right upbringing, which will later lead Rocket to launch into a whole new level in his life. The signs can already be seen as the miniature clone of Pharrell dresses up like a prince since he was a toddler. It looks like Rocket readily adapted his parents' style.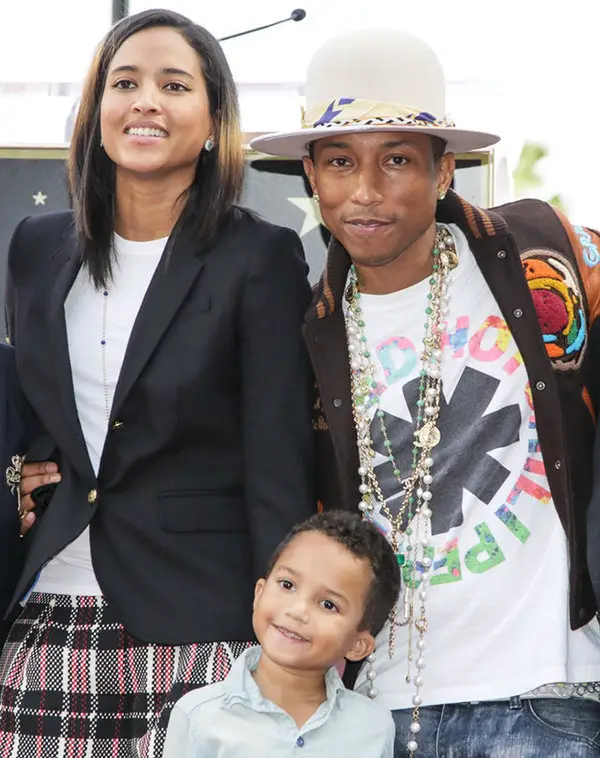 Helen and Pharrell's son, Rocket (Photo: Intouchweekly.com)
But, Rocket is not the only one who they take care of, love, as Rocket also has three siblings, who happen to be triplets!
In January of 2017, the happy couple welcomed three kids into this world and their lives at once. However, the husband and wife opted not to disclose the names of their precious triplets.
What is interesting is that the couple welcomed the triplets just three months after they announced the expectancy, which meant Helen was already expecting those children for a long time before they made the public announcement.