Entertainment
Holly Walsh Hints On Being Married And Having A Husband; Or Just A Joke Of A Comedian?
The life of a comedian is an interesting one. Sometimes, the jokes they tell are just the jokes made to make people laugh and crawl on the floor of laughter. But sometimes, they speak the truth while joking about something.
Is this the case with famous comedian and British TV presenter Holly Walsh, who has time and again teased about being married and having a husband in life? Or are those hints just some of the jokes in her armory? 
Let us find out!
Is Holly Walsh Truly Married To Her Husband Or Is She Joking?
It all started back in 2013 when Holly Walsh took over Twitter to gush about her husband. She tweeted about her being married and having a husband, and that immediately sent her fan world into a frenzy.
Moreover, when one Twitter user tweeted "Husband! New cat! Looking forward to seeing you and the gang tomorrow", she then replied,
That was already fascinating to her fans, but then she did not present anyone in front of the media leading people to wonder if this was all a joke from the comedian. However, she still kept on gushing and denoting her husband on social medias which increased the fans' curiosity even more.
What does all of these tweets mean? People are still wondering when it comes to believing all of these, as she has remained mum about her married life.
But back in 2012, she was in a dating relationship and had a boyfriend. Speaking about how she and her boyfriend were off to see the Olympics, she said,
"I'm off to see the semi final at the Olympics,"

 "But my boyfriend got the tickets, so I've sort of got to stay with him until then."

"People don't talk about it much but you've really got to think
about how much you can commit to that person when you start watching a box
set with them. It's a big thing."
Thus, chances are there that she got married to him and is keeping her married life far from the eyes of the media.
But having had a boyfriend, she kind of leads people to believe that she is not a lesbian/gay and is rather a straight woman.
Let's wait and watch if the comedian and presenter reveals something fascinating about her sought for married life in the days ahead.
A Short Wiki-Like Bio of Holly Walsh:
Born on November 8, 1980, in Guildford, United Kingdom, Holly Walsh is a British comedian and presenter who is known primarily for her contributions to TV and radio in the UK. Some sources report that she has a baby but she has not spoken much about her having a child, so let us not reach to any major conclusion as of yet.
Moreover, this comedian and presenter, who has touched a height she could only have imagined, once broke her arm and dislocated her shoulder during the "Birdman competition" in 2010.
The event, which was organized to raise money for some good causes proved to be not so good for the comedian, who plunged awkwardly into the water leading her to fracture her elbow and dislocate her shoulder.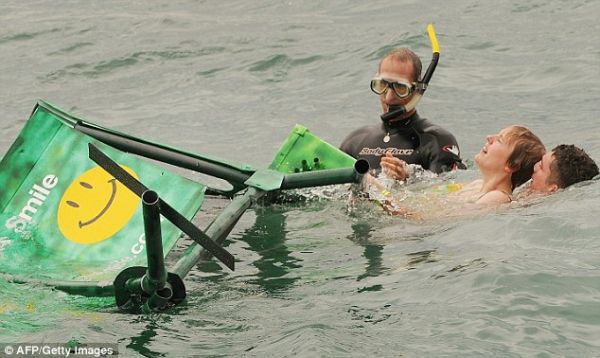 Caption: Holly Walsh is helped out by lifeguards after dislocating her shoulder and breaking her arm in 2010.
Photo Credit: dailymail.co.uk
Thankfully, she is all good now and is kicking it in her career.
Stay with us for the latest updates on Holly Walsh!