Entertainment
Hot Television Personality Melissa Stark Returns to TV on NFL! Thanks to Her Husband And Children!
It is always hard for a woman to balance her life as a responsible mother and an excellent worker. It's like the saying, one cannot step on two boats and travel at the same time. However, the hot television personality Melissa Stark has found a way to do it and her husband seems to be helping to balance it. Let's have a look.
Melissa Stark is a married woman and has Mike Lilly as her husband, who was a bond trader at Morgan Stanley when the couple met for the first time in New York. The couple got married in 2001 and together they have a total of four children; two sons aged 13 and 11, and twin daughters of 9.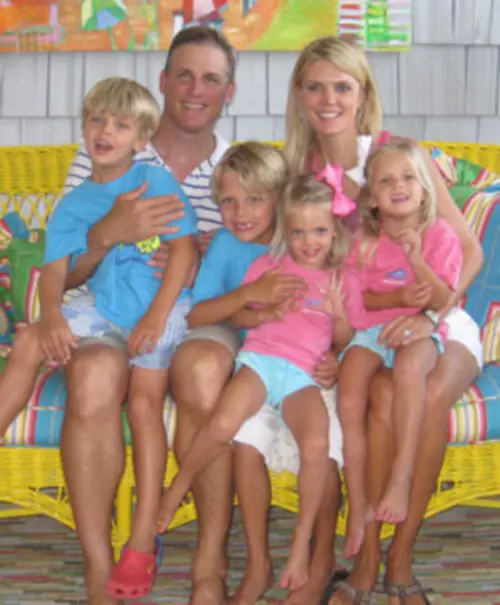 Caption: Melissa Stark with husband Michael Lilly and their four children.
Source: playerwags.com
Melissa, 42, was working for Monday Night Football left from there in 2003 to start a family with her husband but later joined NBC for reporting both news and sports. However, feeling that the job has taken a toll on her family life, she left the industry in 2008; completely cutting off herself from everything to become a wife and a full-time mother to her four children.
She had some intention to go back to where she was if the right opportunity knocked but never believed it would come true until she got a call from her former boss, Jim Cohen. She said,
"I always said if the right opportunity came up I'd consider going back to work, but I never thought the right opportunity would come because it's a lot to balance with four kids. I would have been fine had I never worked again but my old boss called."
At first, she said no for a couple of weeks but eventually accepted after her husband convinced her it would be alright. She said to nydailynews.com on October 2011,
"This really seemed like the right opportunity for right now. It was a great way to get back in with a first-class organization, and get back to reporting, which I love."
In 2015, her son came to her workplace and she was excited enough to share the moment on Twitter and we can sense that she is perfectly balancing her life as working mother.
Melissa who is measurement stands tall at the height of 5'4" currently works for NFL where she hosts on-site pre-game shows and Gameday Kickoff and enjoys both her family and professional life. She has decided not to divulge her salary and her net worth is currently under review. Melissa who is now working in the NFL was a former employee of ABC, NBC, and ESPN.