While iDubbbz's name is quite famous on YouTube due to his fun content, there are very few who are aware of his real name, which is Ian Carter.
The Youtube star became an instant hit when he started uploading gaming videos on his YouTube channel, iDubbbzTV.
After gaining massive popularity, he opened two new YouTube channels: iDubbbzTV2 for posting vlogs and review videos and iDubbbzgames as a gaming channel.  
Dating Girlfriend Or Gay?
Other than iDubbbz's high profile career, his personal life has grabbed a lot of headlines. Notably, his comment on his sexuality. The YouTuber most often than not calls himself gay and is very outspoken about it.
Incredible Personality:- Sharon Stone Husband, Boyfriend, Children, Net Worth
Further, he even wrote a song titled I'm Gay in 2016 and sparked a lot of talks amongst the fans. Not only that, but he also refers to himself as gay while interacting with his fans on Twitter.
Suprisingly, his words are debatable as he has been dating fellow YouTuber Anisa Jomha since 2016. The loving couple is often seen hanging out and frequently post pictures with each other in their social media handle.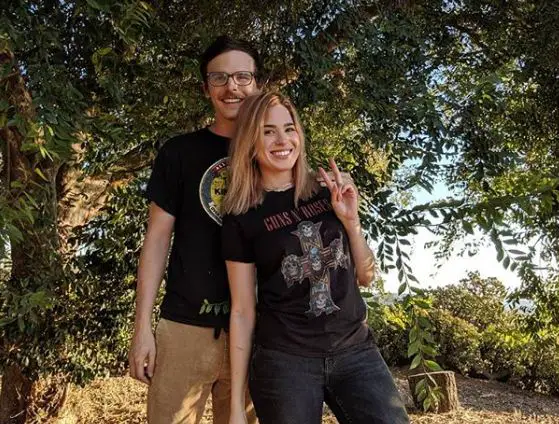 iDubbbz and his girlfriend Anisa Jomha celebrate their third anniversary in October 2019 (Photo: Anisa Jomha's Instagram)
Also, in October 2019, they celebrated their third anniversary together, which hints that their relationship is going strong and healthy.
Birthday, Age & Height Details
iDubbbz was born as Ian Carter in 1990 in San Antonio, Texas, and celebrates his birthday on 27 July every year. He has two brothers called Troy and Kevin Carter from his parents, who later divorced.
After his parents' separation, the vlogger had a tough time in life. He somehow completed high school and created a YouTube channel on 30 August 2012. At first, he started by posting regular gaming videos, but soon people got attracted to his video from his straightforward and sarcastic way of presentation.
Reality Star:- Cary Deuber Husband, Children, Parents, Net Worth
Soon, his video series like Kickstarter Crap, Bad Unboxing, Gamer News and Content Cop propelled him to new heights. The 6-footer (1.83m) also appeared in the 'Filthy Frank Show, portraying a character suffering from cancer.
As of now, he is a reputed YouTube personality with more than 7.79 million subscribers in his iDubbbzTV channel.
Net Worth Info
Choosing YouTube as a primary source of income is a channeling task for many, but iDubbbz makes it look easy owning three YouTube channels under his name.
In his channels, he mostly posts video game streaming and review vlogs about other YouTubers and their content which also brings him heavy criticism.
However, that has not affected the naturality of how he presents his contents. Though he is a challenging deal for the advertisers, he bags a lot of income from views, donations, and ad revenues from his channels.
To be precise, his total net worth revolves around the $1.4 million mark, which makes him a successful YouTuber and a millionaire.