Entertainment
Israel Houghton Rejoices Wedding; New Wife Amid Ex-Wife's Infidelity Claims
American Christian songwriter Israel Houghton is one of the best gospel singers around today. The five-time Grammy-winning singer is known for his melodious and soft voice and religious preaching.
However, the singer was embroiled in a cheating scandal, despite being a worship leader in a Texas church, leading him to a divorce and forcing him to leave his post.
But, the singer is leading a blissful life with his new wife after an intimate wedding ceremony in the love city Paris.
Rejoicing With New Wife
The California native Israel met The Cheetah Girls singer Adrienne Bailon in late 2013 while filming the movie, Im In Love With A Church Girl, which he co-produced. The couple became good friends and started dating in 2016 after Israel's divorce from his ex-wife, Melissa Houghton.
Israel, who possess mixed ethnicity, posted via Facebook on 23 March 2016 claiming that he had started to explore a romantic relationship with Adrienne. Just a day earlier, the couple were spotted cozying up and kissing in a Mexican beach sparking rumors about the Gospel singer's new found love interest.
After going public about their relationship, the couple was engaged in the love-city Paris with Eiffel tower as a witness of their ring exchange in August 2016. Likewise, Israel posted a photo of Adrienne's sleek hand adorned with a big diamond ring announcing about their engagement.
And the couple had their wedding just three months on from their engagement. The happy couple tied the knots, in an intimate ceremony with a small number of guests.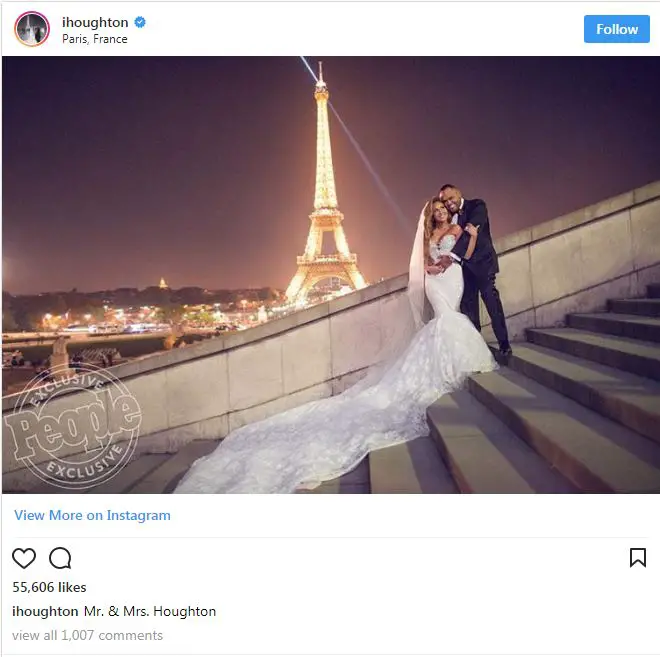 Israel Houghton with his wife Adrienne Bailon after their wedding on 13 November 2016 (Photo: Israel Houghton's Instagram)
Israel shared the picture of him embracing his new wife, Adrienne and captioned it as Mr. and Mrs. Houghton. Adrienne looked stunning is her wedding gown while Israel looked dapper in his black tuxedo.
Adrienne could not hide her excitement after getting hooked up with her husband and exclaimed it was the happiest day of her life. Speaking to PEOPLE after her marriage she affirmed:
"I genuinely just feel so blessed and grateful. I've honestly never been happier in my entire life. I've never felt what I feel right now. I can't even describe what it is, but it's such a peace mixed with total excitement."
And whats more, Israel has been enjoying the blissful married life with his partner. Speaking to BET's special episode on Super Bowl on February 2017, he had no regrets of what he had done in his past and was very happy with what he had then. He was quoted as saying:
"I literally could say I have no regrets. I have a lot of things that I wish I had done differently given the opportunity to redo it but that would have changed everything, and I am very content with where I am today."
This peaceful and lovely life the former Church leader leading today is a far cry to the chaos he was swirled in because of his alleged infidelity accusations and his divorce to his wife, Melissa who had been married to him for 20 years.
Cheating Claims, Divorce, Child Support Controversy
The eleven times GMA Dove award winner was previously married to Melissa Houghton and had three children with her, Mariah, Israel II, and Milan Lily. However, after more than two decades together, there were rumors that the couple's marriage was on the rocks after cheating claims against Israel.
And the rumors duly proved to be true, after Israel released a post which has now been deleted on his Facebook on 22 February 2016, confirming that he had sinned during his marriage and had been separated with his wife.
He further explained that despite trying to save his marriage for the last five years, the couple was unable to come to an agreement resulting in termination of the vows he shared with Melissa during their marriage.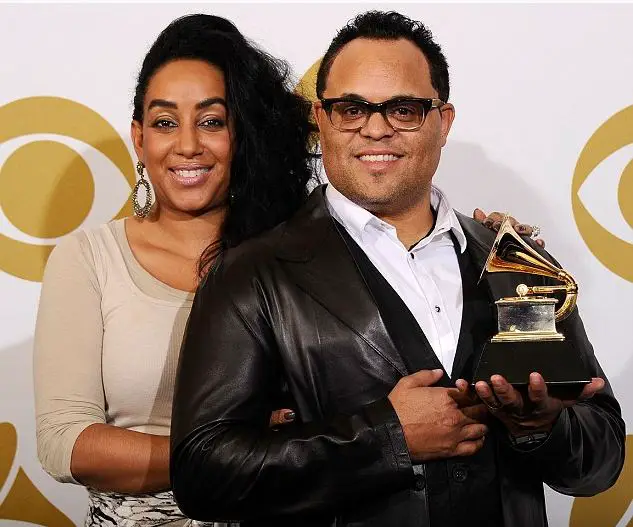 Israel Houghton with his ex-wife Melissa during the Grammys 2013 (Photo: dailymail.co.uk)
And the spiritual singer was placed on an indefinite leave after his cheating and infidelity claims came to light. The singer was dropped from his role of worship minister at the Joel Austin's Lakewood mega-church.
Despite being embroiled in a bitter scandal and losing a job, Israel continued to act as a responsible father and attended his eldest daughter Mariah's wedding in May 2016. He spoke of his delight at his daughter's new life and thanked his to be son-in-law for providing the family with happiness in their tough times. However, the worse was yet to come for the Gospel singer.
His extramarital affairs only came to light after Bossip revealed on 14 October 2016, that The Texas State Attorney General's Child Support Division sued the Christian hitmaker, for not providing child support money for two children he had fathered during his marriage with Melissa. The two kids, both sons Kingston, age 6 and Khristian, age 4, were fathered by the singer with a mysterious woman DeVawn Moreno.
Despite the singer not publicly accepting being a father to the kids, his representatives accepted that Israel had been providing the child support money to the kid's mother confirming him as their father. His representatives said at the time:
"Mr. Houghton has been financially supporting the two children since they were born but hasn't been served with the suit because he is on tour."
The case was later dismissed after the establishment of the fact that Israel had paid for the child support.