Entertainment
Italia Ricci Married Her Boyfriend In An Intimate Wedding Ceremony; Pregnant Yet Or Enjoying Life With Husband?
Italia Ricci married after celebrating their sixth anniversary of the relationship... the couple came up with a wedding ceremony resembling... Italia becoming pregnant with a kid...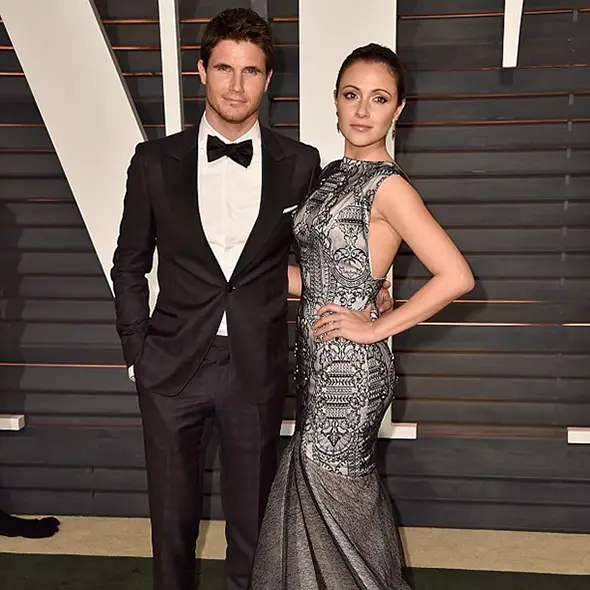 Can you name one or even two of the most beautiful feelings a couple has in their entire life? One for sure is getting married to the person you love, and the other is well, stepping up the relationship by welcoming a child into the married life.
Similarly, today, let's talk about Italia Ricci's married life and the events that followed before the arrival of another loved one in her life.
Cliché Wedding At Its Finest
The 32-year-old actress got married to her boyfriend Robbie Amell of over half a decade on 15th October 2016. The event took place in downtown L.A, where 180 friends and family were present to witness their holy matrimony at the Cathedral of Saint Vibiana.
2019 Wedding:- Zach Hyman Wedding, Wife, Parents, Net Worth
Even though the couple had a massive number of guests surrounding them, it was the bride who stole the spotlight with her bewitching yet duly heavy wedding dress.
Italia and Robbie had earlier got engaged in August 2014 and were planning to flee to a different place to prevent the stress caused by the wedding preparation. She expressed,
"At first when we got engaged, I asked him if we could just go to Vegas and get married by Elvis, just because I didn't want to deal with planning a wedding."
However, without their prior intention of getting married and dealing with all the fuss that comes with it, the couple came up with a wedding ceremony resembling that of a TV series, i.e., Game Of Thrones. Italia's husband Amell said,
 "People kept joking around that it was like Game of Thrones with all the candles and flowers."
After all the fuss Italia Ricci and Robbie Amell put their best foot forward and did their first dance on the track, Never Stop by Safety Suit. 
Pregnant & Childbirth
Amell and Ricci started dating in 2008 and married after celebrating their sixth anniversary of the relationship. Incorporating their married life, the couple managed to keep their marriage intact for nearly a decade. But, there was still no news of Italia becoming pregnant with a kid.
Announced Pregnancy On Stage :- Tyler Joseph Wife, Siblings, Parents, Net Worth
A couple of curious heads did speculate Italia to be pregnant, but the actress cleared up the air through her Twitter post. But, the pair did disclose their plans to have children through a statement,
 "Hopefully children will be something we will be thinking about shortly."
Eventually, the couple put their plan into action. On 19th April 2019, Italia and her husband Robbie made the big reveal that their fans were eagerly waiting for years. With a humorous picture that featured a fake belly in her partner, the actress' pregnancy became apparent as she could be seen with a big belly and a face full of joy.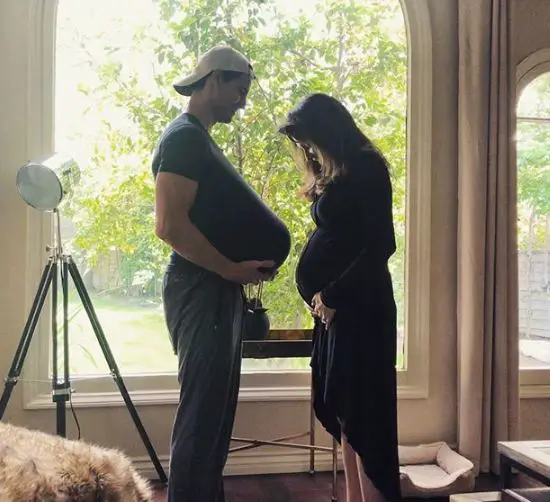 Italia Ricci & husband Robbie Amell reveal her pregnancy on 19th April 2019 (Photo: Robbie Amell's Instagram)
But aside from the happiness, the pair were nervous as well. When asked about the actress's experience while awaiting the birth of her baby, she replied,
"[We're] terrified. No amount of books or advice is going to prepare you to settle through it."
Thankfully, everything went well as they welcomed their son Robert Amell V into their life on 12th September 2019. She made the announcement through her Insta handle but didn't reveal the face of her newborn.
However, it's for sure that her wellwishers will be seeing the glimpse of her baby boy soon.