Clippers center Ivica Zubac wants to be the best in the game, and he does not miss an opportunity to let his fans know about it.
For instance, in an interview in October 2019, he explained:
"Whatever I do, I want to be the best."
Of course, Clippers' big man was talking about basketball, too.
Clippers center spent 2019 summer researching how champions train and develop, to create a long-term plan for success.
As for his journey in NBA, the Star athlete highlighted in the 2018-19 NBA season with overtime wins against the Oklahoma City Thunder with a career-high of 26 points. In the game, he also had a career-high six offensive rebounds along with 12 rebounds.
Who Is Ivica Dating? His Girlfriend?
Many of Ivica's fans are eager to know about his love relationships. Sorry, ladies, not only this NBA star of only age 22, not dating, but he is taken.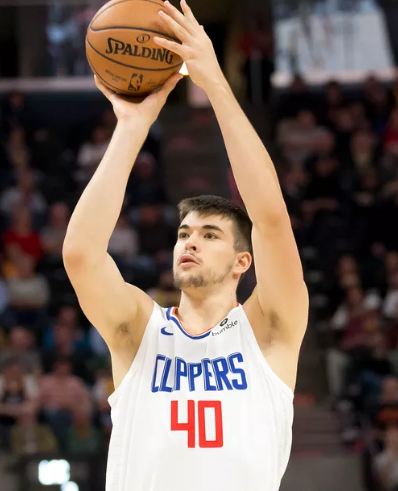 Clippers Big Man Ivica Zubac Ready for 2019-20 Season (Photo: clipsnation.com)
Ivica proposed to his longtime girlfriend, Kristina Prisc, in February 2019 in the beautiful setting, and of course, she said yes. The Croatian Model Kristina posted in her Instagram on 16th February 2019 with a beautiful picture of the couple highlighting the proposal and the acceptance:
"Best day in my life!
FOREVER yours! ?❤️❤️❤️"
Further, the duo spent this summer in each other arms, and the NBA star posted a photo with his beautiful fiancee with a toast of wine in August 2019. He described the 2019 summer to be one of the best summers.
You May Read in UFC:- Tecia Torres Girlfriend, Lesbian, Net Worth, Now
To further speak venture, the couple met each other in Zagreb in December 2015, and these two lovebirds have been together ever since. 
Ivica's Ethnicity? Parents?
Ivica was born on 18th March 1997 in Mostar, Bosnia, and Herzegovina to Ivan Zubac and Dijana Zubac. He grew up in a small town, Citluk, with his two brothers and two sisters. The NBA star has a tall height of 7 feet (2.16 m) and a weight of 120.2 kgs.
Despite his dual citizenship as Croatian and Bosnian, he identifies himself as 100 percent Croatian. The star is proud of his ethnicity and nationality. He speaks boastfully about his heritage:
"I live in the part of Bosnia-Herzegovina where we are the only Croatians, and we are the proudest in the world, Croatia means everything to us."
One Of The Few WNBA Star Players:- Kristi Toliver Husband, Gay, Net Worth, Parents
His parents and family nation would be proud of him as he became the 6th best-paid player of the LA Clippers in 2019-20 season jumping from the 17th best-paid player of LA Clippers last year. 
Ivica signed a three year - $21,000,000 contract with the Los Angeles Clippers. $21,000,000 is guaranteed amount, on top of an annual average salary of whopping $7,000,000.
As has been mentioned, the NBA star is sure to reach the stardom in his personal and professional endeavors.