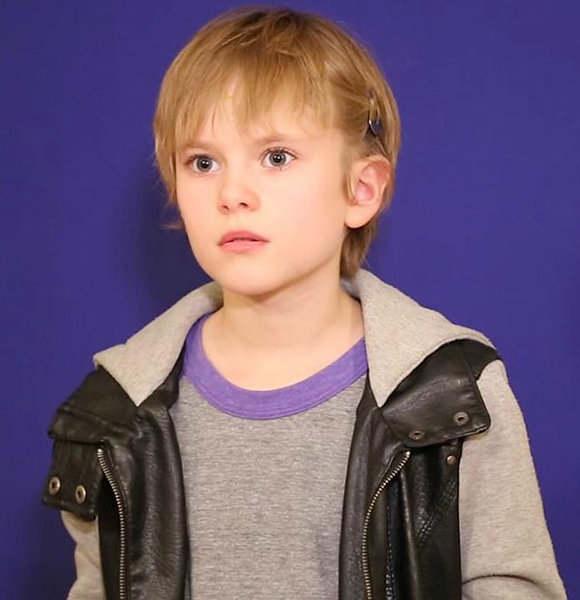 Coming out as a transgender is terrifying, not only for children but, also for adults. While many spend their lives hiding their sexuality, American actor Izzy is a courageous teenager to admit his transgender identity at a young age.
His announcement led Izzy to secure roles and also helped him play his true-self onscreen. Learn all about the aspiring actor via his bio, including the details of his gender, age, net worth, height & more!
Gender Talks; Plays Transgender On TV
Izzy Stannard was born as a girl but, now identifies as a transgender. Further, he uses the male pronoun to identify himself.
He is not only a transgender in real-life but also plays his true gender on screen. The New York native, who portrays Sadie Marks in the NBC hit show Good Girls, identifies as a transgender on the series.
Further, the TV program shows the struggle of being different from others and how parents' acceptance is crucial to their kids. Good Girls displays Sadie on a journey to find her true identity.
Transgender Actor In Our Archive:- Lee Norris Wife, Family, Transgender
After Izzy's character comes out as transgender in the eighth episode of season two, her mother Annie Marks (Mae Whitman) immediately accepts her daughter, but Sadie's father Gregg (Zach Gilford) finds it hard to contemplate and asks Sadie to seek therapy.
Gregg, as a father, wants his daughter to be accepted by her friends and not be bullied for her sexuality.
Izzy Stannard as Sadie Marks alongside onscreen mother Mae Whitman in Good Girls (Photo: Bustle.com)
He also sues Annie for his child's custody, but the fate of the character is yet to be decided. Fans can only hope that unlike his character, Izzy didn't face such hardships while getting acceptance from his biological parents.
Wiki-Based Bio: Age, School & More
Izzy (real name: Isaiah Stannard) was born on 1 October 2004 in New York City.
He started acting early playing the lead role in his school's drama of Charlie and the Chocolate Factory. The school play for Izzy was the start of a resume that would be filled with the names of movies and TV shows.
2017 was a successful year for Izzy as he got his big breakthrough appearing in Ben Stiller's critically acclaimed film, Brad's Status. The same year, he acted in a short-film titled Party Dress, which portrayed him as a tomboy visiting a party dressed in a pink dress.
Child Actor's Net Worth:- Lee Norris Salary, Wife, Family, Transgender
Izzy later played the role of Sadie Marks in NBC's Good Girls in 2018, which became his career-defining moment. The young actor - who is 5 feet 3 inches (1.60m) tall in height - has also made a considerable fortune from his career.
While the exact figures of his net worth are yet to be disclosed, the 14-year-old reportedly makes way more than the average salary of a child actor, which is $17.49 per hour.