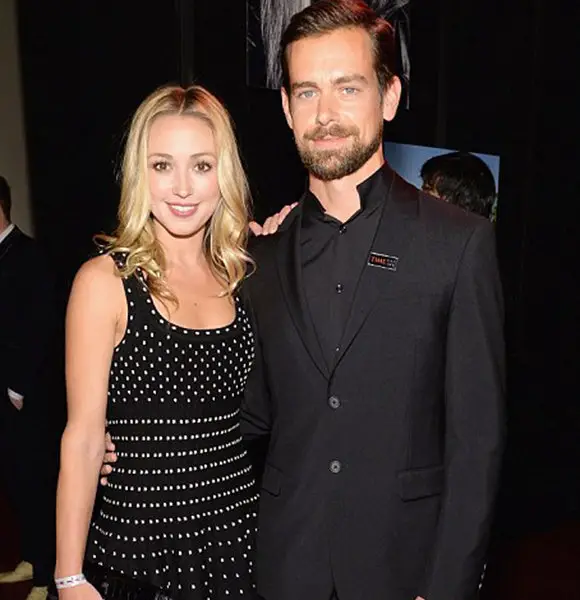 Quick Information
Girlfriend

Raven Lyn Cornell

Eye Color

Blue

Hair Color

Dark Brown

Hair

Short

Weight

75 kg (165 lbs)

Height/ How Tall? 5 ft 10 in (178 cm)
College

University of Missouri–Rolla, New York University

High School

Bishop DuBourg High School

Awards

Best CEOs In The World (Ranked-404th)

Net Worth

US$5.5 billion (January 2019)

Salary

Square, Inc. $2.75 (2017)

Gay

No

Ex-Girlfriend

Kate Greer

Date of Birth Nov 19, 1976
Divorce/Split

Not Yet

Relationship Status

Dating

Children/Kids

Not Yet

Mother

Marcia Dorsey

Father

Tim Dorsey

Ethnicity/Race

Mixed

Religion

Christianity

Zodiac Sign

Scorpio

Birth Name

Jack Patrick Dorsey

Profession

Entrepreneur

Birth Place

St. Louis, Missouri, United States

Nationality

American
Jack Dorsey has made a successful career being the co-founder of Twitter and Square. However, being a famous billionaire, his personal life has always been in media, making his love life less private. With that, he has to deal with numerous rumors. Some rumors that never left his side are, 'Is he gay? and Is he married?'
Is Jack Dorsey Gay?
No, Dorsey is not gay. Yet, he was rumored to be gay after supporting the transgender community in 2016. The rumor about him being gay spread after he spoke against the decision to block transgender people from serving in the military. 
Further, he has always spoken for LGBTQIA+ people, making people suspect his sexuality. 
Nevertheless, rumors about Jack being gay never made him stop supporting the LGBTQIA+ Community. 
Jack has been in relationships with many women, proving that the rumor of him being gay is just speculation. 
But the main question is, 'who is Jack Dorsey's wife?'
You might be interested: Take a Sneak Peek Inside Raoul Pal's Luxurious Wedding
Does Jack Dorsey Have a Wife?
Jack has been in a relationship with multiple women, but he still hasn't found a partner he can call his wife. 
He was first rumored to be dating Kate Greer when the couple was spotted together in 2010 at the red carpet event in New York. They had an on-and-off relationship.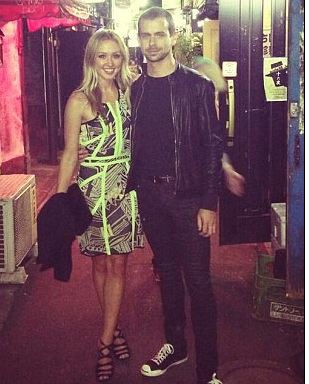 Jack and Kate Greer in Tokyo (Photo: dailymail.co.uk)
After his first breakup, he also dated a British Model and actress, Lily Cole, back in December 2012. They were spotted abroad in his luxury yacht near the Caribbean island of St. Barts. After some time, the couple broke up, and Jack got back together with his ex-girlfriend, Kate, in 2013. 
After Jack and Kate get back together, fans wonder if she will be his wife.
However, fans' dream of Kate being Jack's wife became unfulfilled after officially announcing their breakup in 2014. 
Jack also dated a Sports Illustrated model, Raven Lyn Corneil, almost 20 years younger than him. Jack even bought a house in Hollywood Hills in 2018, but not so long after she became his ex-girlfriend, he put the house up for sale in 2019. 
Since then, there have been no updates regarding Jack's potential wife and his dating life. Meanwhile, he focuses on his career more and dedicates his time to improving it. 
Know More Stories of American Celebrities: Sneak Peek Inside Nadine Nicole's Love Life
What Is Jack Dorsey's Net Worth? 
Jack, 45, considers his companies Twitter and Square his children. 
He became CEO of Twitter from 2015 to 2021. After serving for six years, he announced his resignation from the role of Twitter's CEO on November 29, 2021. However, he remains a board member on Twitter.
According to Insider, in 2019, Dorsey only earned $1.40 as the CEO of Twitter as he refused to get any compensation as CEO. 
After leaving Twitter, he continued to lead as the CEO of Square inc. 
He renamed Square inc. to Block inc. on December 1, 2021. 
With his innovative idea, hard work, and dedication, he has accumulated a net worth of $12 billion.
More About Jack Dorsey
Dorsey was born in St. Louis, Missouri, on Nov. 19, 1976. He had a speech impediment during his childhood and mostly stayed at home listening to his parents' police scanners.
Jack's Baby Picture (Source: Biography)
The short communication between the police officers was the inspiration for Jack to form Twitter. At 15, he created a taxi-dispatching software that some taxi companies still use.
In 2006, Jack co-founded Twitter along with Biz Stone, Noah Glass, and Evan Williams. 
Jack also started a digital payments company, Square, in 2009 and is currently serving as the CEO.  
Jack showed his other side when he transferred shares of Square worth $1 billion to an LLC called Start Small, which is funding COVID-19 relief efforts. If LLCs can disarm the pandemic, the remaining funds will go to girls' health and education and universal basic income (UBI). Not only that, but he also transferred one-third of his Twitter stock to his employees in 2015.
He is a huge believer in cryptocurrency success and has actively inspired people to trust crypto. 
Recently, he has donated $7 million to help Ukraine in its crisis. 
With his constant accomplishments, Jack has always been an inspiration for the youths.