Entertainment
Jack Van Impe Dead Or Alive? Television Veteran's Health Status
In today's age, it takes less than a second to make some celebrity fake death news. One minute, they seemed to be doing well and alive, and the very next moment, the internet would be claiming them dead.
Among such fake dead news, the religious news program host and Televangelist, Jack Van Impe has been repeatedly making news headlines. Thanks to his health-related illnesses and frequent hospital admissions, Jack's dead news are getting stronger while much of the rumors surrounding Jack's mortality is based on his own medical history.  
Here, we look into Jack's current health status, his illnesses, and the hospital-stay that almost cost the 87-year-old's life in 2015!
Is Jack Van Impe Dead Or Alive?
Jack Van Impe, often referred by his moniker The Walking Bible, is a man of an utmost faith. His unbridled dedication towards the advancement of Christianity faith, both on and off the TV screen, is a living proof.
Similar:- Julie Adams Is Not Dead! Alive And Beautifully Smiling Her Way Ahead
The Jack Vamp Impe Presents star's first battle with health-related illnesses came towards the end of 2005. In a matter of a year, he would be diagnosed with cancer, sepsis, heart disease, and a broken hip.

Jack features on the promotional piece (Photo:- IMDB)
However, in the Autumn of 2015, his faith in God was put to a test, yet again. A week after going under the knife for an open-heart surgery, Jack's doctor dropped in an emergency call from the hospital to inform his wife, Rexella Vamp Impe, about his dilapidating consciousness.
In the end, the veteran church minister survived to live another year. He'd later recount the debacle by saying:
"I was on my deathbed. Doctors only gave me a 20 percent chance of living, 80 percent chance of dying."
By Jack's own admission, the severity of the illness was far worse than first thought. As a matter of fact, he was one breath away from meeting his maker. The 87-year-old quipped:
"After 60 to 70 days, because I'd lost all comprehension, I didn't know who I was, where I was, I was going to resign from the ministry because I'd even lost my speech."
If the general public were to take Jack's words for his miraculous recovery, they would argue that his recovery had to do more with her wife's care rather than the big man who lives up in the clouds. Even his very own doctors seemed to believe so as revealed by his 2015 quote which reads:
"Dr. Levin said, 'we know that God had a part in this but, oh, Rexella kept you alive.'"
Three years have passed since that almost fatal stay at the hospital. Neither Jack nor his wife, whom he married in 1954, seemed to have slowed down in their stride to spread "the message of God," between then and now.
Discover:- Dallas Roberts Wife & Parents | Age 48 'Insatiable' Actor Family Insight
If nothing else, Jack's brush with death has only strengthened his father-child ties with the Holy One. 
Children Of God: Health Still Intact
As children of God, both Jack and his wife, Rexella are one of the very few people who are well past their 80's but continue to promote the Christian value among the internet-goers.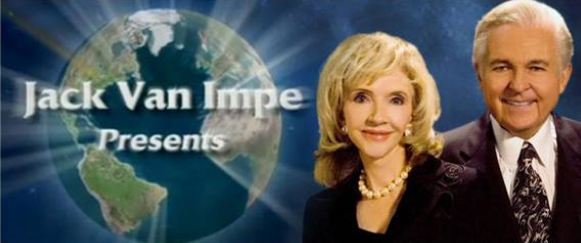 Jack and his wife are pictured together on the artwork of their show (Photo:- Christian Today)
Despite their age, the couple of more than 60 years put out content on the internet week and week out. As of 1st October 2018, their YouTube channel Jack & Vamp Imp Ministries boasts an astounding 28k followers.
Interesting:- Frances Conroy and All The Quires Related To The Accident That Caused Her One Eye To Be Different Has Been Revealed
The quote below from The Jack Vamp Impe Presents star's 2018 interview with WND is a statement of intent.
"Until the Lord takes me, I'm going to keep doing what He commanded us to do – take the Gospel to the uttermost parts of the Earth so that we can fulfill the Great Commission and see His return."
Sadly, for all Jack - who has a reported net worth of $2.5 million - & Raxella's dedications and hard work, there won't be anyone to inherit their legacy. According to Raxella's official website:
"They were never privileged to have children."
Isn't it ironic that the couple who has spent years trying to re-connect "the Father" with its "lost children" don't have any child of their own?