Entertainment
Jackson Guthy Dating, Olivia Jade, Net Worth, Parents
Jackson Guthy started playing the piano at age two. No wonder, the music prodigy got a chance to perform his debut single Loving at The Ellen Show in 2011.
In his musical journey, Jackson has headlined tours with artists & bands namely Big Time Rush, Emblem3, MKTO and One Direction in the 2012 Better With U Tour.
The singer was also a part of the band, North of Nine. But, he later left the group and started his solo career. After releasing single like Young and Single, Jackson took a sabbatical from music.
However, in 2019, he worked in the rapper Jez Dior's song, Nobody Knows.
Jackson's Dating Status
After living a busy musician's life as a teenager, Jackson took a break from the limelight to focus on his personal life.
However, in 2019, the singer-songwriter's dating life came into the forefront due to his girlfriend Olivia Jade's family. It so happened that Olivia's parents - Lori Loughlin and Mossimo Giannulli -allegedly paid $500K to get Jackson's girlfriend into the University of Southern California.
As the limelight was on Olivia, naturally Jackson also came into the spotlight. As the scandal broke, it was reported that the YouTuber was hiding out at her boyfriend's Malibu home. During his girlfriend's testing time, Jackson was beside her as a rock.
However, in the end, a college cheating scandal took a toll on the singer and his girlfriend's relationship. And, the pair reportedly split in May 2019.
Olivia's Dating History:- Beauty YouTuber Olivia Giannulli Stops Dating Boyfriend Amid New Success Height
But, Jackson teased his union with Olivia after posting an Instagram story of him planting a kiss with the YouTuber, a month later. Rumors were floating about their patch up, but neither party confirmed the news.
However, on 2nd August 2019, Jackson confirmed their rekindled romance by sharing a black and white picture of him sharing a kiss with Olivia.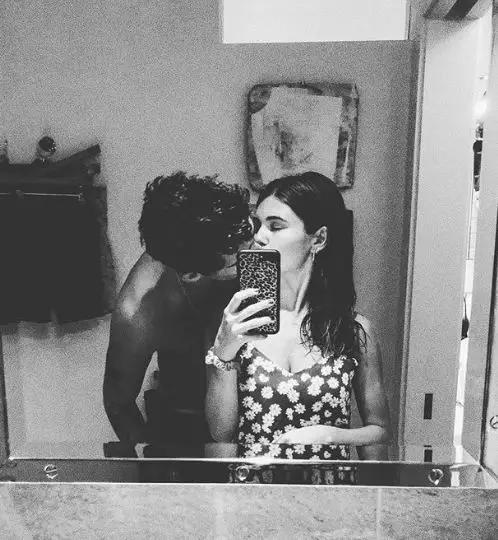 Jackson Guthy shares a passionate moment with girlfriend Olivia Jade on 2nd August 2019 (Photo: Jackson Guthy's Instagram)
Further, the singer-songwriter captioned the post addressing his girlfriend as "Little Monkey" and professing his love for her.
Bio: Family & Net Worth
Jackson was born on 19 March 1996 to parents Bill Guthy and Victoria Jackson. The 23-year-old also boasts a sister named Ali Guthy, who suffers from orphan disorder - an immune disease which can cause paralysis and blindness.
Both the Guthy siblings have always lived a privileged childhood as their parents are successful entrepreneurs. Jackson's father is one half of the Guthy-Renker, an organization estimated to be worth $2 billion. The marketing company's campaign includes Proactive, Wen Hair Care with Chaz Dean, Sheer Cover, and Dr. Perricone.
Read More:- Katrina Jackson Bio, Net Worth, Family, Personal Life
Bill's net worth is $600 million, including $ 100 million in real estate. On the other hand, Jackson's mother Victoria is the former makeup artist turned CEO of Victoria Jackson Cosmetics.
Courtesy of his parents' wealth, Jackson - height 6 feet (1.82 m) - is financially secure in spite of his low-key music career.