Entertainment
Katrina Jackson Bio, Net Worth, Family, Personal Life
Katrina Jackson, aka Kat Tat, had an inclination towards art since childhood...became part of the 2015 reality show, Black Ink Crew Chicago which shot Katrina to fame...Besides Katrina, Jackson family boasts two older boys...
Katrina Jackson a.k.a. Kat Tat was inclined towards art since childhood. However, it was the heartbreak she went through in high school that drove her deeper into tattoo artistry.
While healing her broken heart, she started pursuing art a little too much; more than her course books at the University of Missouri. She had only gone to the school for her family's happiness. But, when her father began supporting her artistic career, she dropped out in her third year.
Meanwhile, she skyrocketed to fame as she landed a tattoo gig at 9Mag Studio. Her whole crew even became part of the 2015 reality show, Black Ink Crew Chicago.
Katrina Jackson Bio
Katrina was born on 17th May 1991 in Chicago, Illinois. She is the third child of her parents'; a white mother and a black father. Boasting a mixed ethnicity, Katrina has two older brothers named James and Kenny in her family.
The tattoo artist's parents have already divorced. But, her mother and father share a cordial relationship. For instance, the former couple came together to celebrate their son James' wedding in 2017.
As a child, Katrina used to hide from her family and go on to tattoo people secretly, even in the kitchen.
It was her drive that took her to star in Black Ink Crew Chicago in 2015. While the show gave her recognition and fame, after three seasons, it started taking a toll on the star's health.
She was drinking too much, and even her hair had started falling out. Thus, she left the show to get away from all the drama.
She left her native city of Chicago and went to Los Angeles. There, she invested all her saving and opened a tattoo studio named Enigma Beverly Hills. It was a significant feat as she became the first-ever black female tattoo artist to own a studio in Beverly Hills.
As a reality star, she used to earn a salary of $1,500 per episode. But, after she left it all to open her studio that expanded into art shows, and clothing line, the 28-year-old now musters her net worth from entrepreneurship.
Personal Life
As a reality star, Katrina's own life is always under scrutiny.
People first got invested in her life when she started dating Phor, fellow co-star of Black Ink Crew Chicago. It was exciting as the romance played out in the filming of the reality show. Sadly, the relationship couldn't last, and the pair parted ways.
For You:- Sauli Koskinen Boyfriend, Height, Family
Fast forward to 2017; rumors started floating that the tattoo artist got involved with Ryan Henry. The conjectures were explosive as the alleged boyfriend was involved with another woman named Rachel Leigh and the pair also had a baby together. But, concrete evidence about the romance never came out.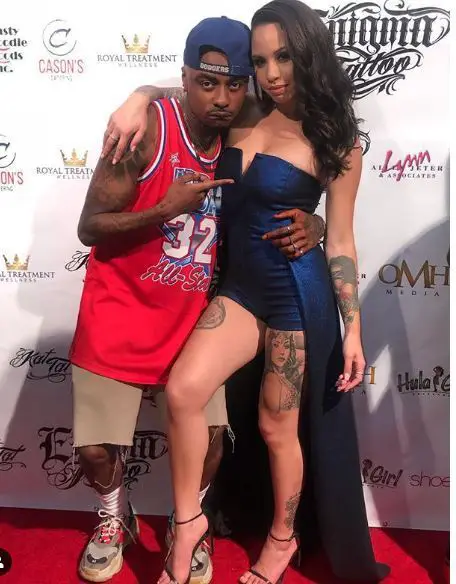 Katrina Jackson poses with boyfriend Kevin Laroy on 23rd June 2018 (Photo: Katrina Jackson's Instagram)
Now, Katrina is dating a fellow tattoo artist Kevin Laroy.
The pair's lovey-dovey pictures on Instagram is enough to indicate that the tattoo artist's personal life is going strong.